About Rosh Review
All of you got bumped into the problem of exam anxiety. Some were reading all the possible books and writing concepts, while others were stressing out, thinking about what questions and tasks might be on the test.
However, everybody knows that the key to this problem is proper preparation.
If you have already spent lots of time searching for the right resource to get ready, there is an excellent option – Rosh Review. It provides and covers a variety of quality questions that might be included in your medical exam. There you can find all the information and knowledge you need, tutoring, and quizzing modes as well.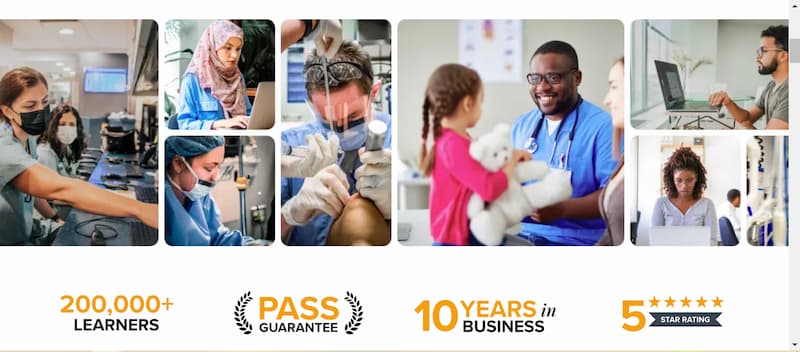 Rosh Review creates a program that helps students to learn and understand the material rather than just memorize it. A pleasant interface makes studying even more enjoyable.
To pass the MCAT, check our list of the best MCAT prep courses online first.
This niche can ensure high-quality products that have an affordable pricing range. There are plenty of students' feedback which confirms the value for money that have been paid.
In addition, according to reviews for Rosh Review, it guarantees all the best studying features and promises to return money in case you are not satisfied with the program or your results afterward.
Rosh Review Features
The famous Rosh Review was founded by an emergency physician Dr. Adam Rosh. He aimed to create a progressive digital space that would help all those tending to become doctors and nurses get ready and pass their exams.
A practice covers a wide range of medical aspects. Moreover, it is personalized to a variety of specializations, offering both Tutoring and Testing modes. Students are free to extend their knowledge either by solving the tests or by learning the facts behind each quiz.
Needless to say, the Rosh Review is considered a niche with the most extensive question base for medical students, giving it a huge benefit over other resources.
Founders have decided not to stop and improve the system. Therefore, all the members can enjoy informative articles and blogs and listen to podcasts featuring professionals.
If you are interested in medicine and crave to become a decent doctor, you might find them useful – guests of the show talk about focal points of the field and share tips for future physicians, nurses, PAs, etc.
Students can easily get subscriptions and access from any device and source they want, download several banks of questions for the beginning, and even save some materials for offline studying.
In addition, the Rosh Review PANCE reviews state that the course provides a feature of tracking the scores, so every learner will be able to see the weak spot and strengthen their knowledge in the area – a couple of failures, lots of practice, and you are good to get that solid A!
A crucial factor for any MCAT aspirant is the quality and accuracy of practice tests. For insights on how accurate are Princeton Review MCAT practice tests, consider looking into various reviews and student testimonials.
Pricing
The Rosh Review offers a variety of courses based on different specializations. Most of them have a similar structure and the same materials for each type of subscription: Basic, Standard, and Premium.
Better to show the full package, including the rates on the particular example, so let's select PA-CAT subscriptions to understand what each subscription block contains and what the difference between them is.
To see Exam options, we will go through the Rosh Review Family Medicine reviews, specifically Shelf and Certification Exams.
Exam Options and Pricing
Rosh Review Family Medicine Certification Exam Review
Every medical student knows the importance of the certification exam — this one is a top priority. Prepared questions and cases from the course to help learners get rid of stress and anxiety. Moreover, the Rosh Review certification exam reflects the real one almost with 100% accuracy.
The course offers three subscriptions: Basic, Standard, and Premium. Each of these banks has 3000 evergreen questions with updates for the upcoming 2022/23 studying year. With the Standard pack, participants also receive 100 AMA PRA Cat 1 CME credit(s). Don't forget about Uncommon Delights that are included in each subscription and make your studying process more efficient.
Rosh Review made sure to put all the needed information inside the banks — together with the medical materials, you will learn how to study properly, learn and not just memorize facts, plan ahead, etc. Rates are easy to find — they are indicated on the bottom of every pack. Therefore, the Basic subscription costs $549, the Standard — $649, and the Premium — $748.

Rosh Review Family Medicine Shelf Exam Review
The Shelf exam is one more step toward students' dreams. So, it should be taken seriously. According to Rosh Review reviews for PANCE, the course works similarly to the National Board of the Medical Examiners and consists of 500 questions for each possible Shelf bundle. Here is an example:
Psychiatry Shelf Exam (500 questions)
Pediatrics Shelf Exam (500 questions)
Internal Medicine Shelf Exam (500 questions)
Emergency Medicine Shelf Exam (500 questions)
OB/GYN Shelf Exam (500 questions)
General Surgery Shelf Exam (500 questions)
With the 3000 different questions and cases, students will not get bored and run out of practice. It is good to keep your mind actively exercising — it improves your memory and prepares you for the upcoming exam in the best way.
Pricing is affordable — the basic subscription costs only $59 (for 30 days). For the yearly subscription for Standard bank students have to pay $349, and for Premium — $448.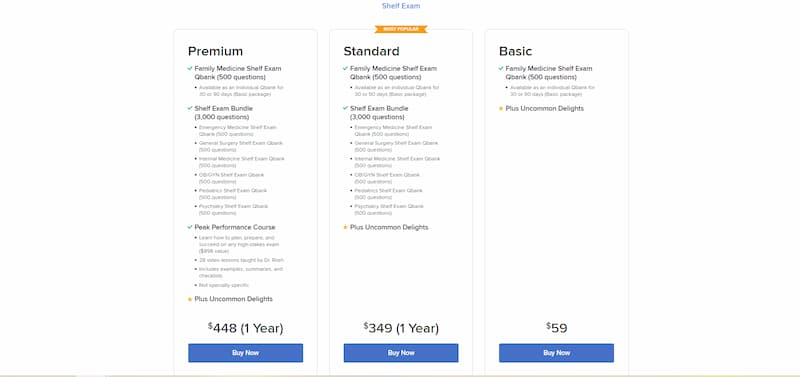 Specialized Studying Options and Pricing
Rosh Review PA-CAT Basic
Consider all the tricks of the test is pretty complex, right? Yet, Rosh Review has been operating for a long time to know all the little things. When you feel like you're almost ready to pass the exam, but it would be useful to cover some gaps, the Basic pack is exactly what you need.
As you can understand, the bank makes a small offer but still, it is decently filled with a variety of questions — usually, it consists of 500 cases made on the topic from different perspectives. Here you can find all the possible variants that you might get on the actual exam.
A Basic subscription has an awesome feature which is confirmed by the PA-CAT founders — The Pass Guarantee service. It means that learners can get a full refund or extend their subscription if they don't pass the exam on the first try.
However, all the materials are supplemented with attached illustrations and expert instructions. What's more, teachers are available on-call that excludes the possibility of failure. The rate of this package is $249.
Rosh Review PA-CAT Standard
In case you're not completely sure about your knowledge and feel like you need more support, then you need to choose Standard bank. It comes with the same set of 500 questions, but in addition, students receive the full MOCK test (which consists of 250 additional questions), which is the closest you can get to the real exam — it reflects all the cases and difficulty levels, preparing you for the final test.
Also, as indicated in the Rosh Review PA reviews, going through the quiz, students have an opportunity to see their scores and find out their weak spots. After each test, all the answers will be revealed, so they can deepen their knowledge and close the gaps in the corresponding areas. The Standard subscription will cost you $298.
Rosh Review PA-CAT Premium
To finish our review, we will talk about Premium Plan. Obviously, it's the best option you can get because it consists of many useful cases, the Rosh Review MOCK exam, and the Peak Performance Course.
Personally created by Dr.Rosh, the Premium course will not only give you the basic skills but also teach you how to plan and study the right way, share several tips and tricks, and the key to how to succeed on the exam. After finishing the Premium program, you'll know everything the PA-CAT student needs and be fully prepared for the exam. The rate of this subscription is $395.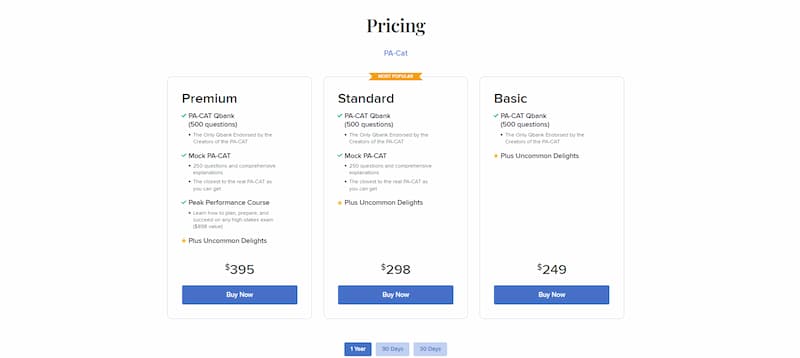 Promo Codes and Payment Options
The Rosh Review tries to make the participants' experience pleasant and convenient. Therefore, they started the discount system. Yet, there are no Coupon Codes or Discounts for individuals. As evidenced by Rosh Review EOR reviews, the resource offers Group, Member, and Program sales.
The Group discount works if you can gather 10 people studying together under one subscription. In this case, you will get 10% in your benefit that will remain for a long time. Member discount rate is intended for those organizations who want to align with the Rosh Review.
There are already some partners who efficiently work on our common task — Emergency Medicine Residents Association (EMRA), American Academy of Emergency Nurse Practitioners (AAENP), and Society of Emergency Medicine Physician Assistants (SEMPA). The common goal of allies is to create new, better standards and share the best practices.
Program discounts practice groups, NP programs, PA programs, health care systems, medical residencies, and medical school clerkships. Rates of the program subscription vary because they depend on several criteria, such as the number of participants and the type of exam required by the program.
At this rate, it is highly important not to make a mistake and select the proper Qbank. To avoid nuisance, Rosh Review made a free trial option that provides unlimited access to all the questions and cases, assessment, and the program dashboard.
Founders and authorities of the course took care of their international students and made it possible to pay without limits, which means that it doesn't matter where in the world you are; there are convenient ways to cover the RoshReview.com prices. Learners have a couple of choices, such as Visa or MasterCard transactions, American Express and PayPal.
However, if you want to use PayPal, you need to reach out to the support service by e-mail to get the link for the transaction.
GRE preparation needs a balanced mix of effective materials and quality instruction. The Varsity Tutors GRE reviews might offer valuable insights on their tutor quality, materials, and overall approach.
Quality
Along with high-quality medical materials, Rosh Review provides on-call communication with experts who are ready to help you with any question and explain each case in detail. Compared to many other resources, Rosh Review aims to pay attention to every student and does not neglect any of the participants.
If you have technical issues and can't fix them, you can always reach out to customer support by e-mail. The staff is friendly and helpful — your requests will be handed in a couple of minutes.
Rosh Review guarantees the quality of the product. If otherwise, learners can demand their money back — it is called the Pass Guarantee service. However, it works only in the case of a Basic subscription or in a private examination of your situation and its evidence.
When discussing why Rosh Review is better than other companies, many advantages come to mind. First of all, the course has the largest base of questions which ensures that you will work through the cases that you'll get on the exam and have the opportunity to memorize them.
Second, Rosh Review always maintains high customer care. Participants of the courses are the top-valued members of the whole program — they will never be turned down, deceived, or neglected.
Moreover, as you can find out from Rosh Review nurse practitioner reviews, the course provides a wide range of benefits that are absent in other courses and programs.
Lastly, the price always matches the quality. Rates might seem a bit high, but once you start studying with Rosh, you understand it is worth it.
| | | | |
| --- | --- | --- | --- |
| Criteria | Rosh Review | Hippo EM | Smartypance |
| Amount of questions in the Qbanks | 3,000 | 1,350 | 1,000 |
| Additional features (podcasts, articles, etc.) | Articles, podcasts, experts on-call, illustrations | Podcasts, healthy dose of humor, high-yield synopsis of each paper | Quizzes, Flashcards, |
| Price rates | $50-$900 | $195-$1090 | $79-$300 |
| Access | App and offline access available | App available | App isn't available |
Value For Money
The Rosh Review is highly recommended by all the "graduates" of the courses. Every participant is satisfied with the result they have. Most attendees say the program is harder than the test itself, which is nice because "it forces you to actually pay attention instead of honing in on one word and moving on at light speed".
The quality-to-price ratio should not even be in doubt – it is definitely worth the price. For, let's say, a $300 ECG subscription, you can get a huge pack of useful materials such as an Advanced Clinical ECG Qbank with 400 questions and cases plus a Fundamentals of Clinical ECG Qbank with more than 100 questions, about 60 AMA PRA Cat 1 CME credits, and some Uncommon Delights (i.e., Personal Analytics Dashboard, Educators On Call, Comprehensive Explanations, etc.) that you will find out after the purchase. The numbers vary for other specializations and their branches, but the high quality remains.
According to thousands of Rosh Review reviews, the knowledge and skill students acquire during the course are extremely valuable. It prepares you for more than just the medical exam. It prepares you for your future career and rare emergency cases and helps you to deepen the lore of your specialized profession.
So, there is no doubt that the Rosh Review is what you need to pass the exam, taking into account the fact that the tasks on the platform are harder than on the actual test, the student receives 100% of useful information and knowledge to pass successfully.
Students' Feedback & Reputation
The working staff and experts play an important role in the studying process as well. Every learner would feel more comfortable and relaxed with the right attitude.
The Rosh Review is known for its polite and considerate staff, which always helps to solve any problem. The support is usually pretty quick, so students don't have to wait for ages to have something fixed or understood.
Moreover, as you can find out in the RoshReview NP review, each subscription pack includes Uncommon Delights that provide the Speedy Support feature, meaning learners get feedback from real people and not robots who aim to help ASAP.
After the customer service is done, Adam Rosh himself calls the student to check in and make sure everything operates properly. Such a unique service makes each participant feel seen and heard, which is an essential part of high-quality studying resources.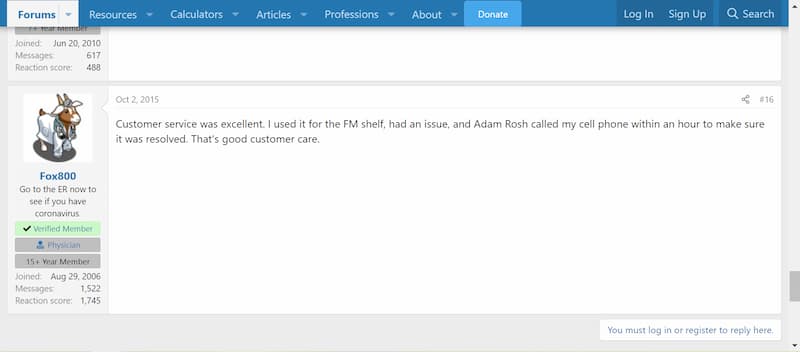 Also, in comparison to many other medical studying courses, this one, as established by the Rosh Review for PANCE reviews, is happy to have feedback from the students.
The "person from the other side", as some participants call customer support workers, always checks what the point of your message is, and if needed, they fix the problem and correct it with the proper attitude.

Most of the students adore these courses and would even give 10/10 points which means they are satisfied with every area of the resource: materials and thematically in-depth information, interface of the website and convenient usability both on desktop and phone, customer care service, and the final result of the studying with the Rosh Review.

Pros
Wide range of different questions and cases that prepare student for every possible exam task.
Easy and convenient interface including custom illustrations & tables, evergreen content, personal analytics dashboard, etc.
Speedy customer care – learners get support from real people whose goal is to solve the student's problem as efficient and fast as possible.
The value corresponds to the quality of the course, meaning participants never regret choosing the Rosh Reviews.
Accuracy of the result – most of the students receive within a point in either direction of their predicted score.
Cons
According to Rosh Review internal medicine reviews, the course is good for clinical studies but won't be very efficient for didactics.
The price for subscriptions might be above average, which is not affordable for everyone even though it completely corresponds to the quality.
Materials and quizzes on the website are harder than the actual exam, which might make some students stress.