If you are a student that wants to achieve a good grade, you may be considering online prep courses. They can be a good way to get in some extra practice ahead of the real exam.
A lot of courses provide you with fantastic materials to study and practice for exams to test your skills. You can gain confidence and feel good ahead of the real one.
But finding a reputable online prep course provider can be difficult. There are a lot of websites out there that are not safe or offer substandard materials. The best thing you can do is use our services to find one you can rely on for your studies.
We examined the biggest names out there to ensure they offer students what they deserve and make our best SAT prep list.
We look at:
Quality of services;
The attentiveness of customer service;
Prices you can expect so that nothing will be a surprise.
Today, we are conducting Magoosh reviews, as this one is popular with students across the country.
Let's start with our Magoosh review so you can decide what company is best for your needs. What is Magoosh? Is Magoosh worth it? Find out in our complete review or check this short video:
Magoosh Overview
Of course, you are going to have questions like, is Magoosh good? We will get to this. But first, it is important to understand who the company is and what it can offer you.
Magoosh is a company that provides online prep courses that are accessible to everyone. They are designed to be affordable, as well as quality materials.
We will conduct Magoosh test prep reviews to see or find out if there is a Magoosh scam.
There is a close team in the office of around 33 employees. There are also remote tutors working for the company around the world. This is believed to be around 60 experts. It is a platform that encourages self-study rather than taught material.
This means access to materials you can use at your own pace. This includes thousands of timed practice questions, expert videos, and the ability to track your progress to see how you are performing.
The company claims that 6 million hours of videos have been watched by students in 185 countries across the world. This includes 300 million answered practice questions.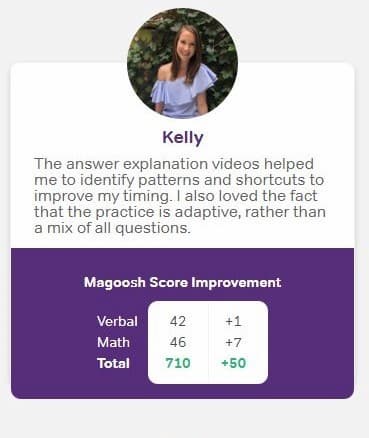 There are a lot of test preparation courses available for students of all levels. There is something that everyone can learn from. The courses are made up of quality material, practice questions, and video lessons.
We have completed everything from Magoosh GRE prep reviews to Magoosh GMAT prep reviews so that you can learn more about what to expect. You will then be able to answer questions such as, is Magoosh good for GRE and other types of test prep?
Story of Magoosh
You may be wondering where Magoosh all started or certainly what this word means.
We will start by saying that Magoosh is a Persian word for someone wise and generous. Magoosh was founded in 2009 by Hansoo Lee, Bhavin Parikh, and Pejman Pour-Moezzi. The headquarters are located in Berkeley, California.
They are a company that believes that every student should have access to education, and they want to create a level playing field. Magoosh strives to provide engaging, fun, and affordable test prep tools for everyone to use.
The company offers many products and services that you can use, and we will cover them all, from Magoosh GRE reviews to Magoosh MCAT reviews.

Magoosh guarantees that you can improve your grade with the help of their services. This can be something that attracts learners looking for real results.
For example, we found a five-point guarantee in our review Magoosh GRE course and a guarantee for a 50-point improvement during our Magoosh GMAT review.
Magoosh Products
Next up, it is time to dive in and look at the services. We took the time to look into the courses and see what was on offer. There are a lot of materials available, and overall, we were impressed by the services.
Let's take a closer look from our Magoosh math review to our Magoosh online GRE course review.
During our Magoosh ACT reviews, we found a wealth of information. You can study independently with 1350 practice questions. This is alongside 250 video lessons.
There are video explanations and progress tracking so that you can identify any weaknesses that you have.
Do not forget that you can fall back on their score improvement guarantee. Overall, we were happy with our Magoosh ACT prep reviews.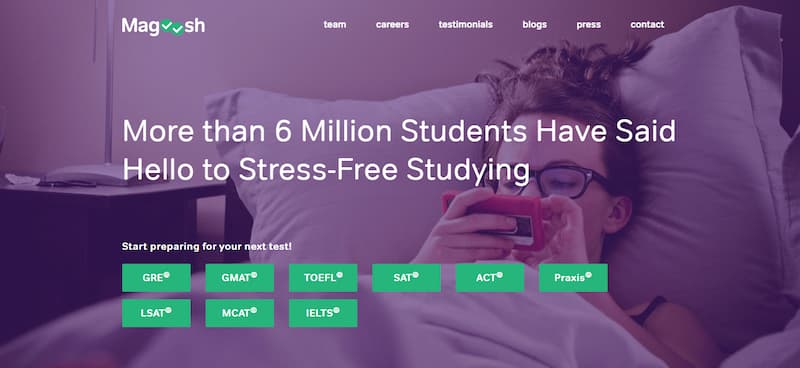 One of the services that stood out to us was the GRE. Our Magoosh GRE verbal review revealed that there are extensive materials available that will support students and allow them to learn.
For example, our Magoosh premium review found there were more than 1,200 practice questions and 250 video lessons to learn from. All premium Magoosh students now get access to 8 full sections of official GRE questions that are not available anywhere else.
They are also the only U.S.-based test prep company to have the official GRE questions included in its prep.
We see that this course is ranked number one in many tables, and we can see why. It covers all the main topics you will find in exams.
You can even use the vocabulary flashcards to test yourself, and we saw this during our Magoosh premium GRE review. So, is Magoosh GRE prep good? We would say it was good.
There are also GRE Live Classes now for those who would like individualized lessons and extra accountability. These classes are provided by real experts who cover essential topics.
You will also have more homework tasks to enhance your learning. And this comes as an addition to everything in the self-study plan and a 7-day money-back guarantee.
Next, we have our Magoosh GMAT reviews. Again, we think this is a good service for students. Our Magoosh GMAT prep review found that there are over 1250 practice questions so that you can test your skills. The materials are detailed and cover the topics in depth.
We also found 300 video lessons during our Magoosh GMAT course review. This is good compared to competitors.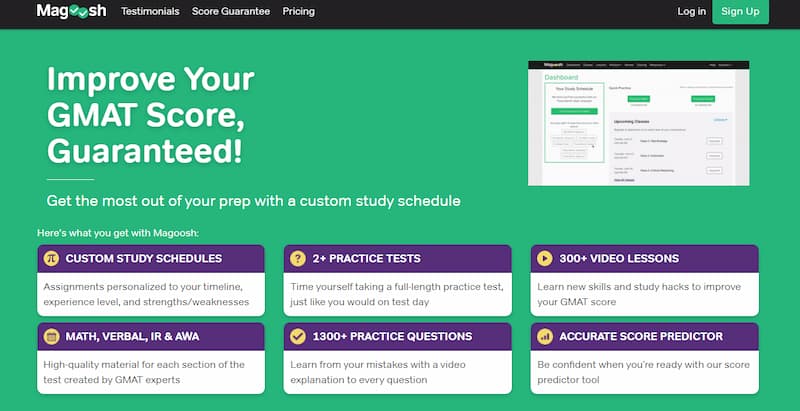 There are also GMAT Live Classes for those who want individualized lessons and extra accountability. These GMAT classes are provided by real experts who cover essential topics.
You will also have more homework tasks to enhance your learning. And this comes as an addition to everything in the self-study plan and a 7-day money-back guarantee.
The Magoosh TOEFL reviews revealed there are 420 practice questions available. This is in addition to 140 videos. You can work through it at your own pace.
We also carried out a Magoosh SAT review. We were impressed by the vast amount of materials that were available for this self-study course. This includes 1,200 practice questions and complete tests, as well as 200 videos.
You can work through them at your own pace and find out a lot about the topics. You can also review questions, and they have text and video explanations so that you can understand everything in time for your real exam.
Our Magoosh SAT prep reviews were successful, and we would say the material and price are suitable for this one.

We will also mention our Magoosh IELTS review. This was successful and found 600 practice questions and 120 video lessons. Is Magoosh IELTS worth it? Yes, definitely!
It is an excellent comprehensive course for everyone who looks forward to passing this test. If you are not sure about Magoosh, check the best IELTS courses for the online preparation list and be sure that it is a top option. And recently, Magoosh has launched an update to their IELTS courses.
From now on, all Magoosh IELTS plans include graded speaking assessments and live drop-in classes with an IELTS expert. These new features include:
Live Classes – Classes are one hour and fifteen-minute interactive classes with an IELTS Expert crafted to provide active participation. These classes will cover the topics and all exam sections — Speaking, Writing, Listening, and Reading. They will also offer Conversation Classes to build your confidence to gain practice using English with other students and native English speakers.
Graded Speaking Assessments – After students record their interview responses to a practice session or mock test, they will have the option to send the video to Magoosh's IELTS experts to receive honest feedback. IELTS Experts will review your interviews and provide a detailed score report (including your IELTS band score and detailed feedback) in less than 48 hours.
You have got to work to get into medical school. This involves taking the MCAT. Our Magoosh MCAT prep review was good, and we found lots of materials that will help with studying. This includes 350 video lessons.
You can learn everything you need to know and use the 700 practice questions to test your skills ahead of the real exam.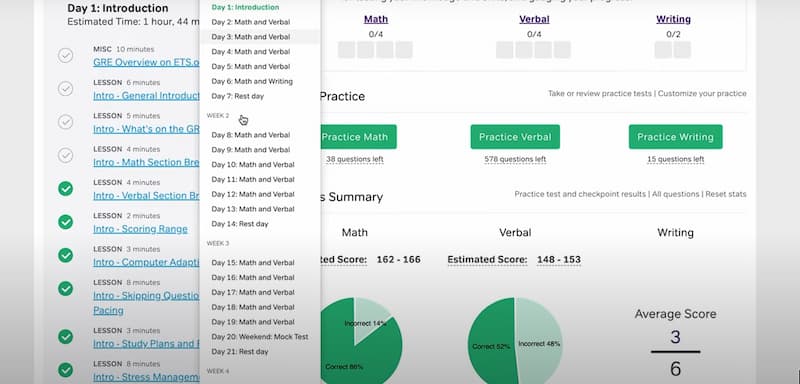 Now that we have down our GRE prep course Magoosh and Magoosh GMAT verbal review, we will move on to the last one. This is the Magoosh LSAT review. Similar to the other ones, we were impressed with the content we found.
Six hundred fifty videos were handy for learning. Then you could use the 600 different practice questions to boost your confidence and feel ready for the exam.
There are also LSAT Live Classes now for those who would like individualized lessons and extra accountability. These LSAT classes are provided by real experts who cover essential topics.
You will also have more homework tasks to enhance your learning. And this comes as an addition to everything in the self-study plan and a 7-day money-back guarantee.
Magoosh Prices
While the quality of content is important, a lot of students will be concerned with the price. Of course, this is understandable if you are on a budget. You want educational materials that are good and affordable at the same time.
The good news is that Magoosh offers good prices, and they are cheaper than some other companies out there.
For example, check our Prep Scholar review, and see that we found that Magoosh was better for the GRE test prep. One good thing is that you can pay different prices depending on the length of access you need.
For example, it will be cheaper to buy access for one month than six months. You can pay using everything from American Express to PayPal.
There is an opportunity to try out an intro lesson that is said to be 'practically free.' This allows you to test your English and receive a study plan that is customized for you. Not all companies offer this opportunity.
If you then decide to purchase a lesson package, Magoosh will refund you for the intro lesson, and it is free for you.
Besides, we did notice some coupons available when we were conducting a Magoosh GRE review. So, keep your eyes open to see if one can cut the price for you.
Here are some course prices that we found, so you know what to expect:
ACT prep price – from $79 to $99;
Magoosh GMAT price – self-study is from $219 to $249, and guided study is $799;
Magoosh GRE price – from $149 to $479;
Magoosh IELTS price – from $109 to $129;
LSAT test prep price – from $99 to $149;
Magoosh MCAT prep price – from $179 to $199;
Magoosh price SAT – from $99 to $179;
Magoosh TOEFL price – from $79 to $149.
We did like that Magoosh offers a guarantee on some of their services. This can offer you peace of mind when you choose them over a competitor.
For example, during our Magoosh GRE math review, we noticed that there was a seven-day money-back guarantee. This means that if you did not enjoy the product for any reason, they would give you your money back, and it will not cost you anything.
Besides, there are a five points score improvement guarantee. This means if your score does not improve by five points or more, you will receive your money back and a full refund. In our Magoosh review GMAT course, we saw a reminder of this.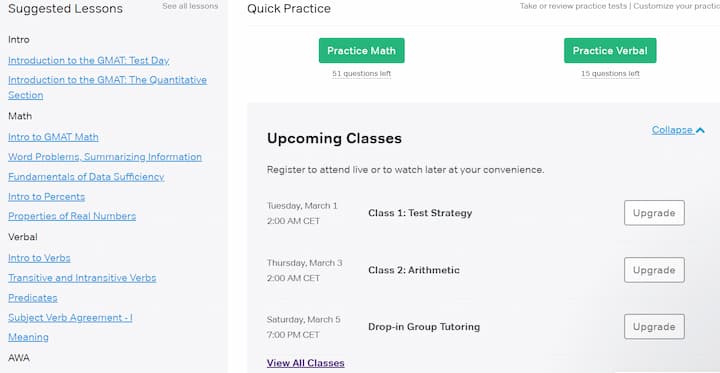 Quality of Magoosh Courses
During our reviews, we were taking a closer look at the quality of the content. This is essential for learning.
For example, during our Magoosh for GRE reviews and Magoosh MCAT review, we made sure that students could understand the materials easily and learn from them.
All of the practice tests are adaptive, and we like this. They change and use smart technology for a great learning experience. You can compare the score to others that take the test to see how well you performed.
So, during our Magoosh GRE test prep reviews, we tried this out, and it worked well with different questions at random.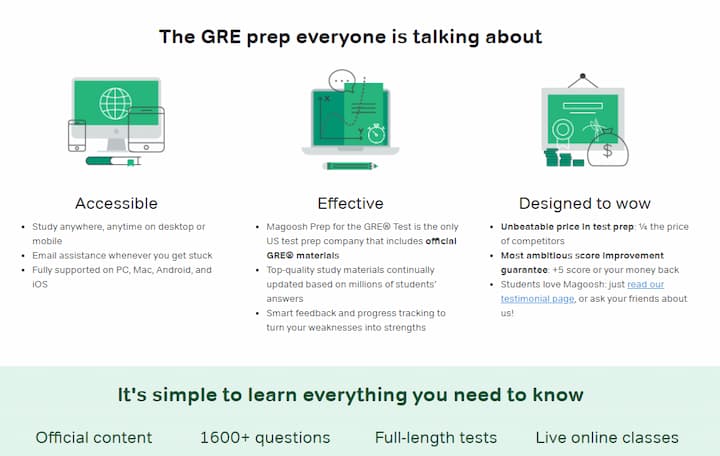 One of the things we liked about the company is that they give you a specific study plan. We thought this added quality to the services. Many self-study courses can get complicated and not provide students with the support and guidance they are looking for.
But this one is designed to steer you in the right direction and not provide you with lots of materials all at once. For example, we could see that this was possible during our Magoosh GRE premium review.
And comparing Magoosh vs Kaplan GRE, we would pick the first one for sure; Magoosh is better in all aspects.
Besides, you can receive progress reports. This allows you to monitor how you are doing. It will be provided to you on your mobile dashboard and will help with motivation and confidence.
They use a smart review system that tracks your progress. You will see that your weak areas are highlighted to study more, and you will be told the time left until your exam. You can also see what topics you still have to study, and we could view this during our Magoosh SAT reviews.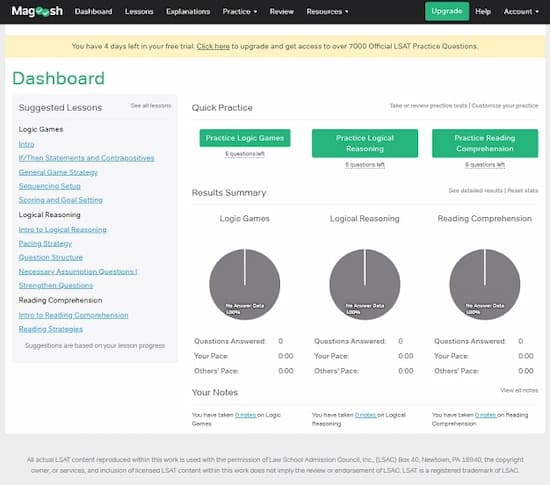 However, some students did not like the fact that there are no live tutoring services. This brought down the quality of the learning experience. Certainly, it was something we noticed during our reviews on Magoosh GRE prep.
All of the available videos are pre-recorded. Some people will miss the classroom feeling and the valuable interaction you can gain from live tutoring. This is something that competitors offer.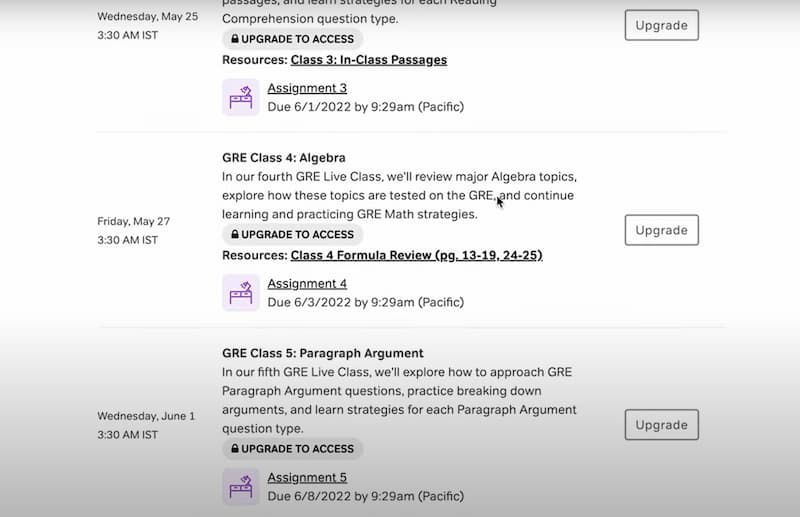 Magoosh Customer Service
If you have a problem or question you want to ask before or during your studying experience, you will want to contact customer service.
During our Magoosh GRE prep review and comparison of Magoosh vs Manhattan GRE, we wanted to test out customer service and see how good they were. Although the company claim to have a friendly and attentive team, we wanted to see it in action.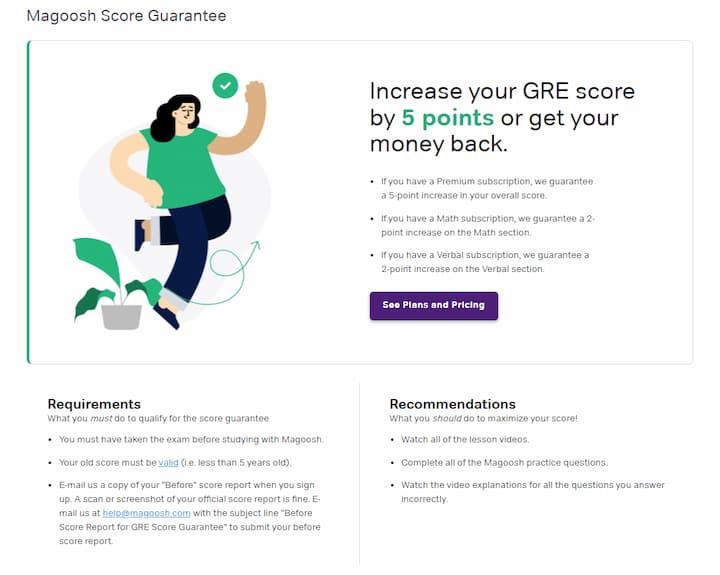 Certainly, there was a clear 'contact' button on the top menu, so we found it easy to locate where to go for help. The page shows an address and phone number. This is toll-free if you are located in the United States.
There is also an international number and an email address you can contact if you need to. An online form is also available for a question and an easy experience.
Feedback was good for email support with Magoosh. It would take around five hours for a response, which is quite responsive compared to other companies. This means same-day help if you need it.
The longest replies we could find from reviews was 48 hours. Again, this is not bad, considering how busy this company claims to be. We found this to be true during our GRE Magoosh reviews.
Magoosh Website and Mobile App Usability
Websites need to be easy to use for all skill levels and to be visually attractive. This all plays a part in your learning experience. The good thing about Magoosh is that they have spent some time making their website appealing to students.
They use bold and vibrant colors that add some excitement to the homepage and bold and easy-to-read titles.
You do not have to work hard to navigate around the website. It is made easy for all ages, and you can simply choose the course you want to work on. A drop-down menu allows you to read more on the blogs and sign up for your account for a personalized experience.
You can read customer testimonials and see why people love Magoosh. We would say that their website is excellent and offers good usability for everyone.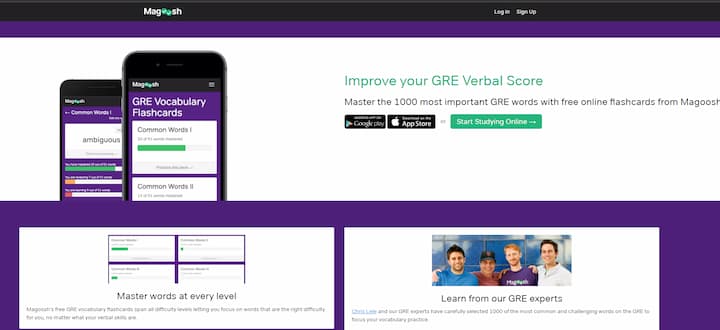 There is also a mobile app that students can use to access services. This is good for learning if you are on the go or going on vacation and will not have access to a computer.
You can access vocab flashcards, math, and verbal practice and play an opponent. The app does have a five-star rating, and students enjoy using it. It is free to download if you have an Android device or an iOS device. This includes mobile phones and tablets.
The apps have good feedback compared to competitor ones. We find that a lot of the apps are an add-on that has not been thought through.
Often, this means that they only serve chat functions. But this one allows you to complete questions and watch videos no matter where you are in the world.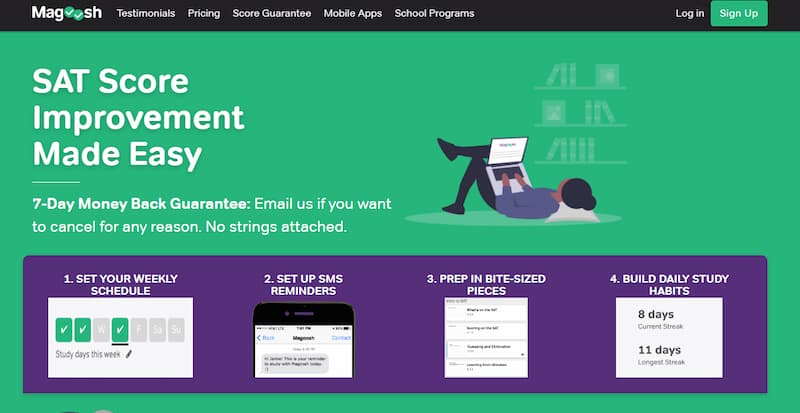 Pros
Affordable prices compared to competitors.
You can choose the access length time.
Sophisticated and useful app.
You are provided with detailed study plans.
Score improvement guarantee.
Easy to use the website.
Cons
Most of the courses are self-study courses.
There is no essay review service so no papers will be graded.
Fewer practice questions and videos compared to some other competitors.
The quizzes offer random questions.
Cases of unauthorized charges from cards from Magoosh.
Some of the topics could go into more depth and be comprehensive.