As an expert language assessment organization that has been in existence for more than three decades and is currently recognized by over 11,000 organizations and governments around the world, it might be quite impossible to find someone who hasn't heard about the IELTS.
For students looking to study in an English-speaking country, or just regular people looking to migrate, you know you must prove your English proficiency by taking and passing this test.
Due to the intense pressure surrounding the test day this, the need to find one of the top IELTS online courses is at an all-time high.
If you have been intentional about this search, you definitely must have heard about the Magoosh educational center. As a reputable platform, they offer the best ACT, GMAT, GRE, IELTS, and even SAT prep courses. Online courses, such as those offered by Magoosh, provide an interactive practice mode that sets their IELTS preparation apart when compared to other platforms.
These IELTS prep courses are worth taking. Check out list of best IELTS courses for preparation.
Although we have a magoosh review in here that talks about the platform, this particular Magoosh IELTS review would extensively discuss the IELTS test prep, the course outlines, the prices, and more valuable information.
As an expert review team, we have made sure to keep this review very detailed and honest.
Courses
This is the most important aspect of our analysis, as it tells you whether or not you will find a plan that is suitable for you.
As soon as you click on the Magoosh website, you will immediately be bombarded with several claims to help you succeed in your exam and get the bandwidth you want.

As you scroll further, you will realize that not only are these just claims; they cave a sure three-way plan of guidance, concentration, and confidence.
Guidance from professional and experienced tutors, targeted concentration with high-quality practice on problem areas, and several simulated tests to practice session help you build confidence before the day.
Personally, I liked the breakdown because it helped me understand that they know exactly what they are doing.
Here are some Magoosh IELTS reviews to back up the authenticity of this breakdown:
I was a little disappointed to find out only two major courses were offered. However, upon reading the content and features of the courses, I realized the two were even more packed than some of the other extensive courses.

If you're about to choose a program, you will notice that Magoosh would ask you to register either for academics or general training.
Before we go into the details of the courses, let's quickly explain what it means:
The IELTS test is critical in making serious life choices that pertain to migrating to an English-speaking country. Due to this, you have to make sure you choose only the best option for you.
Academic Training
This particular examination is a little more complex. It helps the board determine whether your proficiency and grasp of the English language is suitable for an academic environment.
You should only choose this option if you're looking to study or work at a professional organization upon arrival in the said country.
For Magoosh, they have personalized their academic training course so that you can be sure you are getting the value for your money. Every arm of this course will be trained at a higher level, as with more instructors.

General Training
This particular exam tests your English proficiency when it comes to everyday context. The board wants to know if you can uphold simple conversation in English or not. It is real exam that can be used in businesses or professional settings, but not as widely accepted as the academic cert.
In this course, Magoosh has also brought in their A-game. Here, you will find the most down-to-earth tutors who have spent years in their vocation. They would help you relax and learn faster.

The Courses Packages
As I mentioned earlier in this Magoosh IELTS prep review, there are two main plans.
These are:
Premium (One month)
Premium (Six months)
Premium (One Month)
This plan is great for students who no longer have the advantage of time. As a member of this class, there are so many things you stand to gain.
For a start, the program is comprehensive, notwithstanding its short duration. Lessons cover IELTS speaking, listening, reading, and writing in the form of foundational explanations, 1,000+ likely questions, and over 120 videos! With these resources, you can be sure that the program has its strengths.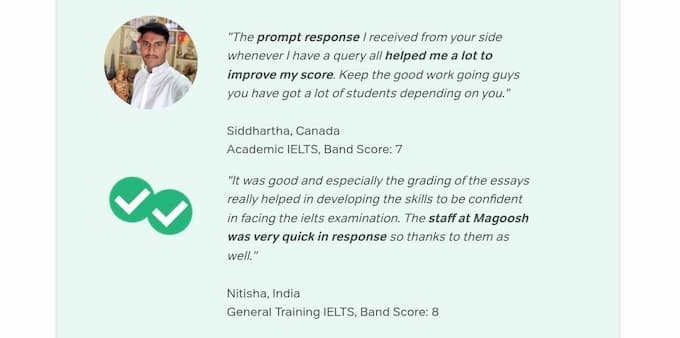 What's better? You'll also have access to one graded speaking test and one graded writing test. Both will help to assess the efficiency of the materials you learn after a while. Similarly, a full score improvement predictor estimates your score in the examination using your present records as a yardstick.
In addition, you can have detailed lesson schedules even if you're occupied with another part of your life. It gets better. A feature called "ask-an-expert" allows you to seek answers to certain questions from professionals.
Consequently, when considering all these features, it's easy to see why Magoosh IELTS assures candidates of a full refund if they fail to meet their target band score.
You have the option to sign up for academic or general purposes. It depends on your objective, although the site is willing to provide you with both material types when necessary. Select any today for the best value you can get elsewhere.

Premium
The six-month Magoosh IELTS course may be best for students who have enough time to devote to their preparations. It's also more supportive, so I would suggest it for busy candidates who believe they need that extra support, too.
Let's see the key features on offer:
4 Graded Speaking Assessments;
4 Graded Writing Assessments;
Score Predictor;
Detailed Study Schedules;
Unlimited Ask-an-Expert Questions;
Target Band Score Guarantee.
Six months is relatively long, so Magoosh puts in certain measures to ensure you learn as best as you can during this period. This starts with an upgrade from the basic exam lessons one graded test to four graded assessments on speaking and writing. Students can have an intensive examination experience beforehand and be excellently equipped for the main test with such a provision.
Similarly, you'll have access to an exhaustive lesson plan. You have all the time, so why not? Content in the course includes comprehensive attention to writing, trading, speaking, and listening.

There are over 1,000 practice questions, all of which are generated based on metrics and past questions. The next difficulty level matches your progress, too, so the system brings you up gradually. And, remember, it has six months to do so! All questions have videos explaining the rules behind them, too, so if you're answering questions on writing, you'll have videos on the fundamentals of writing.
Apart from this, there are over 120 standard videos on the various subdivisions of the test, including speaking and listening. You can select a specific module, like reading, and focus on videos on reading only. With this feature, you can put your time to good use. Spend one month on each part and take the practice tests so you know where to focus on with the remaining two months of revision.

These are excellent standards in the industry. Therefore, I expect that applicants for this course who are deliberate with learning will benefit significantly. Magoosh IELTS believes so, too, so there's the guarantee of a refund if you can't score as high as you targeted.
Note "targeted" doesn't only mean what you want to gain but what you put in sufficient effort and commitment to achieve. I advise choosing this package for engaging in magoosh IELTS preparation and preparations.
Magoosh IELTS Prep Cost
I find the prices at Magoosh acceptable because they offer full value for what they cost. Remember, all the content I mentioned above is available in each course.
Apart from this, the costs are relatively fair. I made a comparison with other IELTS prep providers and was impressed. This doesn't mean it's the cheapest online test prep company out there but what it offers is superior to what any cheaper site ever would. Remember, "a penny saved is a penny earned."
However, I should chip in that pricing shouldn't be a make-or-break criterion for you when considering examination practice programs. The quality of the course should be your top priority, although this doesn't mean that the costliest offers are the best.
And remember that with our coupon code "EDUREVIEWER10" you can get 10% off of any package you choose. Anyway, here's a more detailed guide on Magoosh IELTS prices.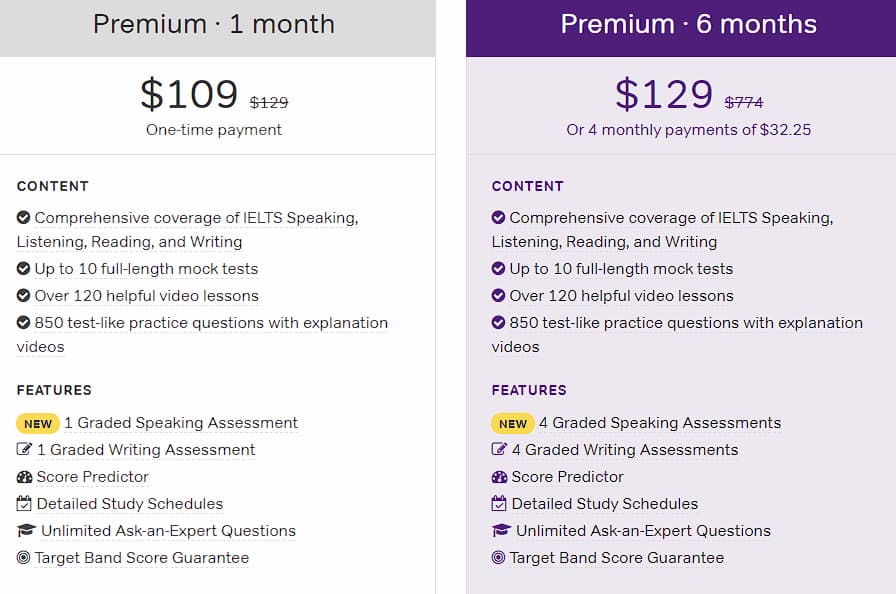 Premium (One Month)
The one-month premium course is the basic package at Magoosh IELTS. It costs only $109, which you have to pay in full before starting the program. However, it's noteworthy that this plan doesn't offer less than it should simply because it's basic.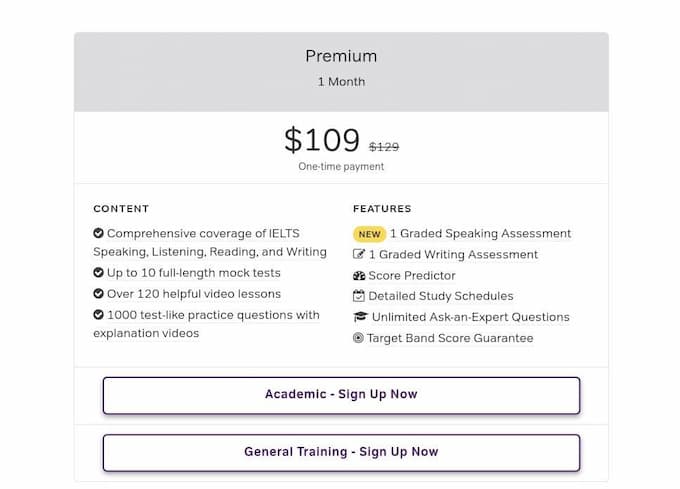 You'll find several study aids to use, including about 120 videos and 1,000 practice questions that cover speaking, listening, writing, and reading. Add the graded tests on speaking and writing, and you'll have quite a satisfactory package.
Premium (Six Months)
Although the Magoosh IELTS one-month course may be sufficient for some applicants, I think this option spanning six months is preferable, especially if you're writing for the first time or have written before and now know that you have quite a difficulty with the test.
This package offers all features in the one-month plan and also includes 3 additional practice tests. Now, in six months, you can take each practice test after 45 days to measure your progress. Four practice tests in six months prepare you a lot.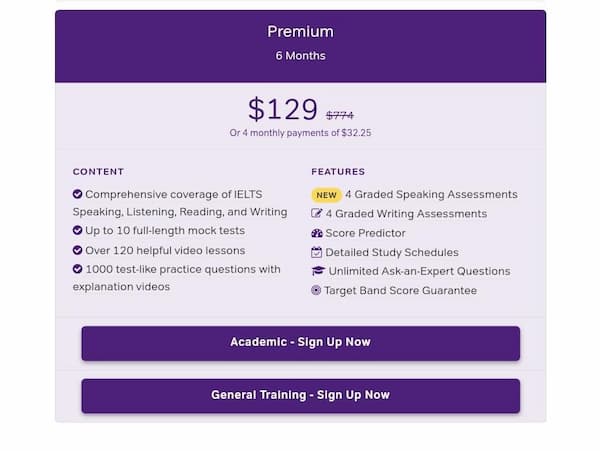 However, do you know the best thing about this package? It costs only $129! That's just a $20 difference from the basic plan, and you'd agree that 3 extra practice tests are worth the price. Magoosh is thoughtful in its payment provision, allowing you to make four monthly payments of $32.25 each if you can't afford the whole payment at once.
Select this package for a lot more than the basic package offers — after all; you can pay in installments.
Here's a table showing the qualities of both packages at a glance.
Course
What to Expect
Price
Premium (One Month)
●     1,000 practice questions.

●     10 full-length mock tests.

●     About 120 helpful videos.

●     Comprehensive coverage.

●     1 graded test on speaking and writing.

●     Onetime payment

$109
Premium (Six Months)
●     1,000+ practice questions.

●     10 full-length mock tests.

●     120+ videos.

●     Coverage on speaking, listening, reading, and writing.

●     Four graded assessments on speaking.

●     Four graded assessments on writing.

●     Four monthly payments

$129
Quality of Magoosh IELTS Programs
The quality of a course on offer at any IELTS prep site has to be your most essential consideration. Why? Buying a high-quality course once is enough to see you through.
Let's see if you should depend on Magoosh IELTS courses.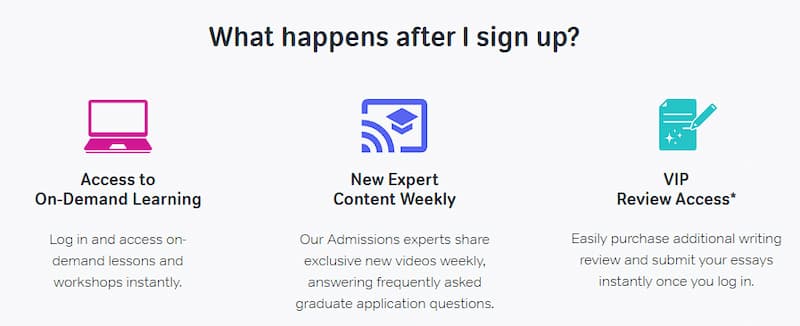 Uniqueness of Prep
Numerous factors differentiate Magoosh IELTS from others. They are:
Improved value for money. Considering what they cost, I can confidently say that Magoosh IELTS courses are one of the most valuable on the market.
Clear money refund policy. Most IELTS prep sites don't refund under any circumstances. Magoosh stands out by maintaining a clear refund directive that'll save you the hassles of getting back your money if you should.
Four graded tests. You have access to four graded assessments on speaking and writing each. With these tools, you can have a good idea of your strong and weak areas before the examination. These tools will also help to improve in these areas.
Comprehensive study sessions. The IELTS lessons at Magoosh cover writing, reading, listening, and speaking and provide excellent resources, including 1,000+ likely questions, to ensure fruitful outcomes.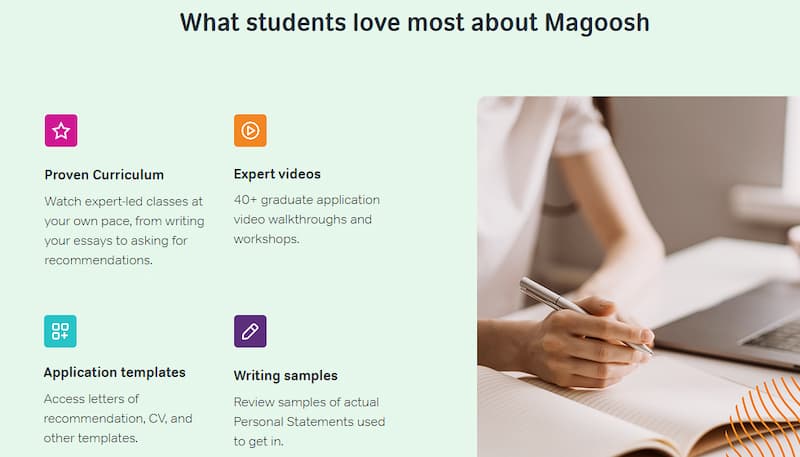 Available Guarantees
Magoosh IELTS offers two different guarantees, each with a clear refund policy. The site avoids mincing words to prevent future confrontations between them and customers.
The first is the seven-day guarantee, which states that Magoosh will provide you with a full refund if you inform them that you are not satisfied with the quality of their courses within seven days of buying.
There are no strings attached, no back and forth. However, note your credit card company may pocket the foreign currency transaction fee if you bought using a non-US card.
The score guarantee is the next. Magoosh offers a score improvement guarantee and full refund, too, to any student who fails to meet their target band score after the exam. However, there are strings attached to this warranty. Follow these steps to qualify for it:
Tell Magoosh your target score through [email protected].
Watch all of the lesson videos.
Sit for two mock tests, at least.
Complete all 1,000 Magoosh practice questions.
Use all your Speaking and Writing assessment credits.
Follow a study schedule.
Ask a Magoosh expert for help.
If you don't keep to these guidelines, you won't be qualified for this guarantee.

Are Magoosh IELTS Prep Courses Effective?
The effectiveness of a prep course greatly depends on the quality of materials available and the level of tutors taking the students.
I have good reasons to believe Magoosh courses are effective.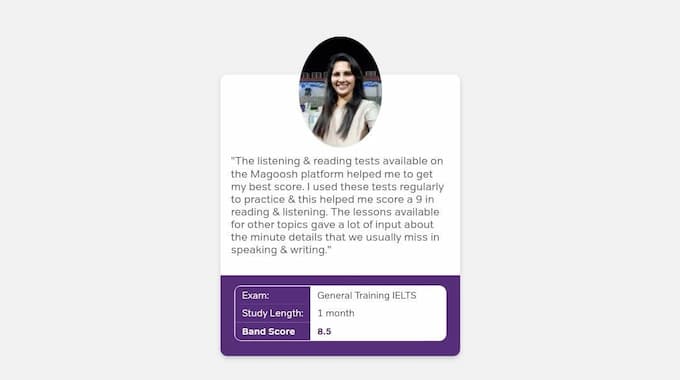 To begin with, Magoosh offers a vast selection of study materials for students. This includes the 1,000 practice questions and their video explanations, the 120 video lessons, custom practice, and the ten mock tests.
Learners who can share their tunes wisely will find these courses very effective.
For instance, the program runs for six months. It's smart to take a mock test at the beginning to know the areas you need to make the best efforts.
If your first test shows you're terrible in writing, then you'll focus more on the writing lessons for some time before another test, and vice versa.
Apart from this, several other options keep the lessons helpful. You have access to a score predictor, which is a tool to predict what your actual exam test score may be judging from your current mock performances. With this resource, you can determine your current level and put in more work to improve.
"Genius is one percent inspiration, ninety-nine percent perspiration." — Thomas Edison
In addition, you have the choice to ask experts for clarification on questions or concepts you don't understand from the lessons. This fosters interaction between learner and tutor, re-creating a classroom for better results.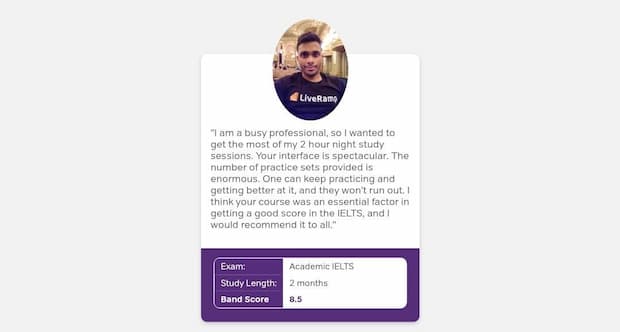 Then, I think the graded assessments are an excellent tool, too. These assessments are taken to get honest feedback from the website on your ability.
With this, you can evaluate your performance to know where you've improved and put more effort.
Remember, you get four graded analyses on speaking and writing each when you pay $20 more!
Speaking of tutor qualification, I believe the experts in charge meet reasonable standards, too. Take Eliot Friese-Meyers, for example.
He graduated from Harvard and currently has over ten years of experience in TOEFL and other IELTS prep courses and education under his belt. Consider that he has an excellent tutoring style as well, and you have a first-rate scholar at your service.

His colleague, David Revine, is also excellent at what he does. He owns a BS and an MA from the University of Wisconsin-Eau Claire and Wisconsin-River Falls, respectively.
Currently, he has more than two decades of experience tutoring English!
"Good teachers know how to bring out the best in students." ― Charles Kuralt.
According to Magoosh IELTS reviews, both experts are keen to help students resolve any challenge.
Magoosh Private IELTS Tutoring
A private IELTS tutoring program gives you one-on-one access to a professional and may be online or in person. This package is typically more personalized and engaging.
However, Magoosh doesn't offer a private plan for students interested in it, although I suspect it may be worked out since the site allows you to contact them through email or social media for inquiries and requests.
Pros
Affordable courses.
Tailorable learning options (academic or general).
Available on mobile with an intuitive interface.
A broad variety of learning resources.
Unlimited access to expert tutors whenever necessary.
Helpful exam prep simulations.
Money-back guarantees.
Cons
Lack of live classes.
One month may be too short for learners to gain sufficient knowledge.
FAQs
Is Magoosh Good for IELTS?
Yes, Magoosh is good for IELTS. Thanks to the diverse resources available to applicants who select the resource.
How Much Does Magoosh Cost?
Magoosh courses cost comparatively low. The one-month plan costs $109, while the six-month package costs $129 only.