If you're searching for the best LSAT test prep, look no further than this comprehensive and honest LSAT Lab prep review. With a rating of 4.3, here is an in-depth analysis and comments on LSAT Lab's offerings, drawing from my personal experiences, meticulous research, and user feedback.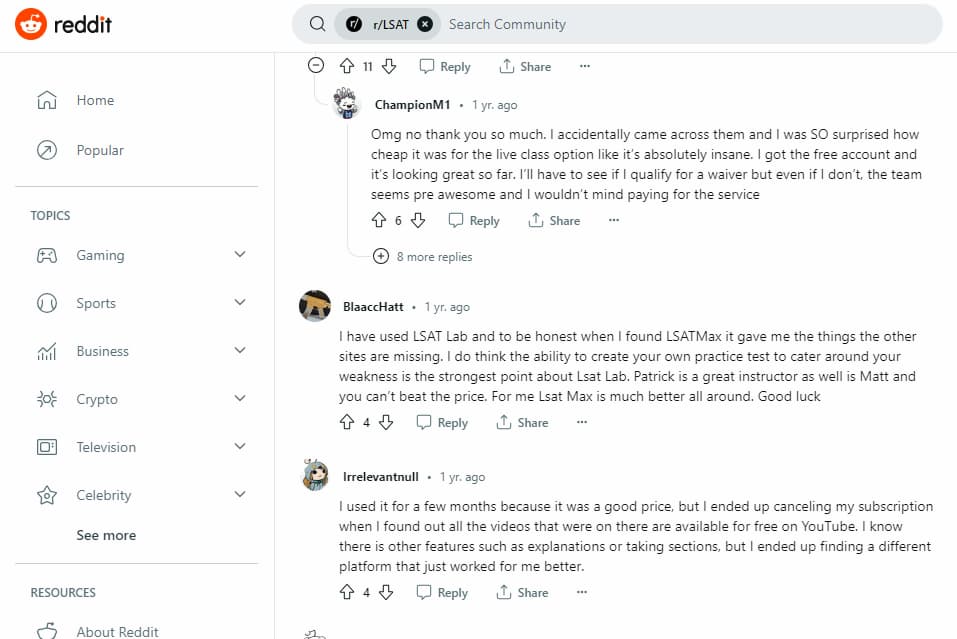 Before delving into the comprehensive LSAT Lab law review, it's essential to understand the significance of our assessment and why it is reliable. Our perspective offers you a guiding light amidst the vast sea of LSAT preparation options, helping you make an informed decision that aligns with your goals.
Why Our LSAT Lab Review Matters
In the world of LSAT test prep, the choices can be overwhelming. Our review is designed to cut through the clutter, providing you with a detailed and expert analysis of LSAT Lab's offerings. We've employed rigorous criteria to evaluate this platform, ensuring that our insights are informative and reliable.
Our Evaluation Criteria
Our review is grounded in a comprehensive evaluation framework encompassing key factors such as:
Quality: The effectiveness of the course content and study materials.
Features: What sets LSAT Lab apart from other LSAT prep services?
Prices: The cost of the courses and available payment options.
Website Usability (Interface): How user-friendly and intuitive the platform is.
Value for Money: Whether the courses offer significant value in relation to the cost.
Students' Feedback: Insights from students who've used LSAT Lab.
Guarantees: Including money-back guarantee and privacy policies.
My LSAT Lab Experience and More Features
Let's dive into my journey with LSAT Lab. This experience sheds light on the platform's standout features and significance for young learners and parents seeking effective LSAT test prep. LSAT Lab caters to a diverse audience, from high school students preparing for college to ambitious individuals pursuing a legal career.
Main Features
The main features of LSAT Lab's courses are designed to provide a holistic and adaptive learning experience. Engaging video lessons, interactive practice questions, and real-time feedback work together to bolster understanding and confidence.
Additionally, the platform's adaptive learning technology ensures that each student's strengths and weaknesses are addressed, fostering a tailored approach to skill improvement.
Navigating through LSAT Lab is a breeze. The dashboard's user-friendly interface allows access to various course modules and practice materials. Whether you're a novice or have some familiarity with LSAT concepts, the platform's intuitive structure makes it simple to start your learning journey.
How LSAT Lab Works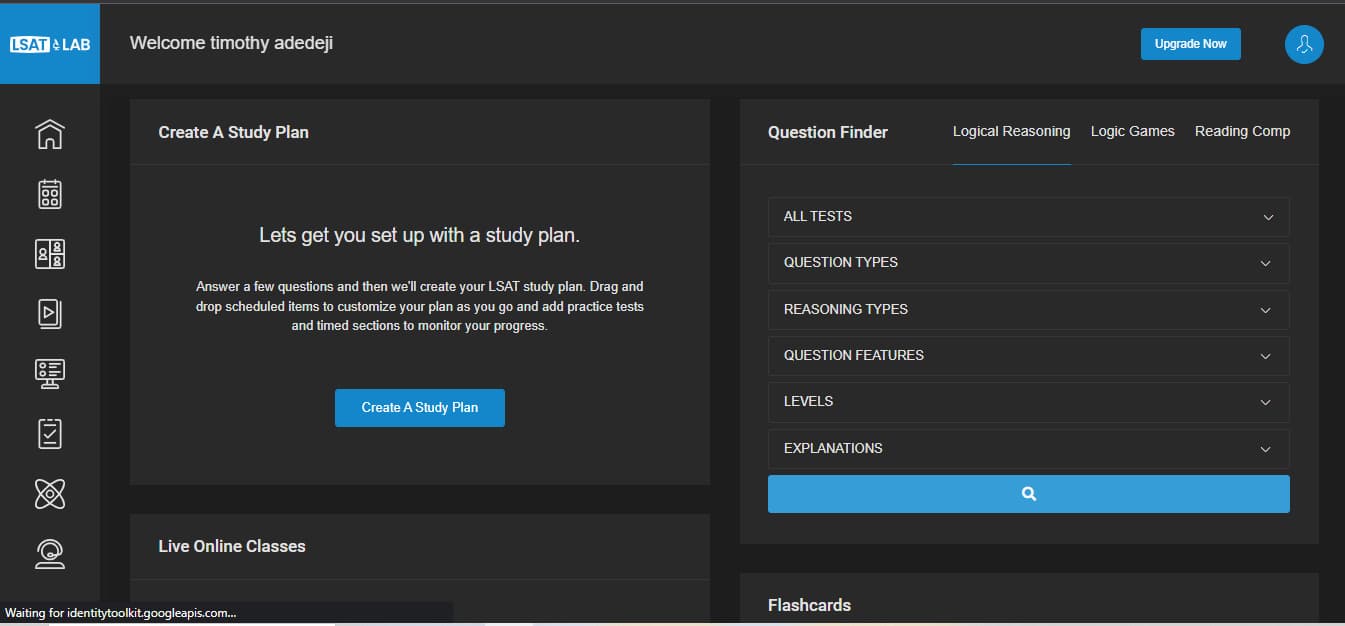 Navigating through LSAT Lab is a straightforward process. Upon logging in, you're greeted by an intuitive dashboard that provides access to various course modules, practice materials, and performance analytics. The platform's adaptive learning technology ensures that your learning journey is personalized.
As you engage with lessons and practice questions, LSAT Lab analyzes your performance and adjusts the difficulty level accordingly. This responsive approach ensures you're consistently challenged without feeling overwhelmed.
Features That Caught My Attention:
Interactive Lessons:
The interactive video lessons stood out as a dynamic way to engage with the material. These lessons went beyond static content, allowing me to actively participate and reinforce my understanding of critical concepts. This interactivity fostered a deeper connection with the subject matter.
Practice Exams With Immediate Feedback:
The practice exams served as valuable checkpoints in my preparation. What truly impressed me was the immediate feedback provided after each practice session. This feature allowed me to identify my areas of strength and areas that required more attention, enabling me to fine-tune my study approach.
Comprehensive Study Materials:
LSAT Lab's study materials are both comprehensive and coherent. The range of topics covered ensures you're well-equipped to tackle various aspects of the LSAT test. This comprehensive approach minimizes the need to seek additional resources, streamlining the preparation process.
Overall, LSAT Lab's approach has been impactful. The flexibility of accessing content at any time and from any device, coupled with the detailed analytics of my performance, allowed me to gauge my progress effectively. The engaging video lessons and ample practice materials provided a well-rounded learning experience.
While my LSAT Lab journey was replete with enriching experiences, what truly stood out was the sense of community fostered within the platform. Connecting with fellow learners, sharing insights, and collaborating on practice problems created a supportive environment that echoed a classroom setting, albeit in a virtual realm.
As you read, you'll discover more about the platform's unique features and their contribution to a comprehensive LSAT preparation journey. Whether you're a student aiming for higher education or a parent supporting your child's ambitions, LSAT Lab offers a tailored solution to elevate your LSAT readiness.
Prep Material and Expertise Behind LSAT Lab
This section delves deep into the heart of LSAT Lab's preparatory materials, thoroughly understanding the experts behind the scenes and the distinctive advantages that set it apart. This examination sheds light on the content's depth and provides insights into the minds behind LSAT Lab's offerings, ensuring you gain a holistic understanding of what sets this platform apart.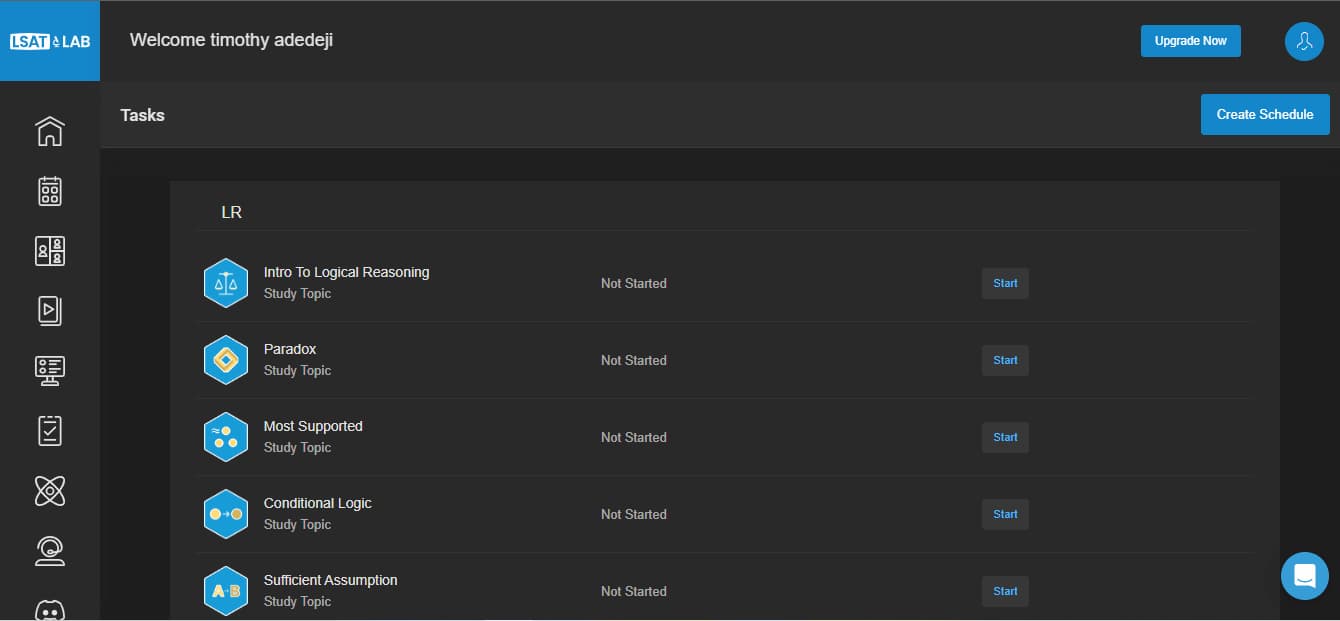 Owners and Expertise In LSAT Lab
At the heart of LSAT Lab's excellence lies the expertise that fuels its offerings. The individuals behind this platform bring a wealth of knowledge and experience to the table, enabling them to craft content that resonates with the intricacies of LSAT preparation. This expertise is evident in the careful selection of study material, the structuring of lessons, and the thoughtful design of practice exams.
The minds driving LSAT Lab are a confluence of experienced educators, content developers, and LSAT specialists. Their collective knowledge ensures that the platform's content aligns with the nuances of the LSAT test, effectively addressing the multifaceted demands that test-takers encounter. This combination of expertise results in prep material that is informative and tailored to the LSAT landscape.
Assurances And Guarantees
LSAT Lab's reputation for quality is further bolstered by the guarantees it offers. These assurances include money-back guarantees and a commitment to privacy, underscoring the platform's confidence in the efficacy of its prep material. This blend of expertise and guarantees creates an environment of trust and authenticity, reassuring users that they are engaging with a reliable and knowledgeable resource.
Distinctiveness In Comparison
What sets LSAT Lab apart from other courses in the LSAT preparation landscape is its adaptive learning technology. Unlike traditional courses, LSAT Lab's platform adjusts to your learning pace, ensuring that you're consistently engaged and challenged. This personalized approach is a hallmark of LSAT Lab, setting it apart from static alternatives.
Comparing LSAT Lab With 7Sage And Princeton Review
In comparison with other test prep platforms such as 7Sage and Princeton Review, LSAT Lab's emphasis on adaptability, interactivity, and its range of pricing tiers sets it apart. While 7Sage and Princeton Review have their own strengths, LSAT Lab's expertise-driven approach offers a holistic and tailored experience that aligns with the evolving landscape of LSAT testing.
Let's compare LSAT Lab with two notable competitors, LSAT Lab vs 7Sage and Princeton Review, to offer a clearer perspective. Below is a succinct comparison table detailing key aspects:
| | | | |
| --- | --- | --- | --- |
| Aspect | LSAT Lab | 7Sage | Princeton Review |
| Price (USD) | $59 – $399 | $179 – $949 | $299 – $1,499 |
| Quality | High | Good | Good |
| Features | Adaptive, Interactive | Comprehensive | Comprehensive |
As the table demonstrates, LSAT Lab offers a competitive pricing structure ranging from $59 to $399, with high-quality materials and interactive features. While 7Sage and Princeton Review are reputable, LSAT Lab's adaptive learning and engaging approach provide a distinctive edge.
As you proceed, you'll gain further insight into the intricacies of LSAT Lab's offerings, empowering you to make an informed decision that aligns with your LSAT preparation goals.
Prices of the LSAT Lab Courses
In this segment, we thoroughly examine the costs associated with LSAT Lab's courses and the overall value they offer. Let's explore LSAT Lab's Course Pricing on their website.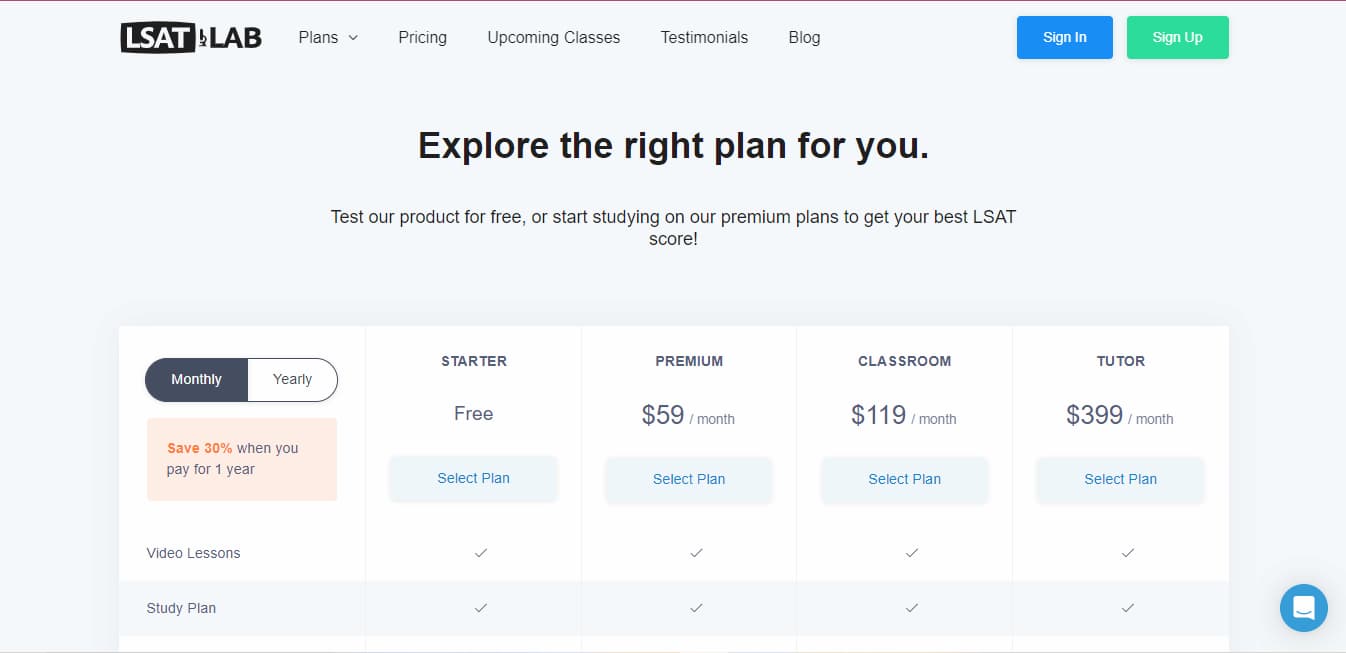 The LSAT Lab cost for its courses varies based on your chosen package. The range typically spans from $59 to $399, offering different tiers to cater to varying budgets. It's important to note that the price point you opt for determines the extent of access and features you receive.
This flexibility ensures you can find a package that aligns with your financial capabilities while benefiting from LSAT Lab's offerings. Here's an overview of the available pricing options in a table:
| | | |
| --- | --- | --- |
| Package | Pricing (USD) | Features |
| Starter Package | Free | – Access to basic LSAT content |
| Premium Package | $59 | – Comprehensive study materials |
| Classroom Package | $119 | – Interactive lessons and practice exams |
| Tutor Package | $399 | – Personalized learning journey |
Each package offers a unique blend of resources and benefits, allowing you to select the one that aligns with your goals and financial capabilities. Whether you're seeking core content, interactive lessons, or a personalized experience, LSAT Lab has a package tailored to your needs.
Flexible Payment Options
LSAT Lab understands the importance of flexibility when it comes to payment. To cater to a diverse audience, they offer multiple payment options. Whether you prefer a one-time payment or the convenience of monthly installments, LSAT Lab ensures you have choices. This adaptability in payment methods allows you to select an option that suits your financial situation while still gaining access to LSAT Lab's valuable resources.
Also, you can try to search for an LSAT Lab promo code to get a discount.
Value For Money of LSAT Lab's Courses
This section thoroughly explores the value proposition offered by LSAT Lab in relation to the price you pay. This is to help individuals seeking a comprehensive understanding of whether their financial investment translates into substantial benefits and tangible improvements. Now let's find out if it genuinely does worth it.
Determining The Value For Money
When considering any educational investment, the pivotal question is whether it's worth the price. With LSAT Lab prices, the value you receive is closely tied to the comprehensive nature of its offerings. Interactive practice, adaptive learning, and detailed performance analytics provide a robust learning experience.
The tools at your disposal empower you to engage effectively with LSAT content, thus increasing your preparedness and confidence.
Unpacking What You Get
When you invest in LSAT Lab's courses, you're gaining access to a wealth of resources that will be instrumental in your LSAT preparation journey. These include:
Comprehensive Study Materials: Detailed content covering all LSAT test aspects.
Interactive Lessons: Engaging lessons that enhance understanding and retention.
Practice Exams: Abundant practice exams mirroring the actual LSAT test.
Personalized Learning: Adaptive learning technology that tailors the experience to your progress.
Immediate Feedback: Insights into your performance, allowing focused improvement.
Real Impact On Test Readiness
As you embark on your LSAT preparation journey with LSAT Lab, you'll find that its comprehensive approach indeed contributes to your readiness for the test. The interactive nature of the content, coupled with personalized feedback, ensures that you're gaining knowledge and honing the skills necessary to excel on test day.
Student Feedback & Reputation of LSATLab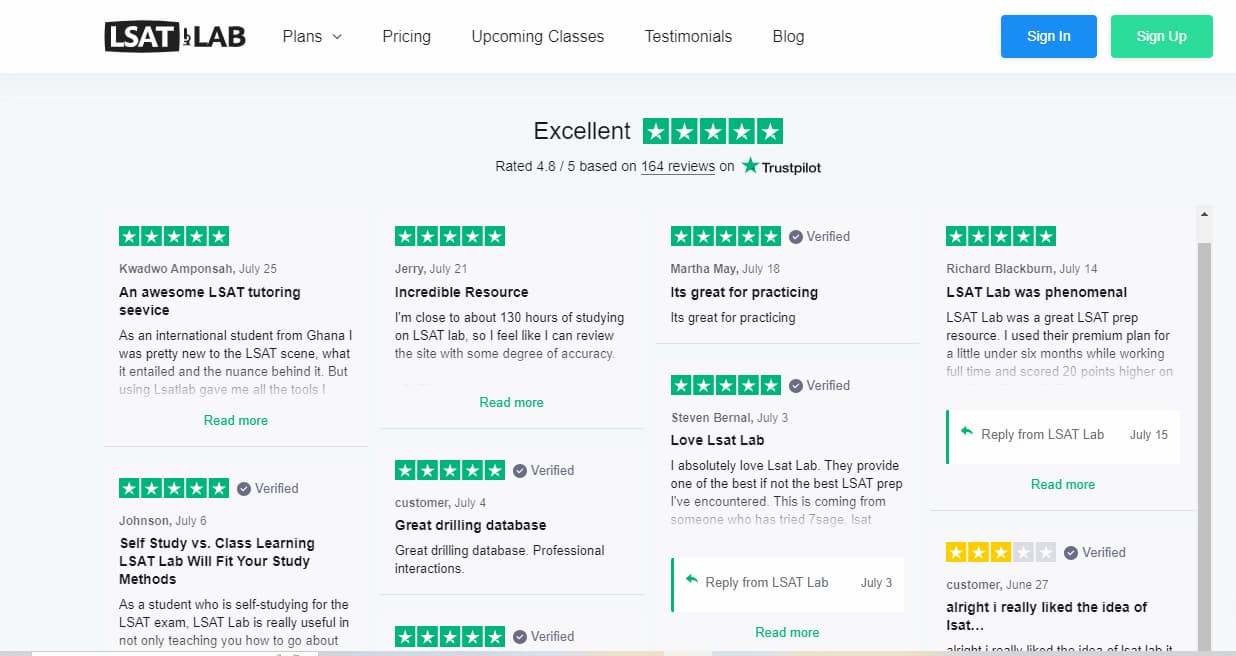 This section investigates student feedback and the reputation surrounding LSAT Lab. Our objective is to provide an in-depth understanding of the platform's interaction with its users, including their support staff's demeanor, the authenticity of client LSATLab reviews, and the platform's overall responsiveness.
Support Staff Politeness, Consideration, Helpfulness
A key aspect of any educational platform is the nature of its support staff. LSAT Lab prides itself on providing a support team known for being polite, considerate, and helpful. The interactions between students and support staff reflect a commitment to understanding user needs and addressing their concerns in a respectful manner.
My Perspective
In my opinion, LSAT Lab's support staff exemplifies the kind of assistance one seeks during a crucial test preparation period. Their politeness and attentiveness reflect a commitment to fostering a positive learning atmosphere. As I navigate through these LSAT Lab reviews, my experiences mirror those of many users, particularly regarding the effectiveness of the platform's resources.
Verifying Client Reviews
We present a collection of genuine reviews from previous clients to offer an honest portrayal of LSAT Lab's reputation. These reviews span platforms like TrustPilot, Reddit, Sitejabber, Google, and YouTube.
However, it's important to note that we avoid simply copying and pasting comments. Instead, we ensure that our presentation adheres to ethical guidelines while capturing the essence of user experiences.
Here are some of the screenshots of the LSAT reviews on Trustpilot, Reddit, and Google and what I think about them:
Trustpilot Review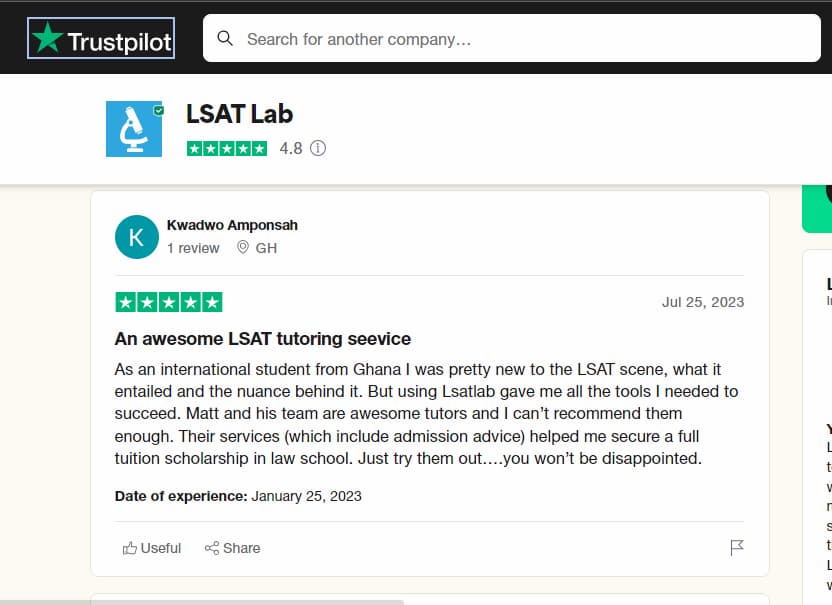 My view: A full tuition scholarship is an outstanding achievement, and for LSAT Lab to help out makes it even more laudable. Kwadwo's experience perfectly aligns with my experience on the platform. In fact, it aligns with everybody's experience – great team, quality admission advice and consultation, and an overall great platform for beginners.
Reddit Review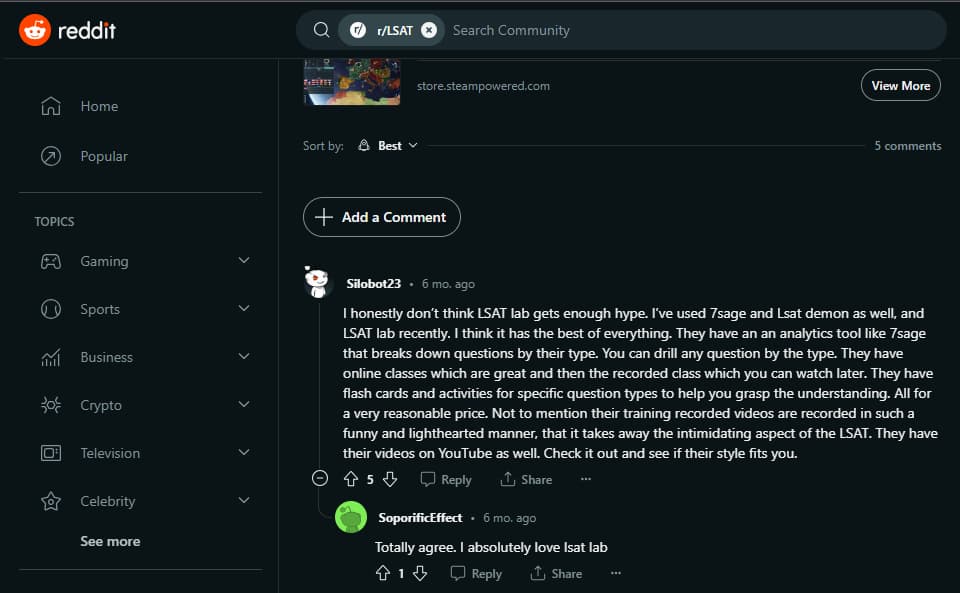 My view: Yes, LSAT Lab is not getting enough hype and attention it deserves, and if you're looking for the best in everything, LSAT Lab is the right place to be.
Google Review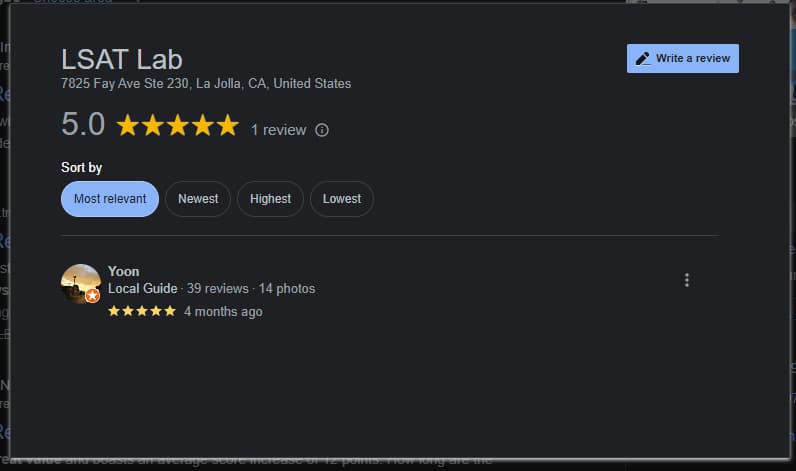 My view: Two words only, "local guide," which captures what LSAT Lab is about. Also, a 5-star rating doesn't come often on Google reviews.
Balancing Insights
As we navigate these reviews, my perspective as an experienced reviewer is interwoven between the screenshots. I provide a nuanced viewpoint, highlighting where my experiences resonate with users and where they differ. This inclusion aims to provide a well-rounded understanding of how LSAT Lab's offerings align with real-world student experiences.
Differences In Perspective
At the same time, it's essential to acknowledge that individual experiences can vary. While some users and I may have found certain aspects of LSAT Lab to be aligned, there might be instances where my perspective differs. This diversity in experiences is a reminder that LSAT Lab caters to a wide audience, and the nature of feedback reflects this range of perspectives.
Pros
Adaptive learning enhances personalized study journeys.
Interactive practice questions foster active engagement.
Comprehensive video lessons cover a broad spectrum of LSAT topics.
Immediate feedback contributes to focused skill improvement.
Multiple pricing tiers cater to varying budgets.
Diverse payment options enhance financial flexibility.
Cons
Advanced package pricing may be a deterrent for some.
Limited availability of physical study materials.
The platform interface could be more visually appealing.
The Recap: Is LSAT Lab Good?
As we reach the culmination of this review, we aim to provide a comprehensive recap of LSAT Lab's attributes, guided by the pillars of quality, value for money, and student feedback. This reflective analysis gives readers a clear perspective, helping them make informed decisions about their LSAT preparation journey.
Having delved into LSAT Lab's attributes, it's evident that the platform is a solid option for LSAT preparation. Its emphasis on quality and the value it offers for investment positions LSAT Lab as a commendable choice. Student feedback echoes its effectiveness, while the support staff's assistance and responsiveness further contribute to its reputation. Considering these factors, we confidently recommend LSAT Lab as a relatively good company for LSAT prep.
As you consider your LSAT preparation options, consider the interplay of quality, value for money, and student feedback. This triangulated approach ensures that your journey is effective and aligned with your aspirations and learning preferences.
FAQs
How much does LSAT Lab cost?
LSAT Lab offers a range of pricing tiers, accommodating diverse budgets. The Starter Package is free and is an accessible entry point for a free trial. The Premium Package, available for $59, provides a more comprehensive array of study materials. The Classroom Package, priced at $119, caters to intensive test readiness. And for those seeking a personalized experience, the Tutor Premium Package offers a bespoke journey at $399.
Is LSAT Lab worth it?
Yes, LSAT Lab's value proposition is substantial. The platform's comprehensive study materials, interactive lessons, and personalized learning paths ensure that your investment translates into tangible skill improvement. The adaptability of the courses and the immediate feedback contribute to focused progress, making LSAT Lab a worthy investment for LSAT preparation and beyond.
How good are the LSAT Lab courses?
LSAT Lab's courses are designed with expertise, tailoring content to the intricacies of LSAT test preparation. The interactive lessons, practice exams, and adaptive learning technology provide a holistic and effective approach. The positive student feedback also underscores the effectiveness of the courses, reflecting the platform's commitment to delivering quality LSAT preparation. Is LSAT Lab legit? Yes, it's a legal and effective platform for students to prepare for their exams.