A lot of students consider taking online prep courses. Yet, often, they are left unsure whether they are worth the time, effort, and money. But prep courses can be highly beneficial for students, and there are many types available.
This includes the ACT, SAT, MCAT, and LSAT. The main benefits you can expect from investing in an online prep course include expert guidance and learning.
You can prepare for difficult questions and improve your score before the real exam. With the right resources, you can improve your confidence and practice positive study skills for the future too.
But there are many online prep courses available, and you may find it difficult to choose the right one. Well, that is where we can help you. We extensively create peer reviews to find the best companies out there.
We examine everything and test the service so that you do not have to. We take a look at everything, including how the service works and if it is safe and the quality of the course, and the customer service.
We also give it a grade overall so that you can know what to expect.
You have found our Khan Academy review. If you were intrigued by this company, you would be glad to hear we have extensively carried out a Khan review looking into every detail of their service.
From our SAT review of Khan Academy to look at the quality of the customer service, we leave nothing out. Let's get started.
Khan Academy Overview
Before we dive into answering if Khan Academy is good or not, let's look at what exactly this company is and how it works.
First of all, it is important to highlight that Khan Academy is a non-profit education provider service online.
This means that their services are available to everyone with access to a computer, and there is no pricing involved, as it is free to use and enjoyable for students, teachers, and members of the public.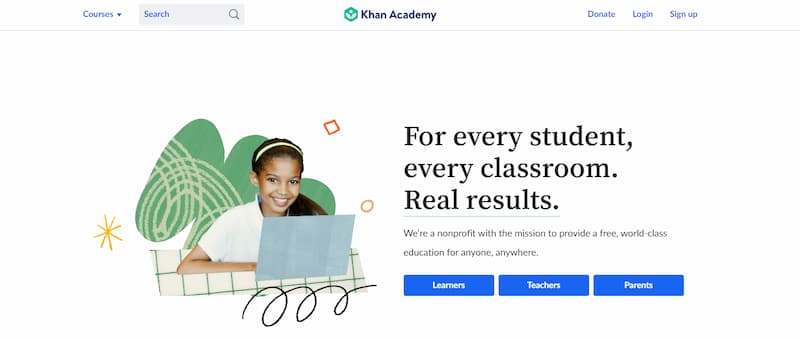 It is available for students and teachers to use, as well as parents and other users. Essentially, it can be used by anyone that wants to learn.
It appears to be a safe website, and since there is nothing to download or pay for, there is minimal risk. You can read content, watch videos, and interact with other students through a community.
If you choose to create an account, you can access some beneficial features. This includes the ability to track your progress, which is helpful for parents, students, and teachers alike. There are also gamified topics that you can use.
You need an email address, Facebook profile, or Google+ account to get started. You can collect badges to keep you motivated, and we think this is a fun feature that helps with learning. This includes badges for 'making progress' and being a 'researcher'.
There are a large variety of different languages available. So, a lot of students learn, and teachers can be accommodated from around the world.
It is important to realize that the website and courses offer no class credit. There is no prerequisite to joining the course.
Certainly, the company claims that it can help you work towards a better score for exams. Reviews from many users point out that they think most of the content is good, while some of the university-level topics could be expanded and improved upon.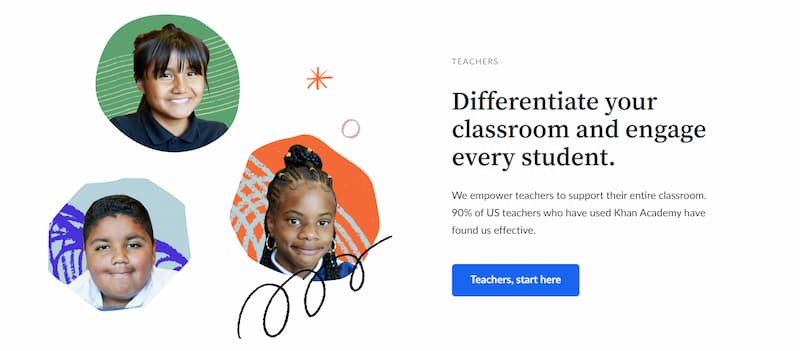 Is this company the best out there and offers the best online prep courses? There is certainly some fantastic content on offer. But some things let it down that we will go into.
Story of KhanAcademy.org
Just before we dive into our Khan Academy SAT review and analysis of other courses, we want to appreciate the organization's story.
Salman Khan founded Khan Academy in 2008. He used to tutor his cousins and, since then, has aspired to share education with everyone around the world.
The belief is that education is a human right, and this is why it is a non-profit organization.
They do not ask for payment for courses. Instead, they welcome contributors and have since worked with huge organizations to make this happen.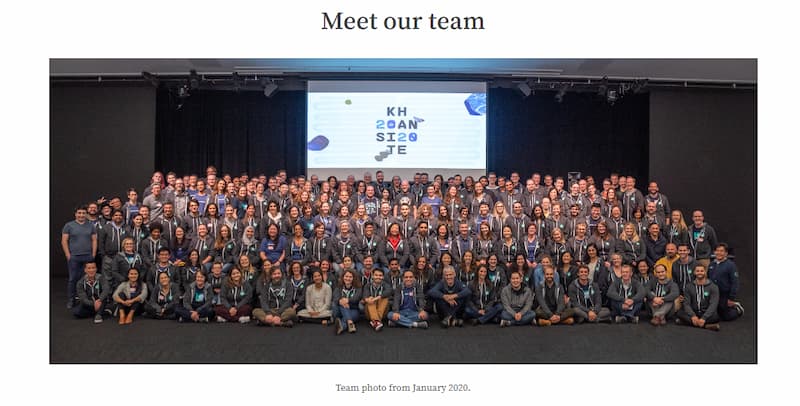 Khan Academy Ratings of Courses
There are a variety of courses available online. In particular, this includes math, arts and humanities, computing, science and engineering, and economics and finance.
We will review some of them to show you what you can expect and answer the question: does Khan academy work? Or does Khan Academy help with SAT?
In this review, we are going to answer all your possible questions. So, let's take a look at some of the most popular test prep courses.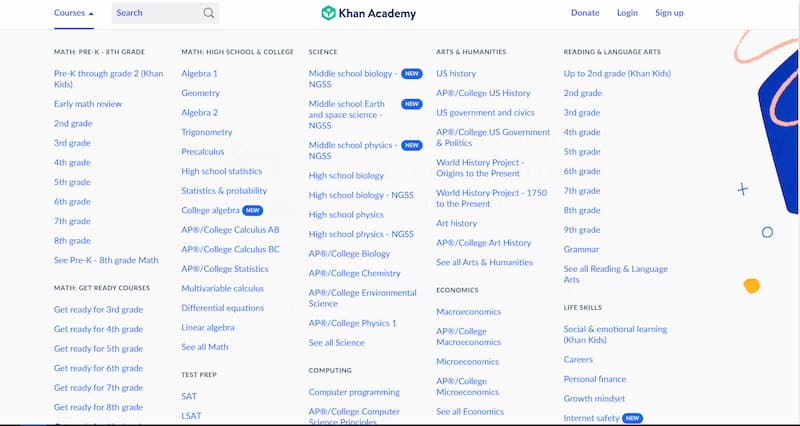 Khan Academy SAT prep review.
They offer content that was created in partnership with the College Board. This includes eight full-length practice tests that are like the real thing.
You can also watch videos and lessons to learn more and study. They say that if you spend 20 hours of practice using their content, you could gain 115 points.
So is Khan Academy good for SAT? Yes, it is, but for complete SAT and ACT prep, we recommend reading our Magoosh ACT reviews, where we cover why it is one of the best companies for ACT preparation.
Khan Academy LSAT prep review.
We haven't forgotten to perform the Khan Academy LSAT review. You can take their diagnostic test to help you identify what you need to work on.
This allows you to study what you need to and build your confidence. There are videos and questions you can use to learn. This includes timed full-length practice tests.
Please find the best LSAT online course on our list of top prep websites.
Khan Academy PSAT prep review.
We had to dig a little deeper with the Khan Academy PSAT review. We could not spot it on the dropdown menu but found resources once we used the search bar. We eventually found a full-length PSAT test.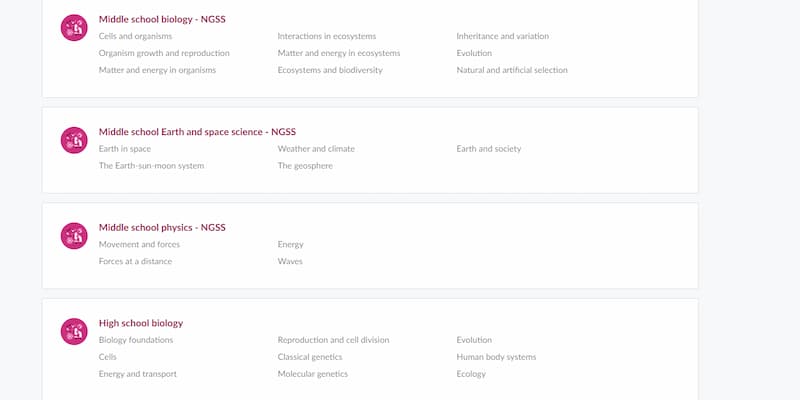 Khan Academy MCAT review.
There were lots of passages available with practice questions to allow you to learn. This includes everything from critical analysis and reasoning skills to the chemical and physical foundations of biological systems.
The extensive topics on display were impressive. You can pick and choose what parts you wish to study content about.
So, is Khan Academy good for MCAT? Yes, our Khan Academy MCAT prep review was very successful. But if you are still unsure, read the list of the best MCAT prep courses available for everyone online.
Khan Academy AP Physics 1 review.
This was created by an experienced writer with years of experience. He was also a mechanical engineer. You can earn points in this course by reading through different content.
There are course challenges and exams that you can take to test your skills and what you have studied.
Khan Academy math review.
You can choose the level that you need, starting from early math to college level. This can help you achieve better grades.
We also had a Khan Academy algebra review, and we were impressed by the extensive coverage of the topic. Everything was there that we could think of.
But if you need a math private tutor, you can always search for one on Wyzant.com, as it is the best place for that.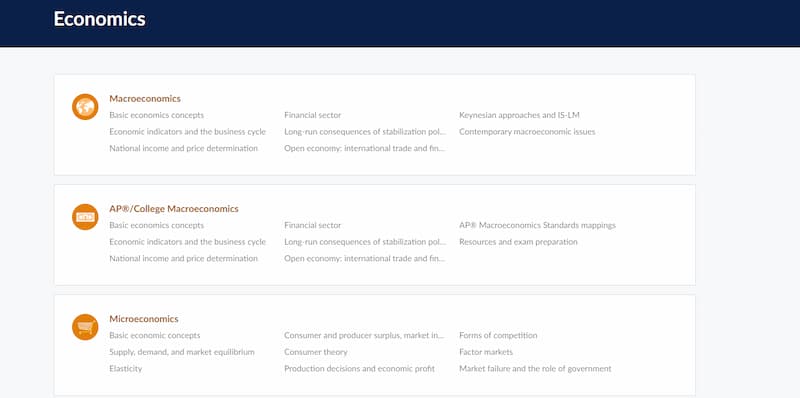 Khan Academy biology review.
There was a course summary so that you could jump to the topics that you needed. It was very extensive and covered the most popular topics that you can expect to see in exams.
Of course, you can also watch the videos to suit how you learn. There are different levels of biology, too, to suit the student.
If you happen to prep for TOEFL and look for the best TOEFL preparation course, find it on our website easily.
Does Khan Academy have GRE prep? We couldn't find a specific page for the GRE test prep on Khan Academy's website.
Pricing of Khan Academy Courses
We loved our Khan Academy reviews because all of the courses you can use are completely free. If you read the Princeton Review reviews and cover prices, it is comparatively expensive, almost like any other test prep service. That's right, and they do not cost you a penny.
You can access them all on-demand and in full. You do not even have to create an account to use the resources online.
You can search for the subjects you are looking for or the videos you want to watch. You will also find the videos on YouTube if this is your preferred platform. There is no commitment.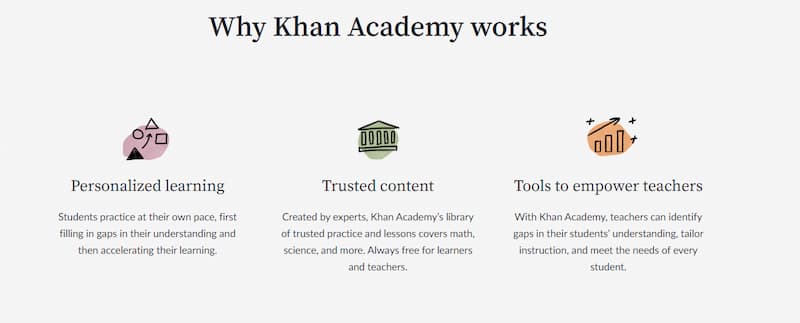 This company is legally registered as a non-profit in the United States. They welcome generous donors to help provide education to children.
There is an option to help out the company with its mission. This means donating money to the cause.
Of course, this is not something that is required, and it is in no way mandatory. This might also only be at certain times of the year.
But if you enjoy your experience and feel passionate about helping others with education, you might consider this option.
You can send a cheque or donate by wire transfer. Also, you can donate with cryptocurrency, Square Cash, credit card, and PayPal.
Khan Academy Courses Quality
The burning questions you may have if Khan Academy is good for SAT. Does this website have good-quality materials for learning?
Of course, these are critical questions and perhaps the most crucial for your learning experience. With so many options out there, you will not use a company that does not offer quality materials.

Many people assume because learning is free, this might jeopardize the quality of what is available. But this does not seem to be the case with Khan Academy.
Looking at the materials ourselves, we like what we read and watched. It was informative, fact-based, and good for learning.
Reviews from users are also very positive about the quality of the content. The information was good, and they seemed to pass their exams as a result. They are happy and will use the services again.
For example, the Stanford Consulting Group conducted a study in 2015, asking students whether they found the services meaningful for their education.
A majority said that it was. For example, 65 percent of Stanford students found it meaningful, and 57 percent of students from Harvard, Princeton, Yale, and other top schools enjoyed the material.
This indicates that their experience was positive, and they learned a lot from the provided material.

Something that is particularly advantageous is that the assessments are not fixed questions. This means the computer randomizes the questions and exercises so that you can get different ones to practice.
We like how you can go through the content at your own pace too.
Customer Service at Khan Academy Org
We were disappointed when reviewing this website and organization because customer service was not easy to access. There was no 'contact us' button or email address or phone number that was visible on the homepage.
This means if you have a problem, you may have to visit the community and ask a fellow student. While this might be preferred for questions about the materials, it does not help with other matters.

This organization could benefit from a live chat function or contacting someone at the business when you are having a problem.
There are links to their Facebook and Twitter social pages that seem to be active. If you had an urgent issue with something, you could send a message on one of these platforms to get their attention.
But you are still not guaranteed to receive a response.
Khan Academy's Website and Mobile App Usability
Every e-learning website needs to be easy to use for everyone, even those not computer savvy. Plus, it helps with it being aesthetically pleasing too. This all contributes to your user experience and makes you more likely to use the website more than once.
During our review, we were pleasantly surprised by the design. It has an inviting main page, evident with its slogan and lots of images of happy students. The layout is simple, and there are options for learners, teachers, and parents.
You can choose to click on the interlinks, taking you to pages to learn about the company, its contributors, and its supporters. There is not an overload of information. Everything is kept simple and clean.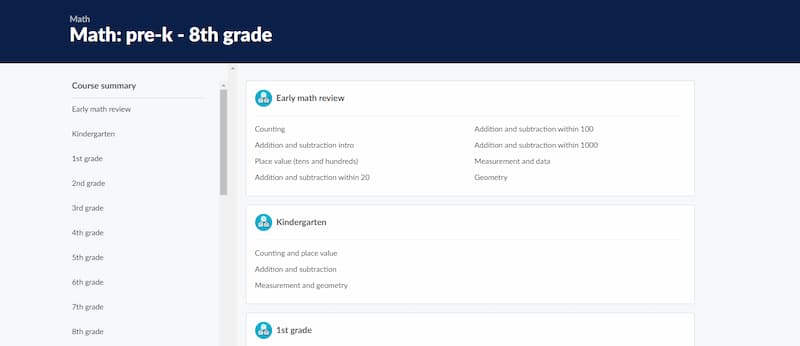 Of course, it is essential to example the usability of the topics and subjects. First of all, you can search using the search bar, which will take you straight to where you want to go.
Alternatively, you can choose a topic from the drop-down menu. This includes math topics, math by grade, computing, arts and humanities, and science and engineering.
Besides, there are test prep courses and a college, careers, and more options. Once click on the subject you want, you will be presented with different topics you can learn about. It is all simple and self-explanatory. Once you get there, it is like a textbook, and you can read and watch videos.
Overall, we like the website and believe anyone of any age and technology ability can navigate the learning they need.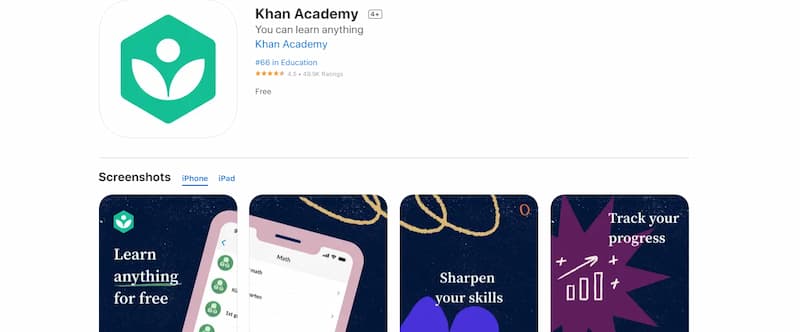 Khan Academy also has apps that you can download and use on the go. We like this alternative since it encourages learning in any setting.
This is great for those that want to utilize study time on the bus or are heading on vacation and want to keep up with their studies.
There is an app compatible with iOS and Android, which will be the majority of users. They are both free to download and access.
The apps have excellent reviews from users that say they are easy to learn with. The menus are clear, and it is simple to navigate around the courses.
You can explore the entire library of videos that you would be able to access using a computer. So, it is not a simplified version; it is the same and works well with mobile devices and tablets.
So, let's proceed with Khan Academy's pros and cons. Find them below.
Pros
All of the courses are completely free.
There are no adverts.
Track Your Progress.
You can work at your own pace.
Caters for various ages.
Quality content.
Cons
More visuals on topic pages.
More courses could be available.
One wrong answer affects the practice exams.
There is no personal help.
No interactive learning opportunities.
Online bugs.