A lot of students wonder if there are any benefits of taking a prep course online? Yes, absolutely. Studies have found that students will score a lot higher on their exams when using an independent prep course as part of their preparation. You can study anywhere and at any time, as well as whenever it suits you. You can feel more confident walking into the exam and know that you have done everything possible to get a good score.
If you have decided you want to take an ACT prep course, there are many companies out there. But which company has the best ACT prep courses online? We are sure that you have googled this, and lots of results came back. The problem lies in knowing the reliable one that you can pay for. Today, we are going to take a look at ACT Online Prep.
Our peer ACT Online Prep reviews go into many details and explain what you can expect from this course and company. We look at everything from the quality of the materials and services on offer to the customer service and prices. So, let's dive in and find out if AC Online Prep is the one for you.
ACT Online Prep Overview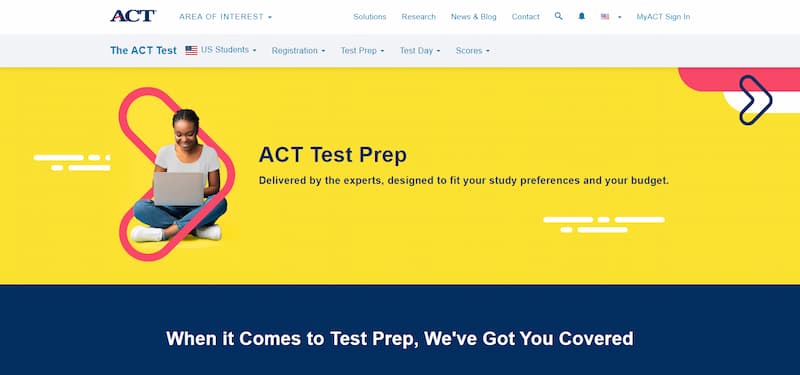 ACT Online Prep is a well-known online course that you can sign up for studying for the ACT exam. The good thing about choosing this website is that the program has been created by the company that runs the real ACT exam. They are based in Iowa City, Iowa, and this is a course suited to independent learners.
The best part about ACT Online Prep is they use previous exams for practice. This is as close as you can get to what your exam will be like, unlike other companies that create their own questions and practice tests that can be easier or harder. The website is safe, and you can use it without any risks. Our ACT online prep course reviews will share more details about what you can expect from this company.

Story of ACT Online Prep
ACT has always been committed to providing education and helping students achieve their dreams. As a company, they have been around for 60 years and engages with millions of students. They provide learning resources, research, and assessments to schools and students around the US. Its mission is to allow everyone to accomplish success through education. They strive to be inclusive, transformational, and holistic. SoFlo Tutors is a company that makes school easy for students and easy for parents. Check out SoFlo Tutors reviews, find out how they help with homework, test preparation, and much more!

ACT Online Prep Services
Before you can begin studying and taking advantage of the services you offer, you have to complete a diagnostic program. This is going to test your current abilities and find out what your skill level is. You will complete a quick test on all of the four ACT areas for good insight.
There are two ways you can study. You can go through all of the materials in good order to learn the whole course before the real exam. Alternatively, you can use the automated program to select the sections that you need the most so you can work on your weaknesses. You can use both modes to learn, and it just depends on what one you prefer to learn with. Magoosh ACT is a set of online resources, tools, and tips that will guide you to the perfect score on your ACT. Browse at Magoosh ACT reviews to learn more!

Our ACT online prep review found that you can access the resources for six months when you sign up and choose their ACT review courses. This includes lessons on every topic that you can expect in the exam. Besides, there are 450 flashcards, and two practice writing prompts. You can track your progress and connect with other students in the discussion area.
During the ACT review course, we found that there are four practice tests that you can take. In our Prep Expert ACT reviews, we also found that they have much more useful resources for ACT prep than ACTOnlinePrep. The good thing about them is that they are real questions from previous tests. So, you can practice using authentic ones that will be similar to future exams. We think this is a great way to learn.

Besides, there are games you can play to help with your learning. This can be more engaging for students, and it is a different way to engage with the material. Not a lot of companies offer this.
Pricing of the Online ACT Prep Classes
As a student, you need to know how much you are paying for the course before you begin. This is often a big factor for those that are on a budget. During our ACT prep online review, we were pleasantly surprised by the affordable prices.

Considering it is the official website for the ACT, we thought this was good. In fact, it is better for students on a budget than a lot of other websites out there. You can expect it to be half the price or more than other competitors.
Some of the prices you can expect are:
Official ACT Prep Pack – $59.95;
The ACT (no writing) – $52.00;
The ACT with writing – $68.00;
The ACT Prep Book – around $10.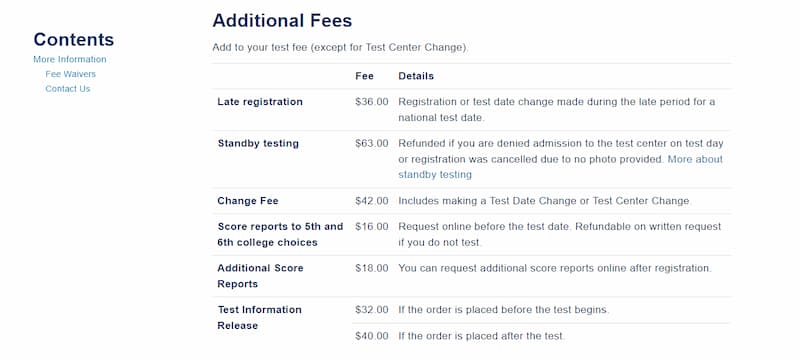 By the way, at ACT you will have an option to pay only by card (Visa, MasterCard, Discover, American Express).
Online ACT Prep Courses' Quality
During our Online ACT prep reviews, we were impressed by this company. There are lots of e-flashcards to learn with and test your knowledge. In fact, there are 450 of them so you can be prepared. This includes everything from math and language to science.
Since it is the official company, you know that the practice questions will be a similar level and topic to what you will receive in the real exam. This can let you know that the work you are putting in now will be worth it. When you are performing well, you can feel confident and know that you can pass the real exam when it comes. There should be no surprises when you sit the exam.

We did something different during our online ACT prep course reviews that you can connect with other students. This is something that not a lot of companies offer. You can hang out and chat about questions or problems you are having, as well as compare your results to see your progress. This is a good way to relieve stress and get to know people who are going through the same.
We like that you have access to a personalized dashboard. This is going to show your progress at a glance. You will be able to see what you have achieved and areas you need to work on. There is also the option to create a custom study schedule to be prepared before the big day.
You can expect all of the online prep lessons to be academic text. Think about it as informative online textbooks. It provides all of the information you need to learn. But this may not be your preferred learning medium. Perhaps you would prefer videos. This is going to be offered by other companies.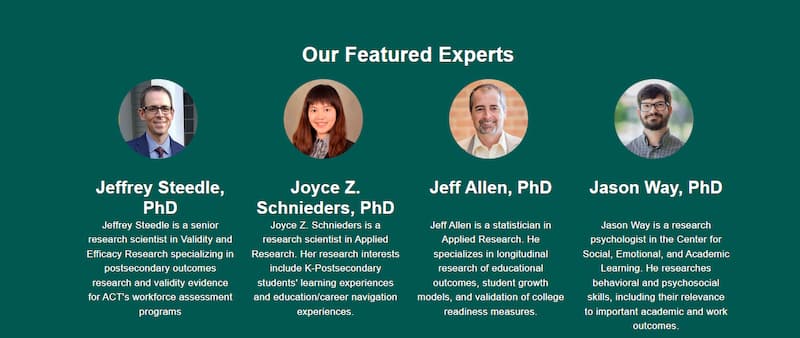 Unfortunately, if you are looking for a tutor and live online help with your ACT prep, this will not be the best company for you. There is no option to work alongside a teacher, and this is a self-study course. So, you should be motivated and be able to work through materials by yourself with minimal help. If you need more guidance, it is best to look at another company for a prep course.
Some students in their Princeton Review ACT Review claimed that it provides more details on the test than ACT Online Prep courses. This is something to remember if you are signing up and need a lot of content material to study from.
OnlinePrep.ACT.org Customer Service
Next up is customer service. This should always be easy to find and simple to ask a question. It took us a few minutes to figure out where to access customer service details. But once we found it, there was plenty of choices. There was an online chat function, frequently asked questions, phone number, and email address. An email should get a response with two business days.

However, some students said that customer service could be better. ACT Prep online reviews are mixed when it comes to their customer service, and this is something to bear in mind if you use this company.
If you are still unsure which test to take, ACT versus SAT, check the prices of the top rated SAT prep courses; maybe there you'll find a better, more affordable option.
ACT Online Prep's Website and Mobile App Usability
During our ACT prep review, we test the usability of the website. It should be easy for all students to use, including finding the information they need and knowing how to use all the features. We found during our ACT prep classes review that the website was average. You have to sign up for an account straight away, and it can be difficult to find any details unless you do this. The homepage is clear but not very exciting. You have to click through to another page to find out more information.

There is also a free mobile app that students can use. It works on iOS and Android mobile phones and tablets. You can use this to study when you are on the move and access your personalized learning path. You can access all of the same features you have on a desktop. This includes the games, tests, and dashboard. So, your experience should not be affected when you are on your mobile.
Pros
You can connect and chat with other students – this may be a useful feature if you want help.
The course includes 450 e-flashcards to test your skills after you have studied the content.
The practice tests include real questions from previous exams – this allows you to study similar topics to your future exam, while other companies create their own questions.
This is an affordable choice of prep course compared to other online competitors.
There are engaging games to learn content – this is not offered by many competitors.
Includes a personal learning path to keep track of your progress and keep you reaching your goals.
Cons
There are no live classes or tutoring services offered by this company – it is a self-study course.
There are no videos – all text-based, which some students may find bored and hard to learn.
There are no test strategies – it only gives you academic information and no tips.
You have to sign up for an account straight away; moreover, there are no refunds on ACT Online Prep.
Other companies offer a lot more materials to study from this ACT Online Prep organization.
Customer service support could be better.