EduReviewer is the leading platform in offering valuable insights that help customers determine which educational service would be the best fit for their needs.
We are a team of professionals who do in-depth reviews of writing services, online courses, test prep services, and so much more.
If you want to know more about education websites but don't have the time to scour the internet for thousands of pages, we'll be happy to do the work for you!
We make sure that we publish only credible reviews – we follow strict criteria in testing various services so customers like you would have an idea if these would meet your needs. We check for the following:
Website convenience;
Quality of materials;
Helpfulness of staff;
Price comparison among services.
This Achievable review will detail how it works, its effectiveness in test preparation, and its available test prep courses. Which is better? Target Test Prep vs Magoosh GRE? Find out what makes each software the best fit for your needs
If you are currently preparing for graduate or professional exams and are wondering if Achievable would be the perfect training program for you, read on to find out.
Achievable Overview
Achievable is an education website that offers test preparation courses and training specifically for the Graduate Research Examination (GRE), the Securities Industry Essentials (SIE) Exam, FINRA Series 7, and the United States Medical Licensing Examination (USMLE).
These examinations are considered prerequisites to important programs and industries such as graduate studies, the securities and finance industry, and the healthcare industry.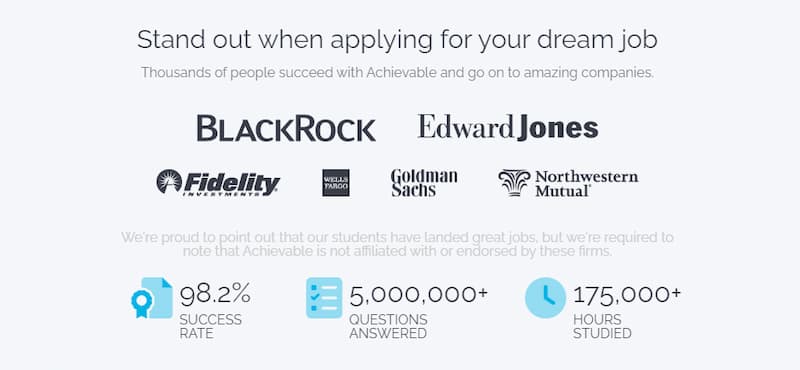 They focus on the "adaptive learning" model, meaning each learning material and course they provide for you are tailor-made for your review needs, learning pace, and study habits.
Achievable also uses an algorithm that is mostly based on learning science research – they give you personalized content based on how long you can remember information. Magoosh vs PrincetonReview GRE: which is the best option for you?
It predicts when you will most likely forget the concepts you have learned and then tell you when to start reviewing to boost your retention further. This maximizes your time studying and ensures that you effectively absorb and apply new information.
Achievable uses high-tech methods to give their students a superb experience while reviewing for their exams.
In terms of the effectiveness of the courses and training programs, their high passing rate speaks volumes.
There are quite some positive Achievable reviews from users who could ace their exams and eventually set foot in the industries they want to be in.
The first-hand stories and feedback posted on the Achievable.me reviews page detail how the test prep courses they took were instrumental in their success.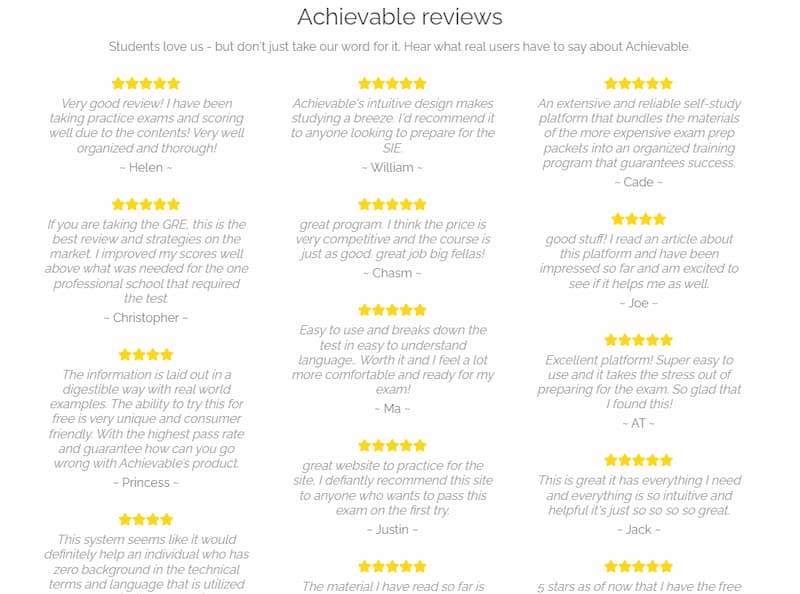 How to Use Achievable.me
Once you have signed up and picked the test prep course of your choice, it's time to navigate the Achievable interface.
In the dashboard, you would be able to view and track your progress in your review. It is further divided into 2 parts, namely "Content Progress" and "Memory Progress."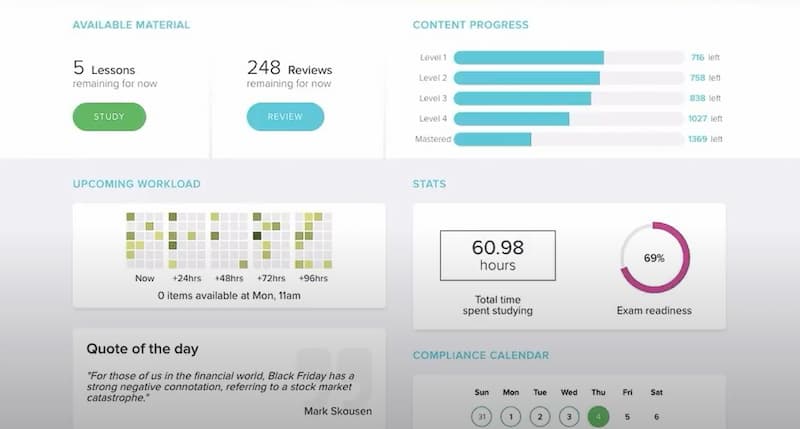 The "Content Progress" portion displays how much content you have perused.
After you click on the "Complete" button as confirmation that you have completely read through a certain material, it updates your "memory bank" with the concepts you have learned from that topic.
On the other hand, the "Memory Progress" part is basically a summary of the mastery of your consumed content.
Once it starts tracking your progress, it turns into a color-coded section that will indicate how well you can recall your learnings.
You will notice changes in this section as you go along, but this is normal and should be considered a part of the overall learning process.
You can also find the "Schedule & Challenges" section where sets of challenges and the schedule for each one can be seen. The dashboard also lets you compare your current week's progress to that of the previous week.
We found this tool to be really useful because it helps you keep track of the concepts you have learned so far and make the necessary adjustments to your study schedule if needed.
Furthermore, you can also take Achievable's full-length mock examinations to practice what you have learned and have a glimpse of what the actual test will be like.
The Achievable Textbook
Now that we know how unique Achievable's methods are, let us delve deeper into innovative ways to help students perform at their best, such as their online textbook.
This helps users gain more knowledge from readily available information on the website for any chosen topic.
However, this information is presented one at a time and not as a whole to not overwhelm the student. Moreover, the online textbook provides clear-cut definitions of relevant terminologies, along with the site where it was sourced.
Also included in its features is the "spoiler" section where, after giving a question some thought, you can hover over a link so the correct answer/s that are concealed would come into plain view.
Then you'll find key points after each topic which serves as a summary of what you just read. This allows for easier synthesis and absorption of the topics you are studying about.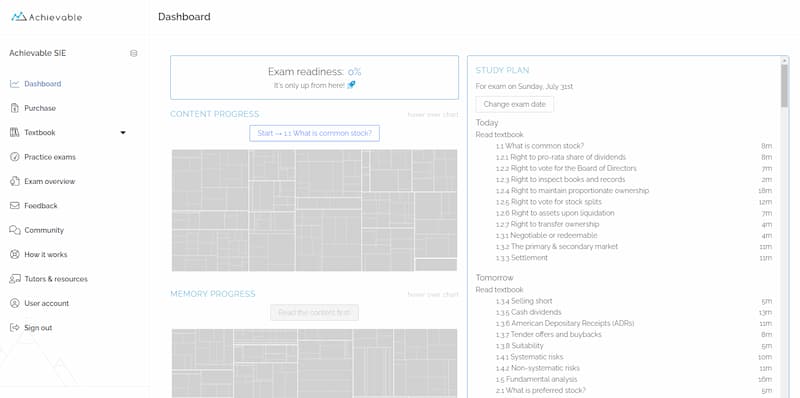 The Achievable Story
Achievable is a San Francisco-based company developed in 2016 by Tyler York and Justin Pincar. Back then, the duo saw the need for a more straightforward test preparation method to help people ace their exams.
They wanted to adopt a technological approach to their model to encourage students to improve their study habits and memory retention.
Their mission is to help soon-to-be exam-takers reach their target score in a fun, intuitive, and engaging way for students.
The company also wants to pave the way for the test prep industry to be more accessible to anyone who wants to step closer to their goals.
This led them to the idea of putting up Achievable.me for their target audience – people who are about to prepare for their professional exams.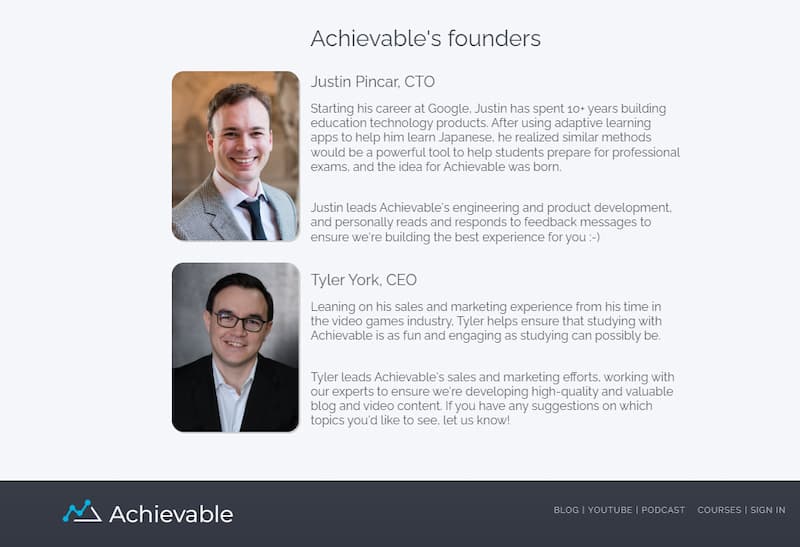 Achievable Courses Reviews (GRE, SIE, FINRA SERIES 7, and USMLE)
The next part of our review would tackle the courses that are available on Achievable. We have written down an overview of each course to glimpse what each one is about.
Achievable GRE Review
The Graduate Record Examination, more commonly known as the GRE, is a standardized test required for Americans and people from abroad who want to pursue further studies. It measures the students' command of basic arithmetic, algebra, geometry, and vocabulary.
If you are not sure which test to take, check our comparison GRE vs GMAT to see which one suits you.
While doing an Achievable GRE review, we found out by looking through Achievable's content outline that they cover up to 89 comprehensive topics that you can read through.
They also offer unlimited practice questions to help students find a way around their weak points and eventually improve them.
Looking also at Achievable GRE reviews from users all over the web, the most common comments are that it is one of the best GRE online prep courses and that Achievable's way of making things simpler and more direct to the point is what truly gave them their best GRE prep experience.

Achievable SIE Review
The Securities Industry Examination or SIE is a test taken before someone can enter the finance industry.
Achievable's content outline for this particular exam includes 16 topics relating to financial markets, stocks, investments, taxes, and much more.
Performing this Achievable SIE review, we found that their practice exams are of the same difficulty as the SIE; however, their review questions are intentionally made easier so that students would be able to retain information within a shorter period of time.
We also looked for Achievable SIE reviews, and most of them said that the actual exam is more straightforward – something that Achievable has prepared them well for.

Achievable FINRA SERIES 7 Review
Thinking of being a general securities representative? You must first be able to pass the FINRA Series 7 exam. The current test covers equity, taxation, risk, debt instruments, packaged securities, retirement plans, and client interaction.
Candidates must first pass the SIE as a prerequisite to the Series 7 exam – something that we have assessed Achievable to be extremely helpful with. Seventeen topics related to the subject matter are consolidated in their content outline.
Achievable Series 7 reviews say that the course's 270+ flashcards and practice questions were of great help when examination time came.

Achievable USMLE Review
Getting admitted into medical school sure is no easy feat – but making it a licensed healthcare provider proves to be a tad more difficult.
Passing the United States Medical Licensing Examination or USMLE is one hurdle that aspirants must overcome before finally getting that coveted license.
Achievable offers the USMLE Step 1 course required for candidates before being given the National Board of Medical Examiners (NBME) license.
In the duration of our review, we found 11 extensive topics that discuss everything from anatomy, microbiology, pathology, biochemistry, behavioural science, and a lot more.
We encountered other Achievable USMLE reviews along the way.
The general response was good; with a field of study that usually has a lot of material to be memorized, Achievable ensures that students retain all this information well.
And they've also recently added the ACT prep course to their courses. If you are interested in that, it's a decent course for the amount of money the ask ($129/yearly).
Pricing of Achievable.me Courses
Now that we have listed above the various test prep courses that you can take at Achievable, it's time to take a look at the prices of each one so you can manage your expectations. The rates and inclusions are as follows:
Achievable GRE test prep price – $199 (1-year premium access)
The $199 price tag includes the Achievable online textbook, unlimited GRE quantitative questions, 200+ verbal/reading comprehension questions enough for 10 full-length tests, 1,500+ vocabulary words, and 10 essay prompts.
For the comparison, you can check the Target Test Prep GRE review and see that they have a little bit lower price. Achievable offers a 7-day money-back guarantee if your GRE score is not increased by 7 points (valid for GRE re-takers only).
Achievable SIE test prep price – $74 (1-year premium access)
The Achievable SIE test prep course is one of the most affordable ones out there.
With this low price, you would already have an Achievable online textbook, memory-tracked quiz questions, and unlimited practice exams.
Achievable Series 7 test prep price – $149 (1-year premium access)
At only $149, this is an Achievable course at an achievable price.
You would be all set to take the FINRA Series 7 exam with an Achievable online textbook and thousands of algorithm-generated quiz questions.
Another bonus is you get to answer practice exams to help further prepare you for the big day!
Achievable USMLE test prep price – $299 (1-year premium access)
Students would definitely get their money's worth with the Achievable USMLE test prep course.
The Achievable online textbook would help you breeze through even the most challenging topics and medical concepts, plus the memory-tracked questions are there to improve your information recall.
Note that Achievable.me also has free content in each course that can be accessed anytime. These are particularly useful, especially if you are still deciding whether Achievable would be the best review partner for you.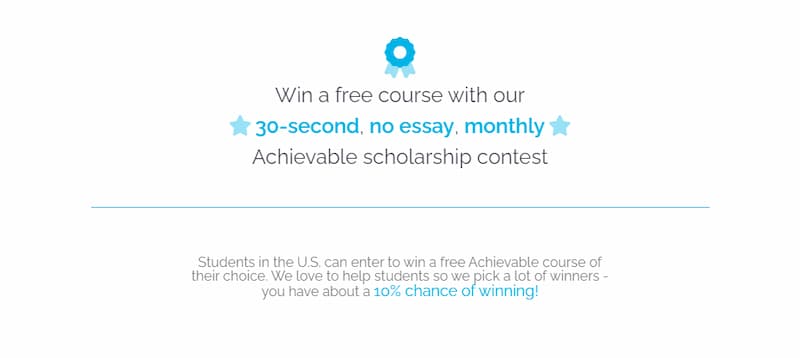 Quality of Courses
Certainly, we cannot complete this review without assessing the quality of Achievable's test prep courses.
Reviews from students usually mention how Achievable's innovative teaching style is helping them to be more efficient in studying.
They keep things simple, but materials are still clearly presented to learners.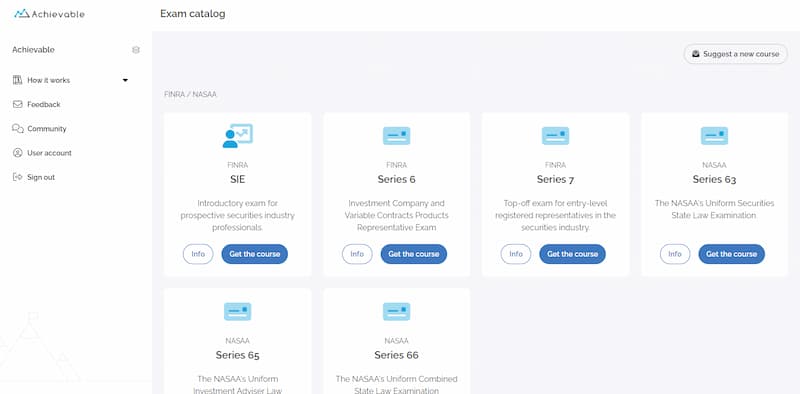 Some companies also have top-notch prep for GRE; check Magoosh vs Kaplan comparison to find alternative companies.
Even though Achievable's practice exams are randomized, they closely match the real test questions and are designed to allow for a different approach to the same question each time the student encounters it.
One of the most amazing things about Achievable's algorithm is that it customizes content based on memory progress, then develops a pattern that lets the student know which topics to prioritize first and how much.
Their 98.2% success rate tells us that this method is highly effective for their users.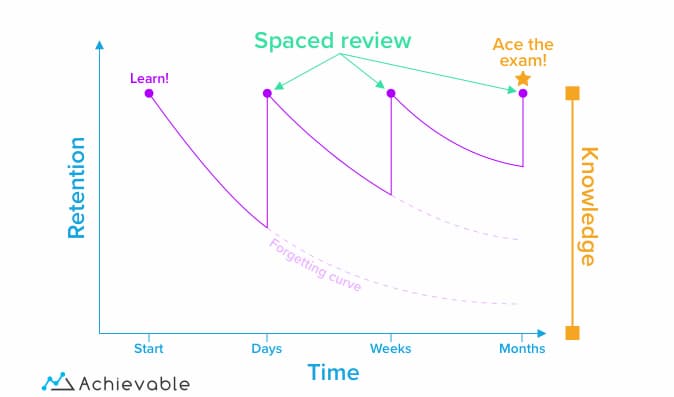 Achievable does not offer live tutoring services at the moment, but upon doing our own research, we found out that most of their content is created by people proven to be experts in their field. A case in point is the USMLE test prep course.
The course was actually authored by Sujata Arecanteparamb, M.D., a medical professional with more than 10 years of experience in the industry.
Other Achievable content experts include Brandon Rith, a FINRA instructor with more than 15 years of experience in finance and licensing.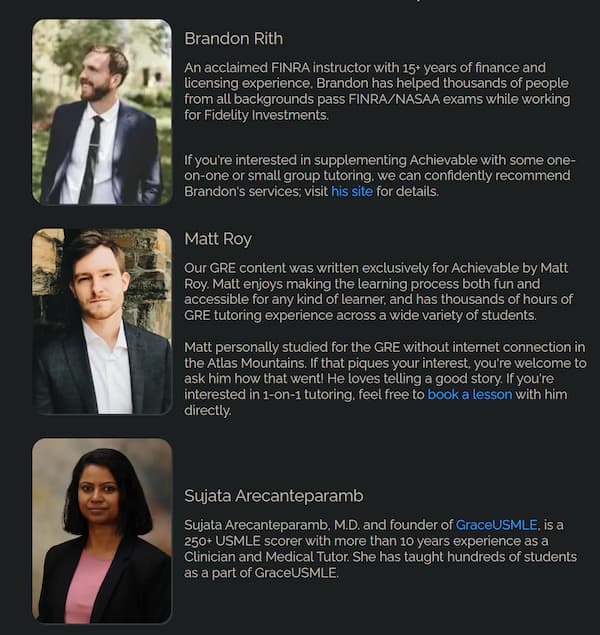 Customer Service at Achievable
It is good that there are many ways to reach the Achievable team should a user have queries about the courses, the actual exams, or just the website in general.
Upon visiting the Achievable.me website, you would immediately notice the live chat button at the bottom-right portion of your screen.
We tested out this feature, and it didn't take a long time for their representatives to get back to us. While doing our Achievable.me review, we had a few questions in mind, so we reached out to their official email address.
Their email support team was accommodating, and they replied within the day.
Another option is to call or send them an SMS through their phone number, which can be found at the bottommost part of their website.
Overall, Achievable's support team is very accommodating, and their response to calls and messages was generally prompt.

Website Usability
Let us start off by saying that the Achievable.me website is a visual treat. They used crisp lines and uniform colors – its sleek design lets visitors navigate the page comfortably. It is uncluttered, and you can immediately find what you are looking for without clicking on too many links.
For example, one of the Achievable website SIE exam reviews from a former student said that the platform's intuitive design helped him soak up concepts more effectively. This is proof that the interface can somehow affect users from an educational standpoint.
Apart from the usability of its website, we also have to evaluate how Achievable fares in terms of convenience. In this day and age, the test preparation industry strives to keep up with people's on-the-go lifestyles through increased mobile accessibility.
This is something that Achievable is aware of, and so one of the steps they undertook was to make the website available for all major web browsers of both iOS and Android devices.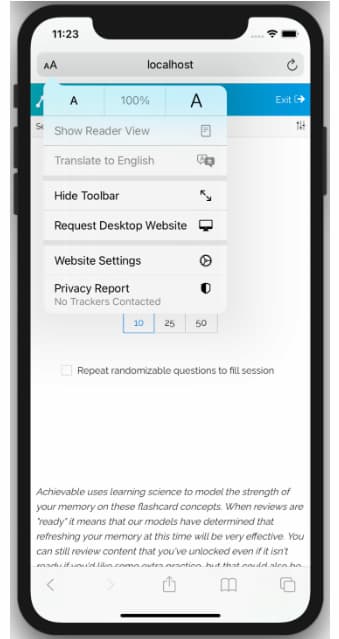 Their mobile app is yet to be developed, but you can always add Achievable to your home screen with just a few taps.
If you are looking for useful and handy mobile apps for GRE test prep, we found in our Magoosh GRE review that they have great options; check it yourself!
Pros
They have started adding video content, and now they have at least 16 videos for the GRE courses, with more on the way.
Personalizes a study program for you based on your memory progress.
Accessible – can be launched on mobile phones even while on the go.
They have unlimited quantitative practice questions for the GRE.
It lets you view your progress in real-time on the dashboard.
Materials are presented in an easy-to-follow manner.
All information is current and up-to-date with trends.
Cons
Choices for test preparation courses are limited.
No live tutoring feature is being offered at the moment.
Students don't have the option to attend live classes.