Starting on the path towards successful legal demands more than a passion for justice or a sense of right over wrong. In my experience, it needs a strategy and comprehensive strategy to overcome the journey ahead.
The Law School Admission Test (LSAT) is a formidable opponent on this path as it tests your academic prowess, analytical reasoning, critical thinking, and logical skills. To help you unravel the difficulties of different question types and get strategies to excel in the logic games section, our LSAT review provides a comprehensive roadmap designed for the exam's unique challenges.
So, here's the deal. We review multiple online services based on a variety of criteria, such as our 7sage vs Princeton Review. This includes quality, features, prices, website usability, student feedback, value for money, and guarantees. Ultimately, we have a credible service we can recommend to you.
We also ensure that 7Sage meets your expectations and gives you the best chance of acing your LSAT. The service is easy to use and straightforward, as shown in the screenshot below: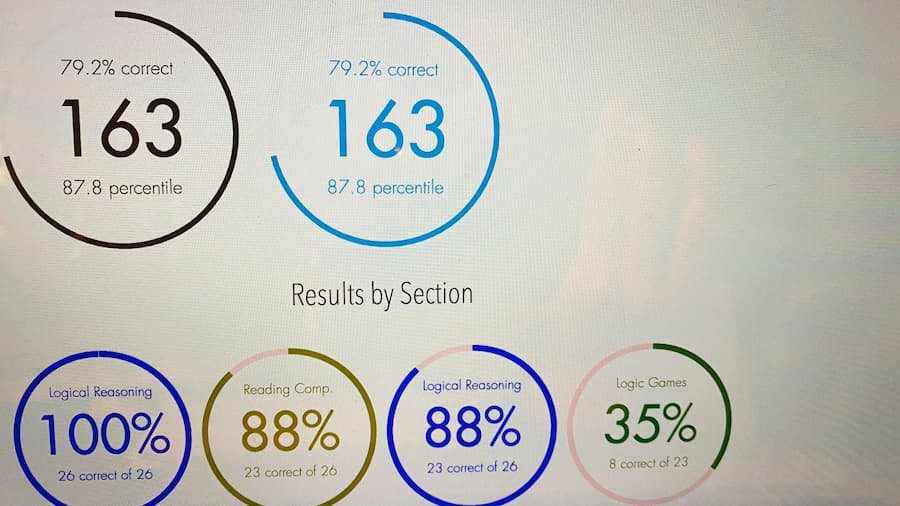 You will be shown the grade for each score to give you an idea of what areas to improve. This also allows you to assess your readiness for the test in the coming months.
7 Sage Features and My Thoughts on LSAT Courses
The 7Sage platform is a versatile and valuable resource for various LSAT test-takers. It serves both students with prior LSAT experience and beginners about to begin their legal journey. This is thanks to the platform's extensive collection of detailed videos, which offer accessible and well-researched insights into the most intricate concepts relating to the test. Students who prefer auditory and visual learning approaches have much to gain from 7Sage's video content.
Additionally, the service's extensive selection of customizable study plans and practice tests make it perfect for students looking for a disciplined and structured approach to preparation for the upcoming test.
Furthermore, the 7Sage service immensely benefits individuals with restricted access to in-person LSAT prep courses. This is because it provides a flexible and accessible online alternative. The platform is also user-friendly, with a smooth interface to use and navigate, ensuring that tech-savvy and tech-averse users can enjoy all its features.
Overall, 7Sage is a valuable academic asset for many LSAT hopefuls as it increases their potential for success on this important exam.
Concerning my thoughts on the 7Sage course features, cost, usability, and platform,  I advise you not to completely adopt my advice as gospel, as it is based on my personal experience and preparation requirements. There is also no golden standard or approach to LSAT prep.
That said, this 7sage LSAT starter review guarantees the platform is an excellent service to get you in the best academic shape for your exam. Here's why.
Videos and Class Content
The videos and content provided by the 7Sage review span the generality of materials and prep topics:
Problem sets
Prep tests
LSAT analytics
Game explanations
LSAT prep tools
Your progress will be monitored through the 7Sage course contents,  and the platform will provide personal feedback. Your weak points will also be identified to help you develop your skills in areas that need improvement.
All 7Sage LSAT review course materials are self-paced, meaning no live element exists. That said, they offer a complimentary DIY study scheduler if you find it challenging to keep pace.
7Sage LSAT Practice Tests and Question Explanations
All 7Sage LSAT prep courses have 98 LSAT prep tests and 8,440 question explanations. In terms of tests, 7Sage provides every official LSAT release available to users in both PDF and digital-tester formats.
These tests and practice questions are obtained directly from the LSAC Prep Plus service. This is done using actual problems posed on the test, assuring you that you are on the right academic track.
Study Plan
All your prep work is self-paced, so you must rely on your motivation to complete the tasks. But here's the kicker: 7Sage assists with a customized study plan.
However, if you're undisciplined like me, the study plan might not be satisfying as it needs proper structure and rigidity.
Forum/Student Support
In my experience, 7Sage has an edge over similar services thanks to its huge community of preppers who provide online support. Additionally, its users interact constantly on the all-purpose forum space Reddit and 7Sage's personal forum.
You can reach the company staff through their contact page to help you resolve substantive or technical issues within 24-48 hours.
User Experience
All 7Sage instructions for videos and practice tests are online. This means there is no option for in-person learning, which might be available for other courses. The platform is small but makes up for that with an engaging and elegant interface. Bear in mind that it might not be as flashy as BluePrint, but it definitely gets you the results you need.
The videos on the platform are excellent and give you credible information for your coursework. However, it might be lacking in terms of quality graphics.
Free Course
You can use a free course to give the 7Sage platform and materials a test run. This includes:
1 LSAT prep test
100 question explanations
Sample lessons
7Sage also differs from other prep companies as it doesn't require extensive form-filling or credit cards before enrolling in the free trial. All you need is your email address and a password.
Pricing and Refunds
The monthly course is available for $69/month. Alternatively, you can get the annual course for $559/year. Finally, you get an extra benefit when you sign up for a yearlong subscription.
If you register for the course and things don't work out, you can get a full refund within 6 days.
Quality of Prep Material
For the benefit of its diverse client base, 7Sage provides tutors that are legal experts and top performers in their careers. This ensures that the tests and practice questions are the best available for the students.
During my tests, I also realized that each question was well-tailored to my needs and dealt with issues that I was bound to experience during my LSAT. 7Sage also has a track record of providing in-depth video explanations for LSAT questions, including the reasoning behind each answer choice.
When my colleagues ask me, "Is 7sage worth it?"The platform's approach to logic games is also different from that of competitors as it involves diagramming and visually representing game setups. Using this approach made it much easier for me to understand logic games, which are usually challenging.
7 Sage LSAT prep reviews show the company takes its commitment to student comfort a step further by providing practice materials very similar to the digital format of the LSAT. This helps you become familiar with the exam's interface and reduce the chances of making mistakes during the real deal.
7Sage has quality features that are difficult to beat compared to similar services. Still asking if is 7sage good for LSAT. Check out this table comparing 7Sage against BluePrintPrep and LSATMax:
| | | | |
| --- | --- | --- | --- |
| Feature | 7Sage | Blueprint Prep | LSATMax |
| Course Cost | Affordable | Increased cost | Variable |
| Course Format | Online | Online and Physical | Online |
| Video Explanations | Real and detailed explanations | Short explanations | Detailed video explanations |
| Student Community | Active forum | Restricted community | Access to expert tutors |
| Score Increase Guarantee | Yes | Yes | Yes |
Pricing of the Courses
The 7Sage "Core" plan, the comprehensive and self-guided LSAT course that contains 50+ video lessons, 8,440 question explanations, and 99 official LSAT Prep Tests, is available for $69/month.
Next, you have the "Live" plan, which covers everything contained in the core but also comes with daily live classes available for $129/month. This includes daily new live classes and access to watch hundreds of classes on demand.
Finally, you can get the "Tutoring" plan which comes with two half-hour on-demand tutoring sessions per month and extra help when needed. You can get it for a 7sage cost of $279/month.
Ppayment Options:
The 7Sage platform offers multiple payment plans for its users, including:
One-Time Payment: You could make a single payment for the entire course immediately
Monthly Payment Plans: 7Sage provides monthly payment plans that allow you to share the expense of the course over several months.
Score Increase Guarantee: Based on your chosen plan, there might be a score increase guarantee where you make payments based on your initial score. You will also receive a refund if your score doesn't get better by a specific amount of points.
Scholarships or Discounts: Occasionally, 7Sage provides scholarships, discounts, or promotions, especially during certain times of the year.
Course Bundles: Beyond individual course offerings, 7Sage offers to combine different courses or features at a discounted rate.
Value for Money of 7Sage Courses
Over the years, 7Sage has built a reputation as a service that delivers value worth the price. The learning platform provides a tailored and comprehensive approach to LSAT preparations with a perfect blend of in-depth video explanations, a reliable student community, and adaptive learning technology.
7Sage's focus on natural explanations gives students the ability not just to know what the accurate answers are but also why it is correct. This fosters a deeper understanding of LSAT principles. How good is the 7 Sage LSAT course? The provision of a score increase guarantees visual logic games, and comprehensive performance analytics solidifies the platform's commitment to student success.
Based on 7Sage tutoring reviews, I discovered that the platform also offers an extensive catalog of carefully crafted video lessons that break down each question type. This lets you understand the foundational strategies and logic required for LSAT success. You can hone your skills in realistic conditions through practice questions and full-length practice exams that simulate the genuine testing environment.
Moreover, the detailed explanations provided for each question will help you refine techniques and understand mistakes. One of 7Sage's key features, which you will find in a 7Sage vs. Princeton Review, is its analytics which offers insightful data on performance trends. With access to this data, students can identify areas where they have made errors and significantly improve.
And that's not all. The flexible nature of the platform, with its personalized study schedules and mobile app, takes care of the students' busy schedules and diverse learning styles.
By investing your academic funds in the 7Sage LSAT platform, you can access an extensive library of carefully designed video explanations that cover the key details of LSAT questions. My experience with the platform also showed that the active and reliable student community offered a space for guidance and collaboration. This further enhanced my preparation journey and put me in the best situation for success.
Reputation and Student Feedback
The politeness shown by 7Sage is truly a testament to their goal of creating a supportive and conducive learning experience. The team approached my academic needs with a demeanor that showed they were willing to assist by any means, whether through forum discussions or email interactions.
This reputation went well beyond regular customer service, which I have grown accustomed to. The entire staff was heavily invested in my success. With patient feedback and an eagerness to resolve my questions, they made my LSAT preparation journey smooth. Is 7 Sage worth it? Check out these reviews:

Ethan's experience is similar to mine. The tutors demonstrated a keen eye for detail that would put you at ease in a second. They included all the key information that would have made it easier for me to understand a concept. It was a refreshing learning experience that I feel every aspiring lawyer should enjoy.

Honestly, Kim's experience is one that I can't precisely relate to, seeing as I did not have an essay to submit. However, she also mentions the in-depth review of her work by the 7Sage tutor, a professional trait I have experienced first-hand. It doesn't matter how well you've researched your topic or gotten the proper structure. Once you hand it over to the staff at 7Sage, a new world of possibilities opens up before you.

The patience and commitment shown by the 7Sage staff is another professional trait that often goes unappreciated. As you can see in the above 7 Sage LSAT prep reviews, the experts are always on hand to help students with every learning journey. If you are just starting the essay or need someone to review your drafts, the team will always help you.

Another quality that sets 7Sage is the genuine commitment and interest shown by the staff toward students' work. When I used the service to prepare for my LSAT exam, I expected it would be business as usual. I couldn't be more wrong. From the moment I told them about my score target and the acceptance requirement for my dream school, they took it upon themselves to ensure I succeeded.
At times, I'll admit I asked certain questions which were repetitive or lacking in substance. However, they didn't mind, and I was grateful for how they held my hand for every step of the process.

This 7 sage LSAT review from princessgrace is one that I can relate to in different ways. 7Sage's staff never hesitate to use their wealth of knowledge and experience for your benefit. It is a beautiful feeling to know that your academic journey is made a lot smoother with the help of a professional. The most reassuring part was that it did not matter what course package I purchased. Despite my naivety, the staff always ensured I got through it all.

7Sage has made a name in the LSAT preparation space as a service with versatile experts on its payroll. This has given them the ability to handle any variety of tasks that come their way. As I realized through 7Sage reviews, your work becomes much easier if you have a professional to give you detailed responses and help.
Whether you give them a personal statement or an essay you must submit to your intended school, they never back down from the challenge and get you the help you need.
While individual 7 Sage reviews and feedback on using the platform might be different, it does not change the fact that the 7Sage platform is reputable and depended on by multiple law school candidates for its supportive staff, quality content, and commitment to student success.
FAQs
How Much Does 7Sage Cost?
You can get the core, live, and tutoring plans for 69/month, 129/month, and 279/month, each providing a premium learning experience.
Is 7 Sage.com Worth It?
During my tests, I discovered it is the best service you can use to prepare for your LSATs, thanks to its extensive library of academic materials.
How Good Is The 7 Sage LSAT Starter Course?
The course has an established reputation as a service that can place LSAT hopefuls in the best position for academic success.
How Long Should I Study For The LSAT 7sage?
Your academic or admission needs determine your study time. However, the platform creates a flexible study plan which you can use.
Does 7sage Use Real LSAT Questions?
The questions used for the 7Sage practice sessions are obtained from the actual testing platform. This gives you a chance to be prepared for the actual testing environment.
Pros
Free trial.
Video customization.
On-demand learning.
Detailed logic games strategy and explanations.
Active LSAT community for discussions and questions.
Well-explained videos for solving all LSAT questions and problems.
Cons
Lack of completely live online options.
No in-person classes.