In many cases, tests like the SAT and ACT are too difficult, and students aren't prepared to face them because they don't learn the tools they need in school. That is when test prep courses come to help students who find themselves struggling with the challenge.
Is Testive one of the best platforms to prepare students for tests? Does it have the best online SAT prep course? Here we will give you the best Testive free review to have a good idea of what this service can offer.
Why should you take into account our Testive review?
We know that you count on our reviews to learn about the best test prep courses and that if you are here, you are expecting the best Testive com review on the internet. SoFlo Tutors is a leading online platform for finding the best tutors, private teachers and instructors. Check SoFlo Tutors review.
That is why we take our reviews so seriously, and, to offer you the best of the best, we developed a great method to assess the programs in the market. This method helps us identify the good services from those not so recommendable.
Here are some of the criteria we evaluate:
Quality. Client feedback and the result of students that have taken the course are good indicators of quality.
Usability. For us, the possibility of connecting through several devices is a big plus.
Duration. A good program offers students different courses of diverse lengths. This way, students can choose a course with a duration convenient for them.
Customer support service. A flawless customer support service is a sign of a company that worries about its clients.
Pricing. The cost of a program can indicate the seriousness of the platform giving it. If it is too high without offering extra features, then it might not be a good choice.
Guarantees offered. It is an important indicator if a company is so sure of its courses that it offers a full refund if the results are not what they promise.
If a company offering prep courses turns out positive in these criteria, we can consider it an overall good service. Still, we break down all of these criteria and assess each one separately.
This way, we can determine where are the strengths and weaknesses of the program. Our main goal is to give you the information you need to choose the perfect program.
What kinds of prep courses exist?
The offer of prep courses is wide and rich in options. This variety is defined mainly by the types of entry tests that exist since the courses must be designed to fulfill the students' needs. There are many kinds of entry tests that are currently in use in the United States.
The most known, used, and prestigious is the SAT (Scholastic Assessment Test). This is a standardized test designed to evaluate the student's potential for success in college. It is considered a requirement for admission in almost all colleges in the US.
Another important entry test is the ACT (American College Testing), a standardized test that colleges use in their admission process. Both tests are widely used in the US but also other countries like Canada.
Don't know the difference between the new ACT and SAT? See us comparing the new SAT vs ACT in the article written by experts.
Other entry tests that are amply used are the GMAT (Graduate Management Admission Test), used for admission into graduate business programs, the GRE (Graduate Record Exam), which is a requirement for general graduate programs, the PraxisTM (Professional Assessments for Beginning Teachers), for those who want to get into teacher education programs, and the MCAT (Medical College Admissions Test), required by the majority of medical schools in the US.
Less popular but also widely used is the DAT (Dental Admissions Test), conducted by the American Dental Association, the TOEFL (Test of English as a Foreign Language), the LSAT (Law School Admissions Test), and the PCAT (Pharmacy College Admissions Test).
What should you consider choosing an online or an eye-to-eye prep class?
Choosing the right prep course is a delicate decision that should be made, taking important aspects into account. Here we tell you about them, so you can start the search with a good idea of what to pay attention to, thus identifying the best ones.
Feedback and reviews: Checking previous clients' feedback and reviews are the best ways to identify how good a prep program is. Look for courses with a great background and lots of satisfied customers.
Tutors' professional profile: A big part of your learning process will be in the hands of the tutor, so make sure you enter a program with professional guides.
Customer support: Aspects like an immediate response, 24/7 availability, and several means of communication are the ones that will tell you that the program will be at your disposal.
Guarantees: When a company is so sure that it is willing to offer a full refund, they probably have an outstanding program.
Are online prep courses better than in-person ones?
Usually, they are, mainly because they offer the chance to study from home. Not having to go to in-person classes helps to save a lot of time and effort. Let's be honest, and in this internet era, you don't need to leave the comfort of your home to learn.
You can even get virtual tutoring! Unless, for some reason, you need to see your tutor face to face, the best choice is to go for an online course, like the ones the Testive website offers.
Testive Overview
You probably got here because you were curious about Testive's SAT or ACT prep courses.
How good is Testive at helping you improve your SAT or ACT score? How does it work? How much does it cost? Buckle up, because that's what we're talking about in this review.

What is Testive?
Testive Inc is a company that offers prep courses for the two most important college entry tests in the US: the SAT and the ACT.
To help students improve their scores, the founders developed a method to diagnose students' strengths and weaknesses by creating a customized learning profile for every student using a unique adaptive platform.
Depending on how you perform diagnostic tests and ongoing practice, the platform adapts to efficiently and effectively guide you to the question types you need to work on most and inform your sessions with your professional coach.
What sets Testive apart is that it combines the best of both worlds: the algorithm ensures that solo practice is targeted to students' weaknesses, so that users don't have to waste time with busy work.
At the same time, Testive's professional coaches meet with students every week to answer questions, explain tricky problems, offer tips and strategies, and provide motivation.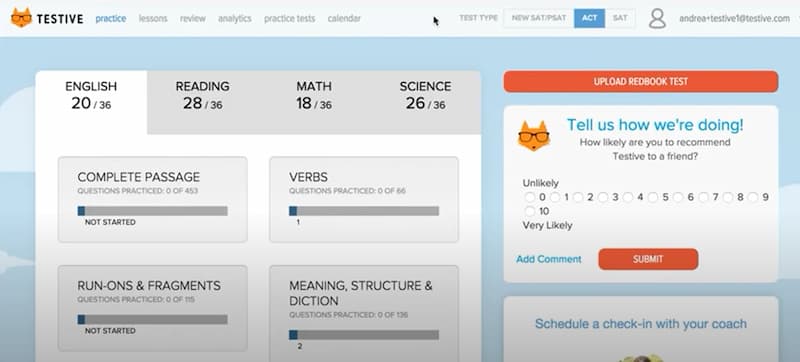 How does Testive work?
The Testive program consists of two components: software and coaching.
First off, we'll discuss the Testive software.
This consists of a huge database of questions adapted from and covering the same content as the SAT and ACT. Most other apps spit out questions either randomly or in a set sequence, so to get through the program you have to work through every content area on the test.
The great thing about the Testive platform is that if you get questions right, you never have to waste your time by continuing to work through that question type.
The platform keeps track of what you get right and what you get wrong, then allows you to focus your practice only on the question types you need to work on.
Next, we'll discuss the Testive coaches.
Testive coaches are all high-scorers, but more importantly, they are engaging and dynamic educators who are great at not just doing problems, but also explaining them.
Coaches are assigned based on your academic needs (though you can also request a specific coach if you'd like). Your coach can see exactly which questions you worked on, which you got right, and which you struggled on, so they can target your weekly coaching sessions to work on exactly the topics you need to perfect.
With this two-pronged approach, all the practice you do is effectively overseen by your coach. You can bring questions to your coach, and in checking your homework your coach will also be able to observe patterns and help you strategize for test day.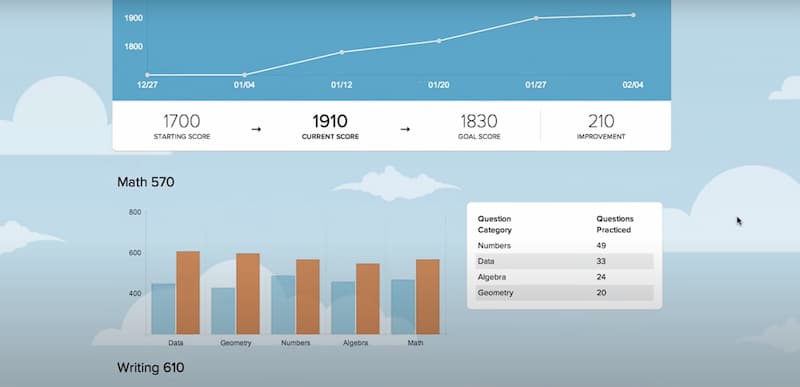 How good is Testive at helping you improve your score?
A wealth of positive reviews online reveal that most students who use Testive end up happy with their score improvements. Not only on their website, but across a host of other review sites, it seems like students who use Testive end up seeing excellent progress as a rule.
Several comments mention extraordinary score improvements, and reviews of Testive also show that students enjoy working with their coaches.
Is Testive safe or a scam?
Yes, Testive is safe to invest in! Testive is a legitimate business that will provide exactly what it claims to: a fully customized experience on its high-quality practice platform and access to trained coaches.
Testive has been around since 2011 and the company has an impressive track record of helping students achieve their goal scores.

Does Testive have the best online prep courses out there?
What sets Testive apart is the unique structure of its on-demand program. By asking students to commit to regular practice and then checking in on a set weekly schedule, Testive helps you stay on track and motivated.
This is different from most other online prep courses, where either the course is completely self-directed, making it easy to slack off, or directed entirely by a teacher or tutor, meaning there is less integration between instruction and practice time.
With a huge library of practice questions, a bevy of full-length practice tests, and access to excellent tutors, it's safe to say that Testive is one of the best online prep courses available.
Testive is ideal for students who are willing to put in the work to achieve a top score but may need a little bit of guidance. Students may not see huge improvements if they don't do the practice work, but that's true of any prep program.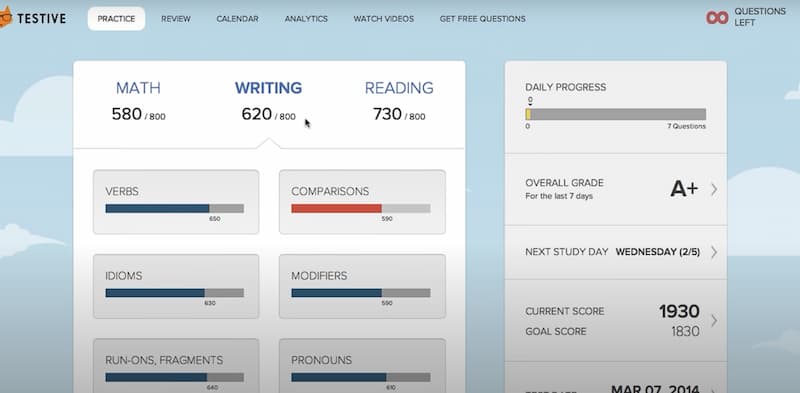 Story of Testive.com
Founded by two MIT graduates in 2011, Testive seeks to provide the very best preparation for US college admissions tests. Their system combines the best of two worlds: online practice from the comfort of your home and personalized attention from real-life tutors.
The main goal of Testive's founders was to create a flexible scheme to which students can easily adapt and feel comfortable and, at the same time, that is effective in adapting to the students learning style. Have they successfully fulfilled their main goal? Let's find out!

Testive Services
Testive offers prep programs for both the SAT and ACT, access to just the practice platform, standalone tutoring, college advising, and essay help.
Testive's ACT prep program includes 8 full practice tests, hundreds of practice questions, video explanations, and live, one-on-one access to an expert professional coach.
The SAT prep program is similar, but it also includes access to a practice PSAT, so you can prepare for both tests at the same time. If you'd like to prepare for both the SAT and ACT it's easy to switch between the two.
Comparing Testive vs PrepScholar SAT reviews, we would say that PrepScholar is better than these two in terms of material and prices, but the quality of services is better at Testive. There are also good options like Magoosh and PrepExpert, though.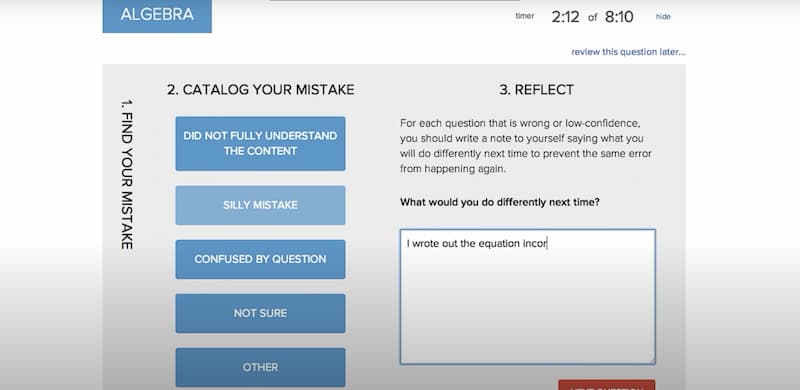 Testive Pricing
By this point, you are probably wondering how much is Testive coaching going to cost. Testive has three main offerings that combine its adaptive platform with live coaching.
The pricing is the same for the SAT and ACT programs but varies based on how frequently you would like to meet with a coach and for how long.

Testive's ACT prep program includes 8 full practice tests, hundreds of practice questions, video explanations, and live, one-on-one access to an expert professional coach.
The SAT prep program is similar, but it also includes access to a practice PSAT, so you can prepare for both tests at the same time. If you'd like to prepare for both the SAT and ACT it's easy to switch between the two.
The Coaching Plan offers access to the online practice platform, multiple practice tests, and live, weekly one-on-one sessions with your coach. The Coaching Plan costs $399 per month.
The Coaching Plus Plan offers everything the Coaching Plan offers, but twice as much access to your coach with twice-weekly sessions. The Coaching Plus Plan costs $699 per month.
The Boot Camp Plan is a one-time flat fee and offers everything the Coaching Plus Plan offers (access to the online practice platform, multiple practice tests, and live, twice weekly one-on-one sessions with your coach) for up to six weeks. The Boot Camp Plan costs $799.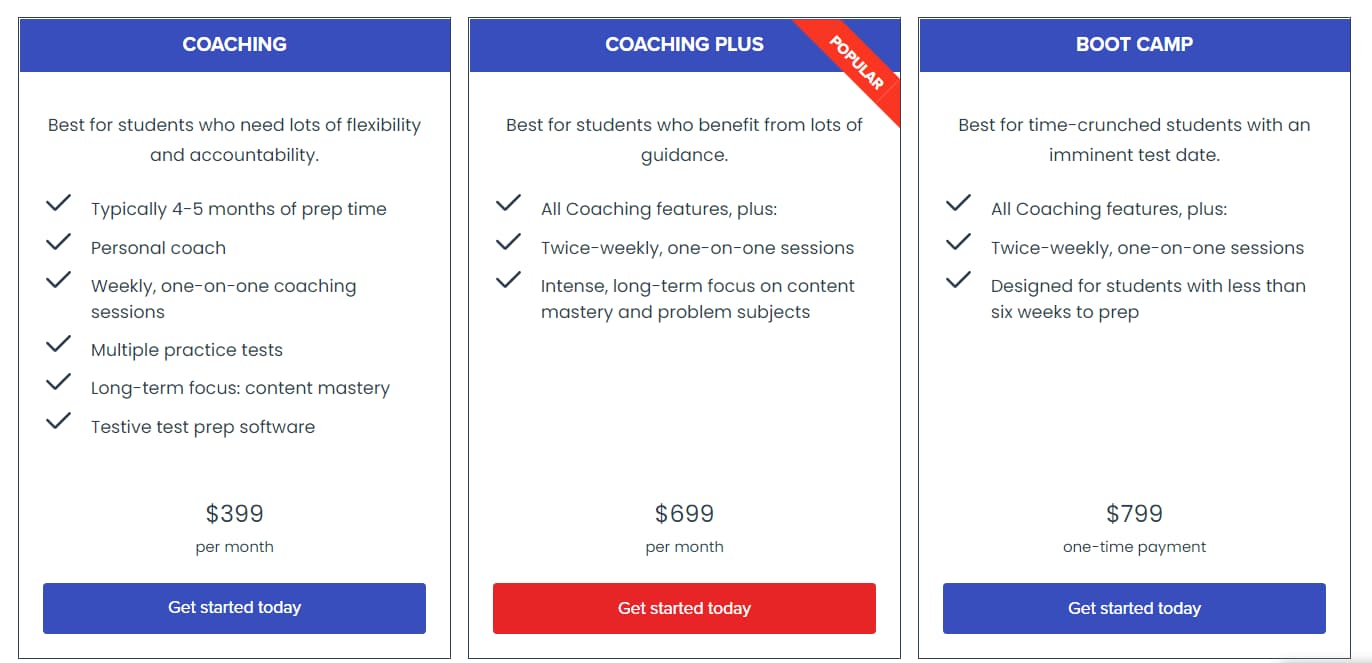 You can also purchase access to just the Testive platform for $199 per month, standalone academic tutoring for $195 per hour, or College Essay Assistance for $299 per essay.
Testive's pricing is approximately commensurate with that of other online courses, but with Testive, you get personal, one-on-one attention instead of working as part of a class, making Testive an undeniably great value.
Quality of Testive Courses
Testive's prep materials very accurately mimic the question types and content areas you can expect to see on the SAT or ACT. The platform works as expected and provides an excellent user experience.
It was easy to get started with a coach and we had a great experience! Our coach was warm, and kind, and knew exactly what she was talking about when it came to the tests.
We were surprised and pleased to find that our coach had experience with both the SAT and ACT, so if you decide to switch tests that process can be very seamless.
There is no way to dispute that Testive provides high-quality services and offers well-designed courses imparted by experienced tutors.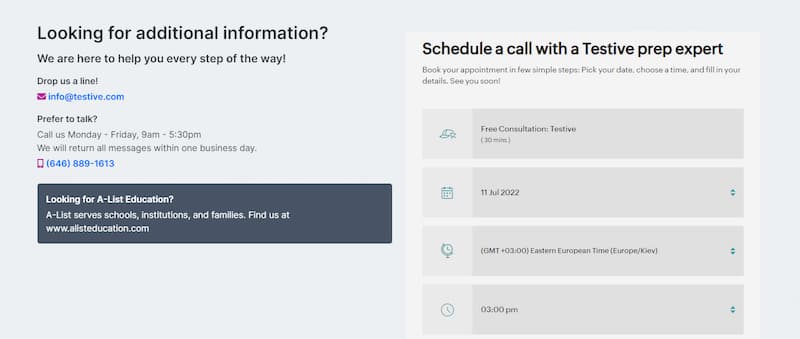 Testive.com Customer Service
Testive has a few more good aspects that clients appreciate, but their customer support service should be improved.
They don't offer 24/7 availability, and the way to contact them is through email or by calling their offices during working hours. This is not too rare for a company with this profile; still, clients will have to be patient if a conflict related to the course comes out.
Testive has a dedicated Customer Success team that is reachable by phone or email 9 am-5:30 pm M-F Eastern time.
Website Usability
The Testive application is browser-based, which means that you need an Internet connection to use it.
Testive does not include an app that you can use from your smartphone, but it shouldn't be a big issue since this kind of work is most effectively done in a controlled environment, like your home or study room. The website is clear and easy to use.

Still, it's fair to say that their site is easy to use and that there are no complaints that they don't offer other platforms.
Comparing Magoosh vs Testive, we would pick Magoosh because it is a service that has a handy mobile app. You should check the Magoosh reviews SAT prep from their students and a review made by SAT and ACT experts, and you'll find out why students should pick Magoosh.
Pros
Courses are flexible and can adapt to the schedule and academic needs.
Weekly reports keep parents up-to-date with the progress.
Personal attention through weekly meetings with Testive tutors.
Their software collects data to evaluate the progress of students.
Develop study habits by making and sticking to a commitment.
Cons
You need access to the Internet to practice through the application.
Testive currently has programs for the SAT and ACT but not other tests.
There is a chance that they will be a long to reply to your emails.
Testive does not include a smartphone application.