MCAT is a standard test for admission to medical schools in the United States and Canada. This is a computerized test that contains multiple-choice questions spread in 4 sections.
Accordingly, the test will include questions about biological and biochemical bases of living systems, the chemical and physical basis of biological systems, the psychological, social, and biological origin of the behavior, and critical analysis and reasoning ability.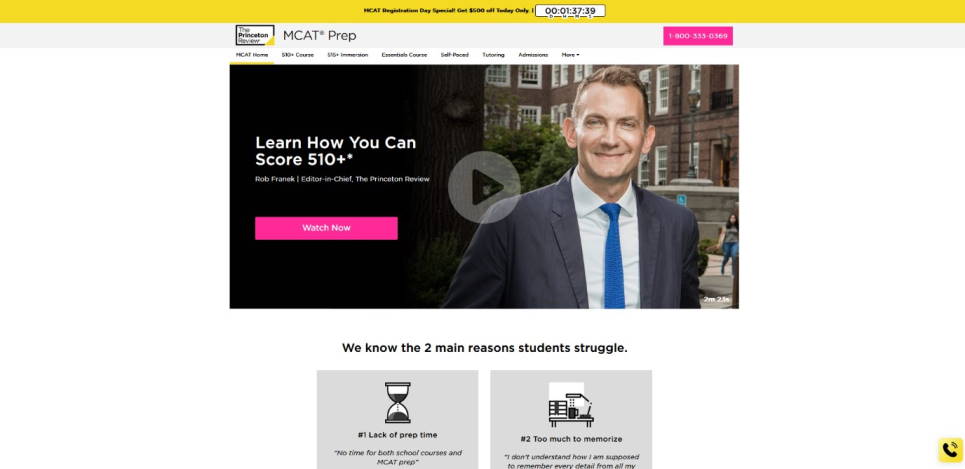 Since it is possible to take the exam only three times a year, four times for two years, and seven times during your life, students take it seriously and often need assistance from a specialized service. Looking for the best way to study for your MCAT? Compare Princeton Review vs Kaplan MCAT.
As such, Princeton Review, which we have already talked about in our PricetonReview review, comes up with personalized and customizable solutions. You will find more about MCAT prep courses and their pricing, guarantees, and distinctive features.
Keep reading the Princeton review MCAT review to get a deeper insight.
Princeton Review MCAT Courses Review
The Princeton Review's promise of "maximum results at a minimum time" is based on recent research where students stated their needs for assistance on this matter.
They don't have enough time for MCAT prep and ongoing school courses, while too much to memorize from all pre-med classes is the second main reason for choosing professionals to assist. With that in mind, you can select the most suitable of the following options.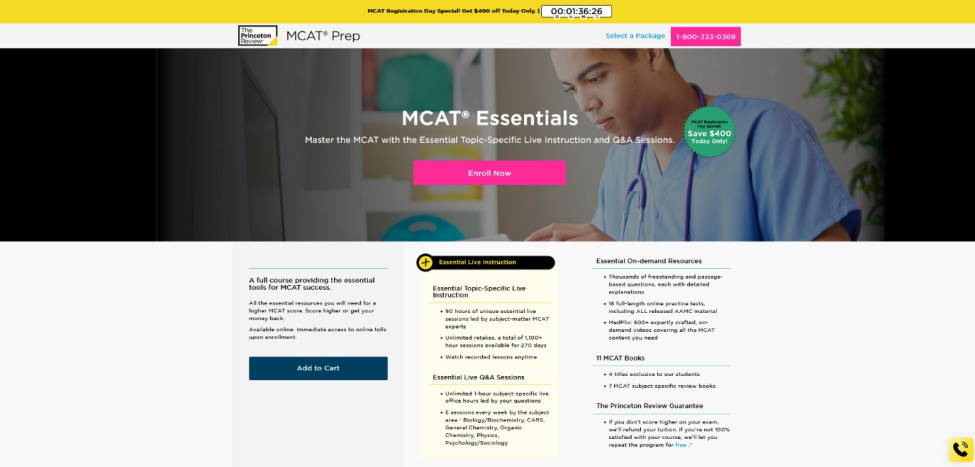 Combining on-demand lectures and live instructions, Essentials is the introductory online course. The first tier in your online tutoring experience comes with the essential tools and resources such as 90-hour live sessions, recorded lessons, and more than 1,100 hours of sessions accessible 270 days.
Additionally, you will receive unlimited 1-hour Q&A along with six sessions per week by the subject area – biology, physics, or else. Students can get on-demand resources and 16 full-length online practice tests. Varsity Tutors is the leading provider of private tutoring for MCAT and medical school admissions exams. Our dedicated experts can help you meet your goals — guaranteed. Varsity Tutors MCAT reviews are proof of that.
Add-ons also include 500+ MedFlix videos, 11 MCAT books, of which 4 are PrincetonReview-exclusives. To demonstrate how it works, the service offers a free sample study schedule and progress monitoring and an in-depth result review tool.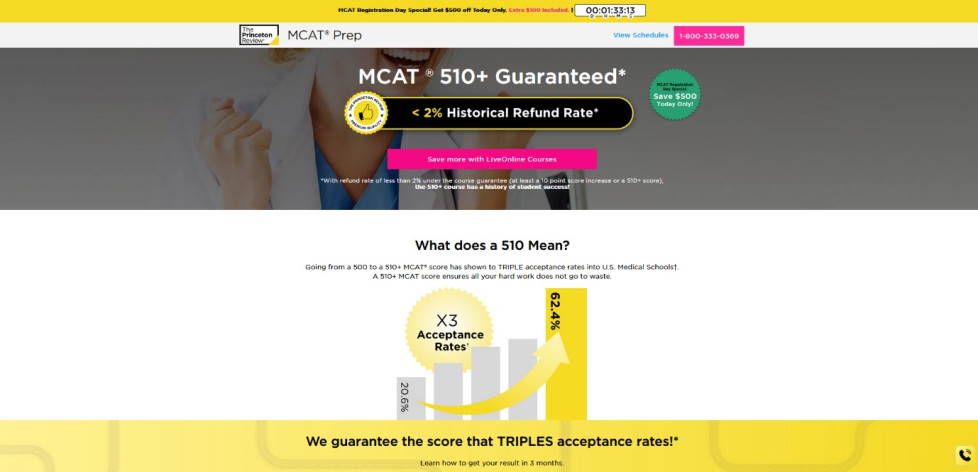 With the historic low of less than 2% refund rate, the MCAT 510+ Guaranteed is the most popular course that you can take. The course should improve the acceptance rate into US medical schools 3x for three months. A student will get at least a 10-point score increase or achieve 510+ points.
As a subscriber, you can count on 123 hours of lessons organized in-person or via the proprietary LiveOnline classroom tool. Hours are broken down to 33, 12, 18, 18, 21, and 21 of biology, organic chemistry, general chemistry, physics, psychology/sociology, and CARS instruction.
Tailored resources include 12+ MCAT Topic Focus sessions eliminating weak areas and a 1:1 Expert Study Advisor. According to the Princeton Review MCAT course student reviews, the course helped prepare for the exam and build their self-confidence and work ethic.
After placing the order form, you will choose the most suitable tutor or a dedicated instructor team. Then, do your best to attend all classes and complete exclusive Diagnostic Exams before taking all practice tests.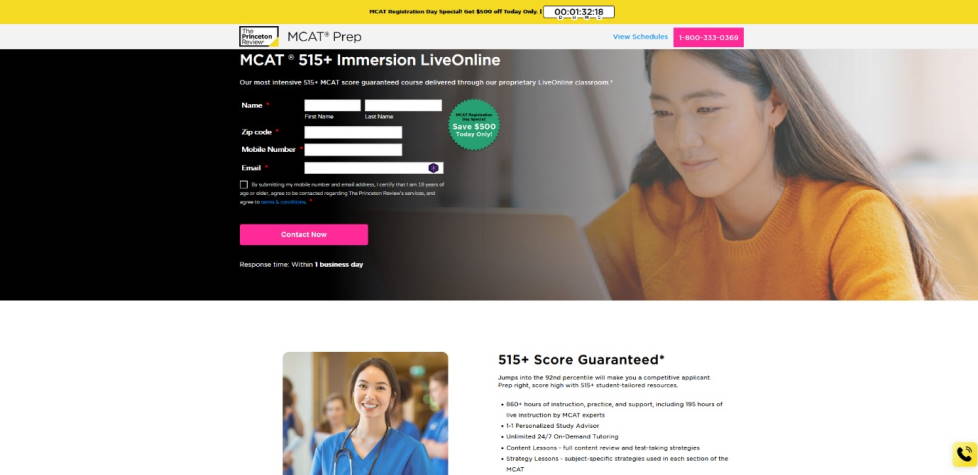 Next, the Princeton Review offers the intensive 515+ Immersion LiveOnline course. This is a negotiable deal with the pending time of 1 business day between your order and final agreement. The course presumes unlimited 24/7 on-demand tutoring and access to more than 860 hours of classes and practice.
The study advisor is personalized and facilitates full-content lessons, test-taking, and subject-specific strategies. Adaptive drilling tools, 500+ MedFlix MCAT lessons, 11 books (4 exclusive titles), and extended practice on all topics are part of the deal.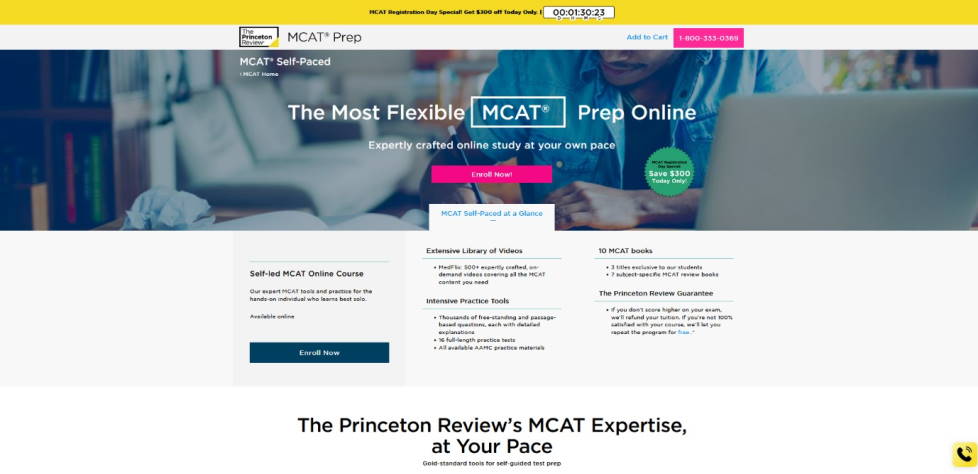 Designed for students who want to identify any weakness and improve or eliminate it, there is an MCAT Self-Paced course. We talk about the most flexible and expertly crafted MCAT prep online. The system delivers 500+ MedFlix videos, ten review books, and intensive practice tools if you learn the best solo.
The latter blends AAMC practice materials, 1000+ passage-based, free-standing questions, and 16 full-length tests. Just note that tests also have two shortened 5-hour 45-minute versions.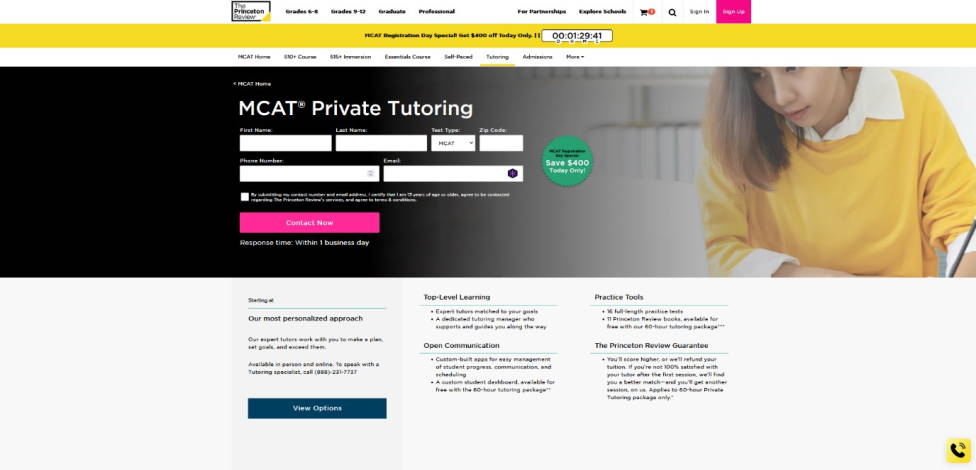 The Princeton Review can deliver customized and personalized lessons via the MCAT Private Tutoring program. The expert tutors take a customized approach and work with students to design plans and goals. The service is available in-person and online, but you need to speak with a specialist to develop more details.
Also, outputs of Targeted and Comprehensive tutoring differ since only the latter has a guaranteed score improvement. On the other hand, both models include books and access to the online student portal. The Comprehensive version has 60 hours of instructions instead of "only" 10 offered by the Targeted mode.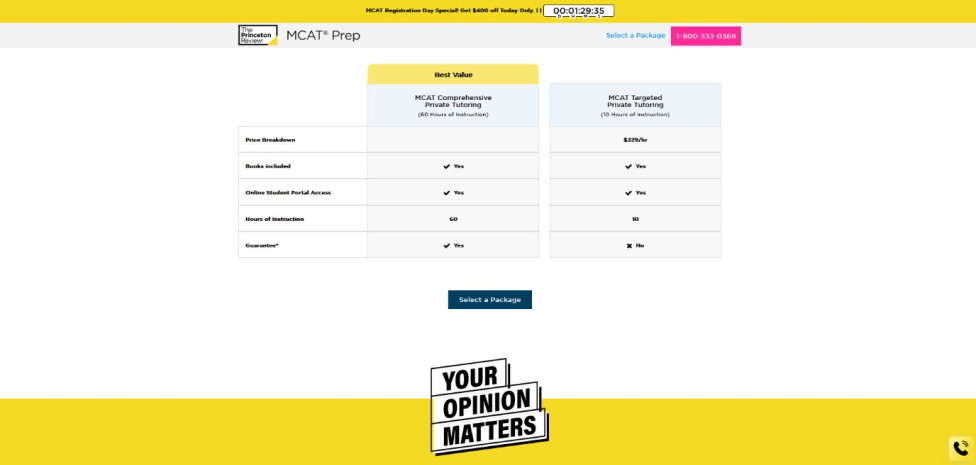 Why is this course so popular? Let's just say you get 16 full-length practice tests and 11 books for free during the mentorship. Students also appreciate a custom dashboard and apps for tracking progress, scheduling, and communication with a chosen tutor.
To enroll, contact The Princeton Review via the fillable form and indicate your details with the test type. Within a day, a specialist will get back to making a plan, setting goals, and doing their best to exceed them.
Our Princeton Review MCAT review goes on with the Comprehensive Admission Counseling Program for extraordinary applications. An all-star medical school admissions guidance team leads this course through several necessary stages. First, your coach takes an hour-long touch-base session to make an overall assessment. Here, they review your GPA, MCAT score, experience, and academic records to design a strategy for letters of recommendation. The second step presumes two rounds of coaching reviews, resulting in a compelling personal statement.
Finally, you will meet and greet in an interview during which you get full access to prep content. This is another hour-long session via FaceTime to review the application.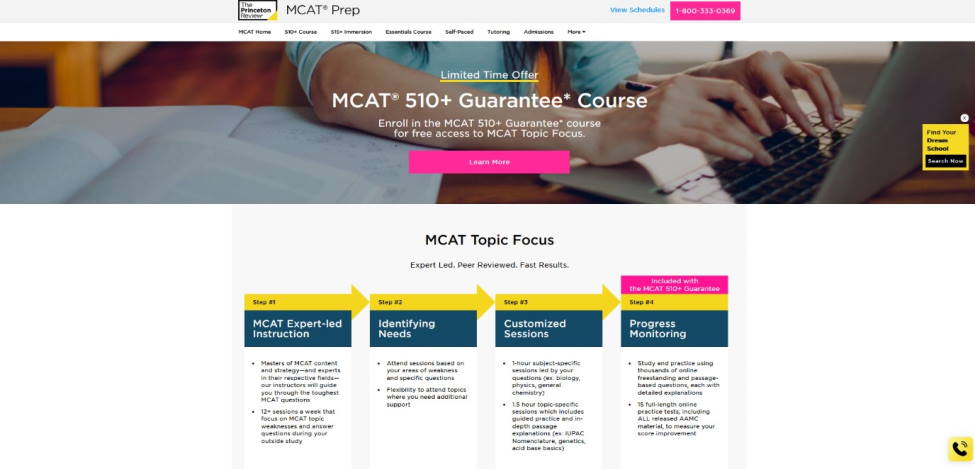 You can buy the MCAT Topic Focus online module for a guided group practice. This is an expert-led and peer-reviewed package with provably fast results. Students participate in 12 or more sessions per week to discover any MCAT topic weakness.
The program's instructors will help you find answers to problems and the most difficult questions before going to the next step. The next step is sessions where students identify needs and attend lessons based on previously discovered weaknesses.
Now, we came to customized 1-hour subject-specific sessions. They cover your question and lead to 1.5-hour topic-specific sessions allowing you to monitor progress.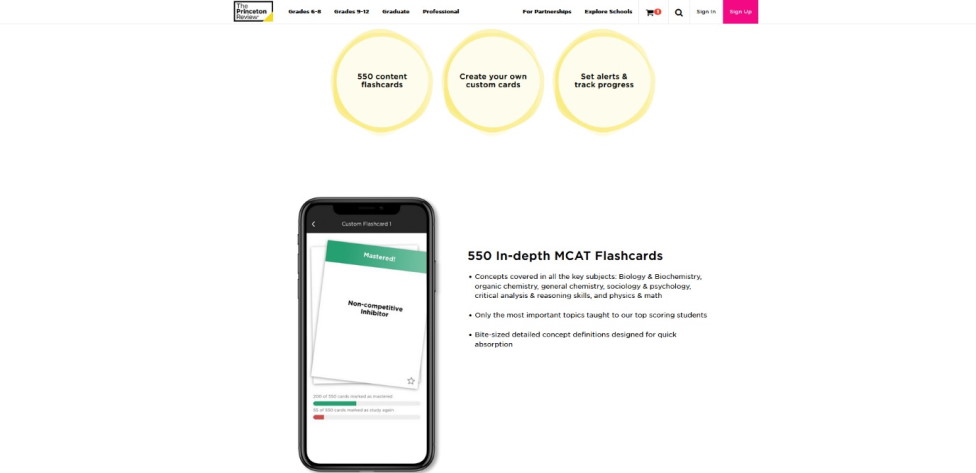 Like long hours sitting at the table weren't enough, The Princeton Review takes good care of its mobile-oriented audience. If your dream was to study on the go, download the MCAT Flashcard App and check 500+ MCAT Flashcards. We thought that the price would revolve around that number, but the fact is that the app comes free of any charge.
Both Android and iOS customers can get the app from Google Play or the App Store, respectively. In addition to built-in content flashcards, you can create custom cards, set alerts, and track progress.
For any questions about MCAT prep courses, contact the support team and receive premium access to some other MCAT materials – shall we repeat it's free of charge?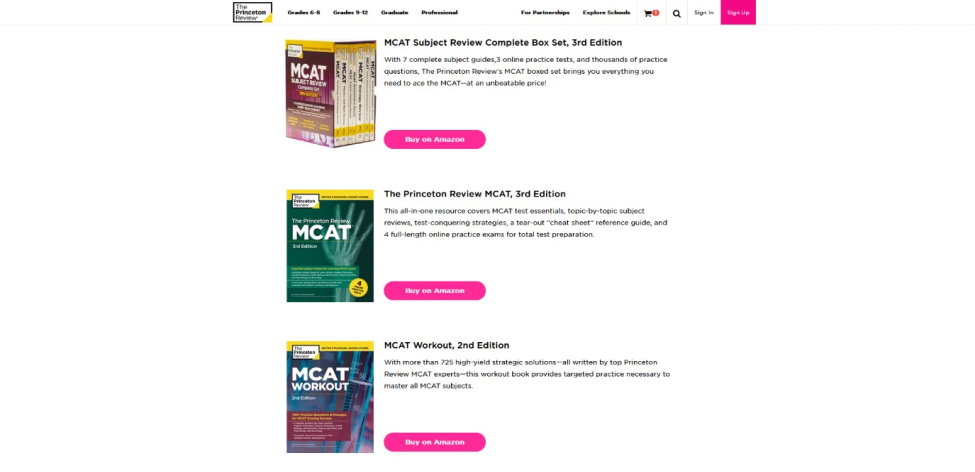 We understand that some students prefer printed materials and have better results with MCAT Prep Books nearby. Getting each section entirely covered means much more, with tips and proven test-taking strategies included in the package. The printed version sells on Amazon. You can choose the MCAT Subject Review Complete Box Set, the 3rd edition of The Princeton Review MCAT, or the second edition of MCAT Workout. Books also grant access to 4 full-length online practice exams and 725 high-yield strategies needed to master all MCAT subjects.
The list of available tools ends with a couple of neat online solutions. Students looking for a dream med school can read the blog before searching or search before reading the blog. In any case, they get a detailed insight into some of the best schools in the country.
Also, The Princeton Review's team gladly shares their thoughts about suggested schools such as the University of Medicine and Health Sciences or the University School of Medicine.
It is also possible to browse by location or program and learn more about the Boston Unversity School of Medicine or Harvard Medical School tuition and fees, just to name a few.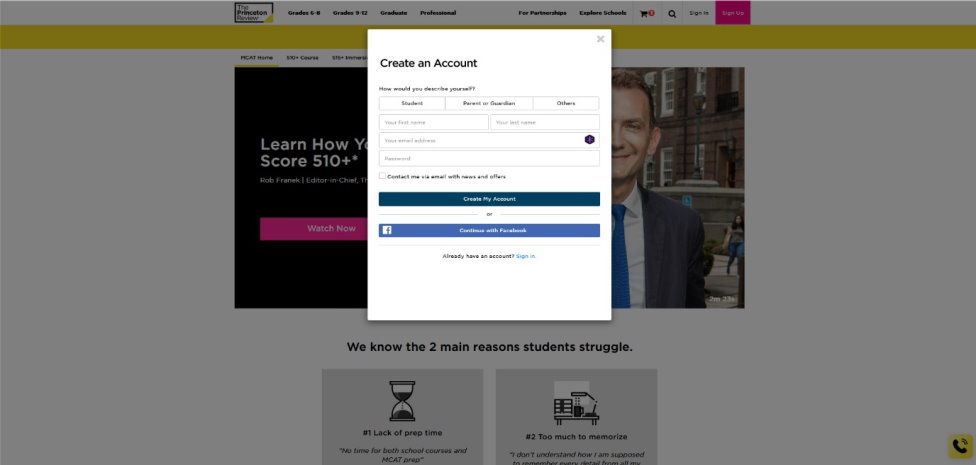 Nothing in life comes for free, except for the Princeton Review MCAT course reviews from other people who want to share their knowledge and experience gathered by the company's tutors. This also applies to blogged test-taking tips and the free MCAT 510 Training Module.
Upon free registration, students receive a full length practice test to redefine their strengths and weaknesses. The next step is a 10-question assessment MCAT quiz to find out your MCAT readiness quickly. Score-boosting lessons, score-boosting materials, and admission tools won't leave you penniless too.
Also, for the comparison check our reviews of Blueprint vs Princeton Review MCAT courses.
Pricing of the TPR Courses, Tutoring, and Books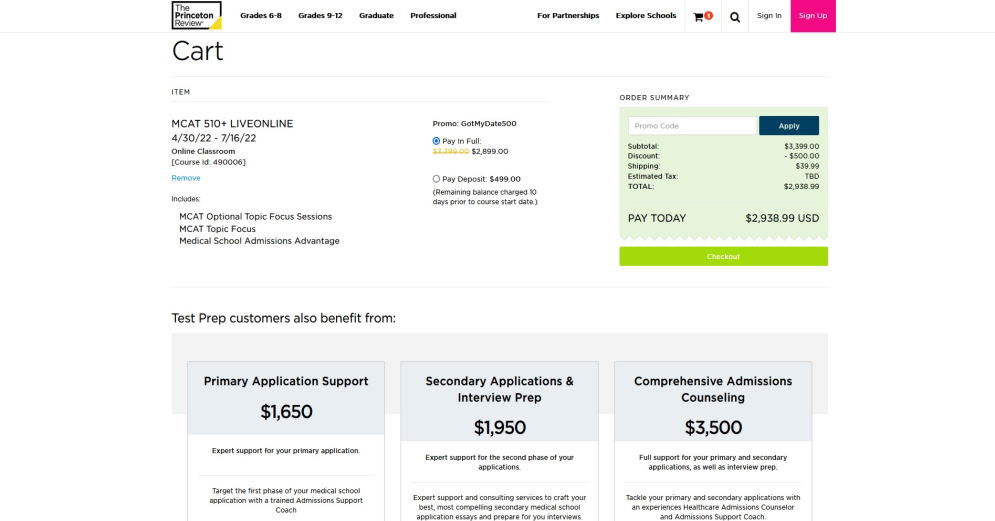 Thanks to the MCAT Registration Day Special, the trademarked MCAT 510+ course's regular price of $3,399 was lowered by $500. Also, the discount included an extra $100 off. The MCAT Topic Focus module worth $1,399 is part of the package, like the official AAMC materials, online flashcards, interactive score reports, and admissions advantage sessions for medical schools. After adding $39,99 for shipping, you should pay a total of $2,938.99 to enroll.
The elite-producing 515+ Immersion is initially charged $6,999 unless you have the "GotMyDate500" code that reduces the price to $6,499. Please note that your guarantee will be valid only if your starting score is equal to or higher than 505.
The MCAT Self Paced course is regarded highly, as we learn from the Princeton Review MCAT prep course reviews of people who benefit from this service. So, the price of $1,399 + $39,99 for shipping sounds like a reasonable investment. Initially, the course was $300 higher.
Again, you can save no less than $400 with the promo code "GotMyTutor" and pay $177 per hour instead of $183 for the same amount of Private Tutoring time. Online Tutoring has two modes depending on your needs: the MCAT Targeted course of 10 hours costs $3,299 or $2,899 with a promo code, while 60 hours of the Princeton Review MCAT course cost $10,600 if you choose the comprehensive model.
For those who need more than the best MCAT score, there is a Comprehensive Admission Counseling Program starting from $1,650. Students have year-long access to the online portal and interactive learning materials, along with other benefits.
Moreover, the price covers Princeton Review's organizational checklist and all communication channels.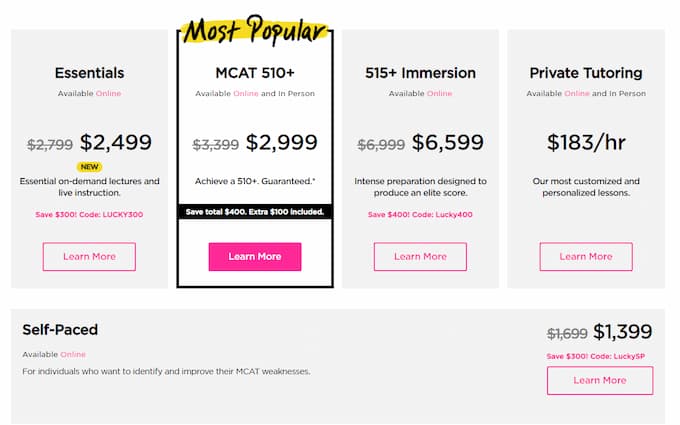 The Admission Counseling costs $3,500 and includes a live interview prep, unlimited messaging with the tutor in case of any urgent questions, and the review of your secondary application essay for a maximum of 8 schools.
If you choose the Premier Admission Counseling option for $8,700, you will get an all-inclusive and personalized plan for gaining a competitive edge in admissions to medical schools. Additional services start from $750 and presume a personal statement review, interview preparation, and rejection review.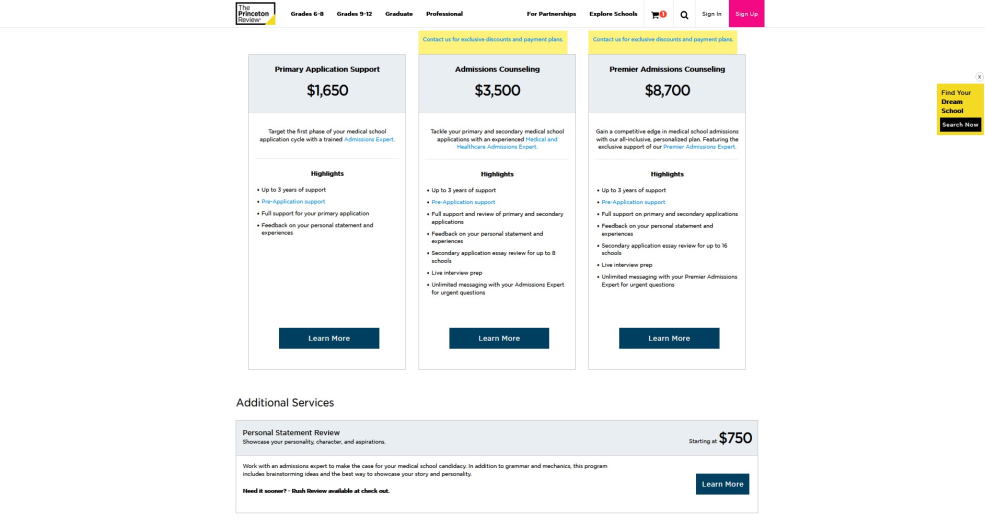 Other options include the MCAT Topic Focus of $1,399 with its Progress Monitoring tool and 15 full length practice tests and the CARS Accelerator of $1,099. The online skills builder lasts for 15 hours and implies LiveOnline tutoring.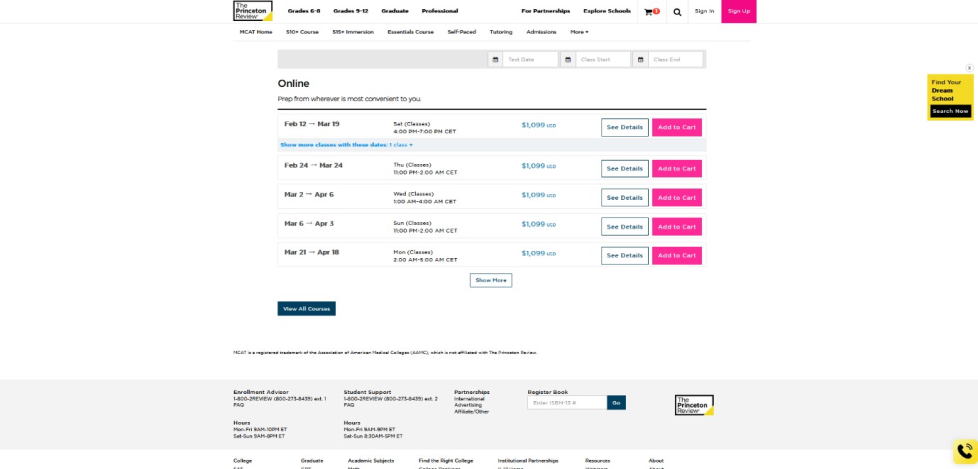 All paid courses share the same refund policy and related terms and conditions. For example, in the order summary, you can pay in full or just spend a deposit, while any remaining balance will be charged ten days before the projected course start date. You'll get your money back if you enroll in a course and cancel the order before accessing online materials.
To help students through the Covid-19 crisis, The Princeton Review extends the "Enroll with Confidence" guarantee and promises outputs you will read more about later in the article.
We didn't forget to tell you about the books' pricing. Amazon offers a 41% off 7 Complete Books and 3 Online Practice Tests packed in The Princeton Review MCAT Subject Review Complete Box Set if you are more into books. The deal with a Prime delivery currently costs $131.98 instead of $225.
Other books we talked about (the one for Graduate School Test Preparation and the other with 725+ Practice Questions and Passages for MCAT Scoring Success) cost $46.46 and $39.99 when writing the Princeton Review MCAT review.
Course
Price With a Promo Code
Materials included
MCAT Essentials
$2,399
·         90-hour live sessions

·         Recorded lessons

·         1,100+ hours of sessions accessible 270 days

·         Unlimited 1-hour Q&A along with 6 sessions per week by the subject area

·         On-demand resources

·         16 full-length online practice tests

·         500+ MedFlix videos

·         11 MCAT books (4 Princeton Review-exclusive)

MCAT 510+ Guaranteed
$2,899
·         LiveOnline classroom

·         12+ MCAT Topic Focus sessions

·         1:1 Expert Study Advisor

515+ Immersion LiveOnline
$6,499
·         Adaptive drilling tools

·         500+ MedFlix MCAT lessons, 11 books (4 exclusive titles)

·         Extended practice on all topics

MCAT Self-Paced
$1,399
·         500+ MedFlix videos,

·         10 review books,

·         AAMC practice materials

·         1000+ passage-based free-standing questions,

·         16 full-length tests

MCAT Private Targeted Tutoring
$177/hr or

$2,899

·         16 full-length practice tests

·         11 free books

·         Custom dashboard

·         Apps for tracking progress, scheduling, and communication

MCAT Private Comprehensive Tutoring
$329/hr or $10,600
·         12+ sessions per week

·         1-hour subject-specific sessions

·         1.5-hour topic-specific sessions

Comprehensive Admission Counseling Program
$3,500
·         1 hour-long touch-base session

·         2 rounds of coaching reviews

·         Full access to prep content

MCAT Flashcard App
Free
·         500+ MCAT flashcards

·         Custom cards

·         Setting alerts and progress tracking

MCAT Topic Focus
$1,399
·         Progress Monitoring tool

·         15 full length practice tests

CARS Accelerator
$1,099
·         15-hour online skills builder
MCAT Subject Review Complete Box Set
$131.98
·         7 complete books

·         3 online exams

The Princeton Review MCAT
$46.46
·         Examination strategies

·         Reference guide

·         4 online exams

MCAT Workout
$39.99
·         725 strategic solutions
Learn more about the Princeton Review's prices and packages in our detailed guide here.
Main Features of TPR MCAT Courses and Their Quality
You will learn from specialists uniquely certified in the specific area during the course. The operating company hires only instructors and tutors who mastered their teaching material.
Moreover, after analyzing 582,400 hours of sessions, PrincetonReview invested more than two years in developing the now award-winning LiveOnline platform.
The system worked based on notes and recorded sessions to keep pace with the growing demands of both market and students. What's even more interesting is their willingness to hear students' needs and introduce new tools such as four new section-specific practice tests, 21 new homework passages, and more.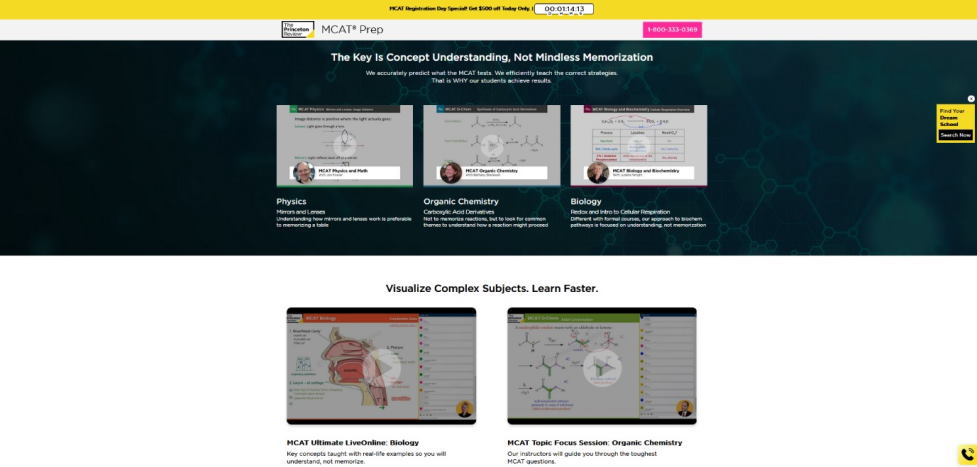 According to the Princeton Review MCAT prep reviews that we had a chance to elaborate on, the service achieved a rating of 4.6 out of 5, where 480+ Google Business users have assessed the quality. Users were focused on both classes and tutors, so you could find details about each provider and decide will to pursue or pick another one.
Also, presuming you'd like to buy a course, the system guides you through the basics and suggests the most suitable tutor for the job. For example, Kyle is a biology instructor recommended to guide you through one of six subject-matter MCAT courses. You will see that a student objectively praised the tutor's teaching style and stressed adaptability and simplicity of communication.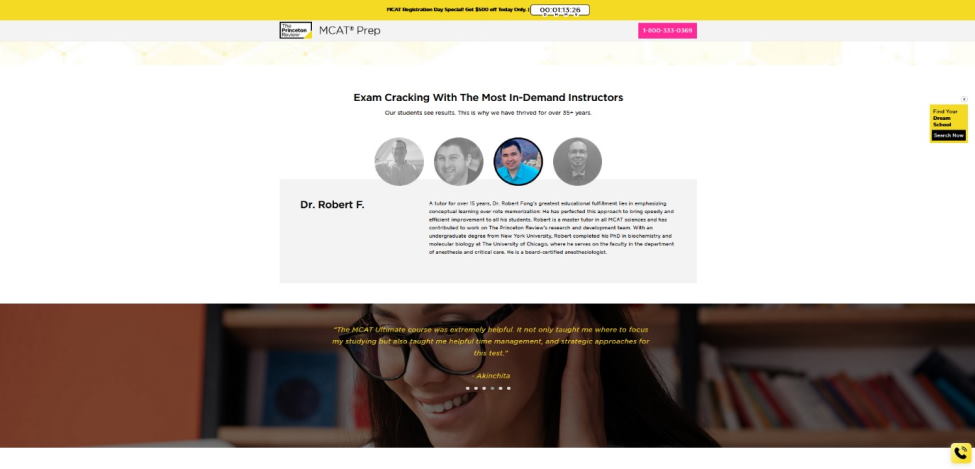 While some other services mention guarantees as a vague category, The Princeton Review Guarantee is a fully operational document that vouches for quality and results.
Customers are protected with the "Better Scores: Test Prep" guarantee that promises a complete money-back if you don't get a guaranteed score when it comes to the MCAT prep course.
Each program is additionally covered with the 100% Satisfaction Guarantee. This means unsatisfied clients who already paid for a course can repeat the program once for free.
Still, the document comes with terms and conditions a prudent buyer needs to follow. For example, the repeated program must be the same type as what you purchased.
Also, its value should be at least equal if not lesser. To activate the guarantee, you need to call the support team.
FAQs
How accurate are Princeton Review MCAT practice tests?
Practice tests are detailed and cover the essential topics asked on the MCAT. Students receive high yield materials topic-focused sessions and are encouraged to participate in the course. Combined, they make an accurate curriculum.
Is Princeton Review good for MCAT?
This is a reliable and trustworthy service with a growing list of satisfied customers. Information is presented in an understandable format, while provided resources are comprehensive. On average, students have improved their scores by at least 10 points.
Are Princeton Review practice tests harder MCAT?
All tests offered by The Princeton Review aim to improve your MCAT score. The provider comes with additional resources to ensure a structured and organized curriculum while studying for the exam.
Is the Princeton Review MCAT course worth it?
According to the Princeton Review MCAT course student reviews, the MCAT course is a bit pricy, but it's still worth your money. Besides, the company offers promotional codes and coupons to lower the price. The other side of the spectrum relates to students' success, and practically all attendees have improved their scores.
How much does the Princeton Review MCAT course cost?
Depending on your needs and the time allocated to prepare for exams, the provider offers multiple choices. The MCAT Self Paced course is the most affordable, starting at $1,399, while the MCAT Private Comprehensive Tutoring requires no less than $10,600.
On the other hand, the company comes with several free tools such MCAT 510 Training Module, search and recommendation module for medical schools, and a comprehensive blog.
Pros
Professional and knowledgeable tutors with proven expertise in the field of study.
Coupon codes and occasional discounts can lower the price.
Courses available both in-person and online.
A rich collection of printed books at affordable prices.
The "Enroll with Confidence" refund policy was extended during the Covid-19 outbreak.
Refunds and guarantees of the quality of delivered courses.
Free resources, including a blog, medical school search, and the free MCAT 510 Training Module.
Customer support is available 24/7.
The cashier accepts popular payment methods.
Cons
Prices seem a bit higher than expected, even when discounted.
You can't read more about a tutor unless checking other people's Princeton Review MCAT reviews.
The website's responsiveness could be much better.
PayPal is not an accepted payment method.