As high school students approach their college admissions journey, one of the pivotal steps is tackling the SAT exam. Recognizing the significance of this standardized test, students seek out effective and comprehensive resources to enhance their chances of success. The great pre-step is the Dual SAT prep & ACT prep program. It grants access to PrepScholar SAT prep and ACT prep programs.
In this pursuit, PrepScholar SAT Prep has emerged as a prominent option. With its personalized approach, adaptive learning system, and track record of impressive results, PrepScholar SAT Prep offers a compelling solution for SAT exam preparation.
One of the standout features of PrepScholar SAT Prep is its personalized and adaptive learning system. The program starts by assessing students' baseline abilities through a diagnostic test. Based on the results, PrepScholar creates a customized study plan tailored to each student's specific strengths and weaknesses.
Although the PrepScholar program tries to motivate its students, it is tough to do so. Students need to be self-driven, and confidence is vital to high test scores.

This individualized approach ensures that students focus their efforts on areas that require improvement, maximizing their study time and targeting their energy towards achieving tangible progress. This personalized guidance sets PrepScholar apart from other generic SAT prep courses and programs, providing a more efficient and effective study experience.
Furthermore, PrepScholar SAT Prep offers a comprehensive curriculum that covers all aspects of the SAT exam. The program delves into each section—Reading, Writing and Language, and Math—providing in-depth lessons and practice questions.
The content is designed to be clear, concise, and easily digestible, enabling students to grasp key concepts and develop the necessary skills to excel on the exam.
The program also emphasizes test-taking strategies and techniques, equipping students with the tools to approach questions strategically and efficiently, further boosting their performance.
In addition to its personalized approach and comprehensive content, PrepScholar SAT Prep includes a wealth of practice materials. The program offers an extensive library of practice questions and full-length practice tests that simulate the actual exam experience.
This abundance of practice opportunities allows students to familiarize themselves with the format, timing, and question types, enabling them to build confidence and refine their test-taking abilities. Detailed answer explanations accompany each question, providing invaluable feedback and facilitating a deeper understanding of the underlying concepts.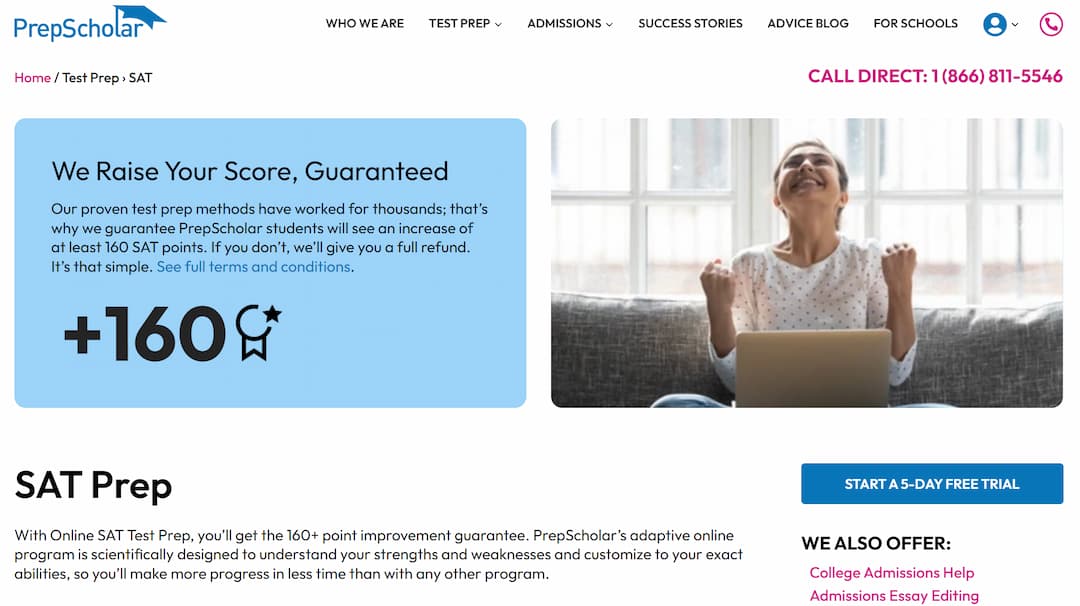 At first glance, PrepScholar is considered an ideal solution for most parents. This online tool is a renowned online test preparation interface and college admission consulting.
Established by Allen Cheng and Fred Zhang in 2013, this tool has relied on the experience of its founders to guide students who have an upcoming SAT exam.
Aside from SAT, PrepScholar is also useful in preparing for the ACT, GRE, GMAT, PSAT, and TOEFL exams. This makes it a top online test prep programs platform with the right features to satisfy students and parents.
For some time now, PrepScholar has gained a reputation for offering a 100% online course with tons of content and the usage of innovative technology to maximize the learning experience and scores of students. And that's not forgetting the affordable pricing and score guarantees you get.
When you consider everything that PrepScholar offers you, it's no wonder that most parents are interested in getting their kids on board this tool.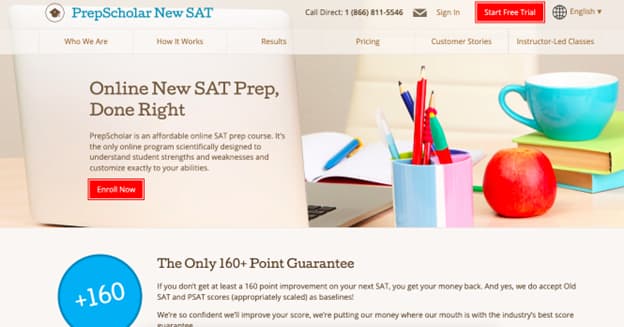 If you're still unsure whether PrepScholar is worth a try, let's help you out. We've prepared a detailed PrepScholar SAT prep review that will teach you everything you need to know.
However, keep in mind that this review will only discuss the SAT services of the online tool. And here you can find a complete review of Prep Scholar.
Let's begin!
SAT Courses Review
When using PrepScholar, you gain access to 5 different courses. Each of these course options is designed to look out for a particular part of the overall examination experience.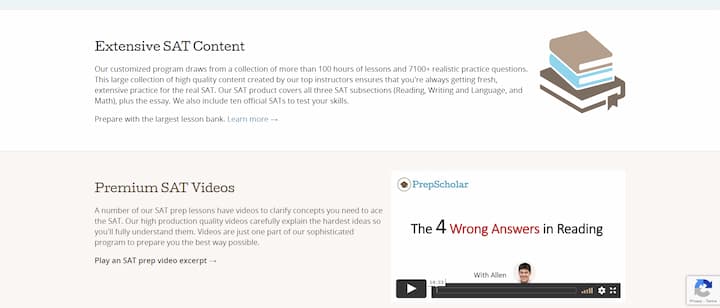 Users can choose from any course options, depending on their needs and preferences. Target Test Prep SAT review. We help test takers with test prep giants improve their score.
The available PrepScholar SAT Courses include;
Complete SAT Online Prep;
PrepScholar Classes;
Complete Tutoring;
Complete Premium;
Dual SAT + ACT.
Complete SAT Online Prep Course
The Complete SAT Online Prep is currently the most popular and most purchased option on PrepScholar. It serves as the basis of all the other course options on the website.
Is it the best full SAT prep course option available online? From a general point of view, this package consists of text and video lessons that treat common problems with in-depth solutions, practice tests and solutions, and one-year access to the tool.
Think about it: users gain access to a single year of 210+ hours of content, about 7100 practice questions, more than 700 interactive video lessons, and 98 skill lessons that teach problem-solving strategies. There's nothing better any parent could ask for.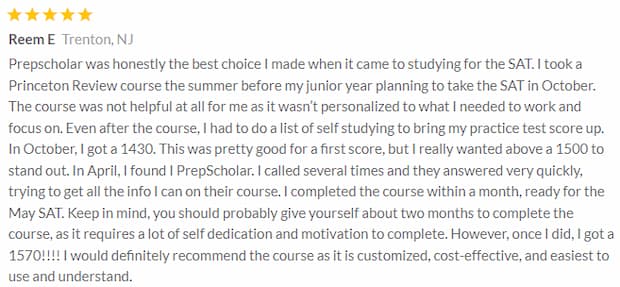 Going further, all subjects; such as math, essays, readings, and writing) are treated within this plan. If you're not clear on anything, you will find detailed answer explanations and customized quizzes.
Also, this plan contains different certified SAT practice questions. What's more? You get this course at a reasonable price of $400, which is around the same range you would get from other competitors.
When you choose the Complete Premium Plan, you get 2-year access to PrepScholar's resources.
PrepScholar Classes
Every other course offered on this tool is a variation of the Complete Online Prep course option. The PrepScholar Classes package is based on the previous period but with an additional benefit – a 9-hour live class. The students in live classes will be organized into virtual classrooms with limited sizes.
Here, students can interact with their peers and receive lessons from PrepScholar's qualified tutors. Each of these tutors is a perfect scorer, highly trained, and has gone through extensive training to help you at $895.

Complete Tutoring
The Complete Tutoring course option is designed to add extra hours of learning to your SAT preparations. When you purchase this package, it offers double improvement points to the students. This means that they stand a better chance of learning key concepts quickly.
Furthermore, this option enhances personalized teaching.
Complete Premium
The Complete Premium plan offers students everything in the Complete SAT Online Prep Course option. You see, this means that users will get all the online content, skill lessons, practice questions, and interactive video lessons too.
However, when you choose the Complete Premium Plan, you get 2-year access to PrepScholar's resources.
Dual SAT + CAT
This course package offers students access to SAT prep and all ACT prep courses and material. It's an ideal plan to help you prepare for your ACT and SAT exams simultaneously.
Pricing of PrepScholar Courses
The pricing of PrepScholar Courses depends on the type of course in question. Each of them is priced differently because they offer users something unique.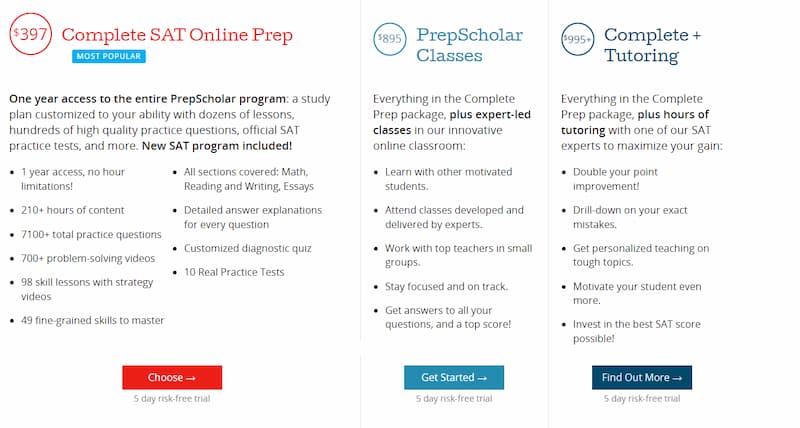 Here are the prices of PrepScholar Courses:
Complete SAT Online Prep Course
Users are charged $400 for the Complete SAT Online Prep Course. The plan gives access to:
Online content;
Practice questions;
Interactive video lessons;
Skill lessons;
Customizable quizzes.
PrepScholar Classes
The price of the PrepScholar Classes option is $895. As explained earlier, it includes:
9-hour class;
Virtual classrooms;
Experienced tutorship;
Learning groups;
One-on-one questions.
Complete Tutoring
The price of PrepScholar's Complete Tutoring course is about $995. This course option offers you everything that's in the Complete SAT Online Prep Course, including hours of tutoring with SAT experts.
If you're unsure whether you can afford this, check whether you have credit cards designed for students or no-interest cards. These cards will help you cover the cost of this course. Or find a top tutoring company as an alternative.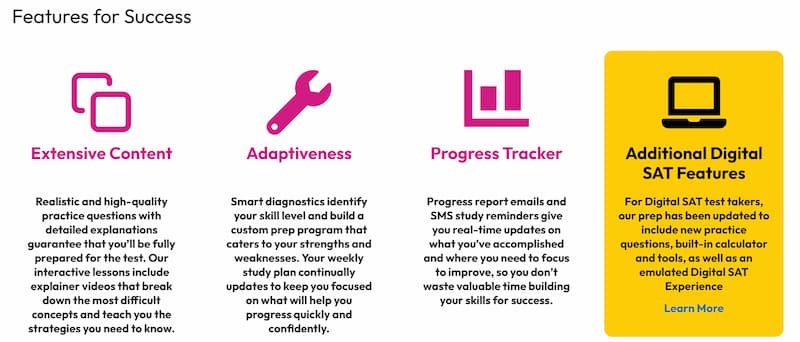 These are some things you would gain after making payment for this course;
Learn how to correct basic mistakes;
Revision of difficult topics;
To aid your improvement and growth.
Complete Premium
The Complete Premium course option costs $577 ($53/month). Just like its name suggests, this course option offers everything that's found in the complete prep package, plus two years of coverage.
Dual SAT + ACT
Now, this course package costs $597. To find out more about the box, you'll need to contact the service center of PrepScholar.
Also, check our comparison between the ACT vs SAT.
Main Features of PrepScholar SAT Courses
As we proceed with this PrepScholar SAT review, it's time to look at the main features that have made this tool quite special.

They include:
The experts at PrepScholar understand that not all students can perform at the same academic level. Now, this tool has smart diagnostic software that can be used to access the skill level of different students.
Therefore, their lessons and instructions can be tailored to suit their respective academic levels.
The Diagnostic feature of PrepScholar is quite straightforward. It tests students with 60 specific questions for about 60-80 minutes. The assessments are held using computerized adaptive testing. As a result, each student supplied a student will ask the next question.
The purpose of the diagnostic test is to find out the areas of study in which students are lacking and help them to improve exponentially. A full diagnostic test will cover about 30 different SAT skills.
As soon as the test is completed, a personalized lesson plan will be compiled based on the test results. Therefore, students will be trained only on skills that will help them get a higher overall SAT score.
By concentrating on your weak subjects, it will be easier to grow and get better. As students keep taking more lessons, the lesson plan will adapt and get progressively harder to force the necessary change in the student.
PrepScholar's Diagnostic test is one of the major reasons why the SAT prep tool stands out from the rest of its competitors.
The level of guidance offered by PrepScholar is incomparable to its competitors. On paper, PrepScholar SAT and ACT prep sounds like any parent's dream. As soon as you're done with the diagnostic test and get a lesson plan, they will provide you with step-by-step instructions on the key areas to study, lessons to take, the period to take them, and when the test will come up.

What's more? Their package will also include individual lessons, drills, and a chance to work on your weak points.
Everything will be planned out carefully for you. There won't be any omissions or missed tests as your learning schedule will be properly planned out.
And if that's not enough, PrepScholar will provide you with 10-15 lessons per week which will all be available through the dashboard. These lessons include quizzes, various strategy lessons, tutorials, and practice assessments.
Despite all the pre-arrangement, you still get to decide which subject or lesson to take first. If you start to struggle, you can pay for experienced tutors to help you through your difficulty. Hiring an SAT tutor doesn't come cheap, but they are worth it.
Another great thing about PrepScholar is that the forum will motivate you at different stages. To start with, you will get weekly email reports that will keep you aware of what you need to know. These reports are sent to parents and their wards.
Also, these reports will indicate the number of lessons you've completed and the duration of the study.

Whenever a study or lesson goes well, you will complement your hard work. There will also be warnings when you start slacking off.
Throughout your classes, you'll also be notified of your strengths and weaknesses. The reports for your task also include a time tracker that will tell you about how many hours how much time you have spent developing your goals.
Furthermore, a skill chart will show you exactly how much you have been able to progress since the beginning of your SAT+ prep courses.
Also, there is a log of your progress as a learner. This log will indicate the number of records of your work and past quizzes that you've participated in. By checking how you have fared in the past, you can learn how to improve your SAT scores.
At times, it may be not easy to motivate your students to perform better or improve their performance
When using PrepScholar, you will be introduced to a pre-planned curriculum that will benefit your overall learning and help you maximize your time. The first 10 minutes on the PrepScholar website are designed for signup and selecting the program of your choice.
After that, you will spend the next hour on the diagnostic test. The next two-ten minutes are used for your first eight lessons. Each lesson is broken into three parts.

Anytime you open a lesson, you'll spend the first 20 minutes reading texts and watching instructional videos. Next, you'll have another 20 minutes to practice questions. All your practice questions are SAT-standard and will be focused on the individual skills that you'll be taught.
However, the final part of each lesson will help you focus on what you have missed during your learning. The best thing about this part is that you can't skip it because of how integral the reports are to growing your SAT scores.
The next part of the online prep program is a full practice test. This practice test is similar to the real deal. As a result, it's written with paper and pencil. The exam score will be sent to you immediately, and you can forward it to PrepScholar tutors for honest feedback.
After this stage has been completed, students will access customized lesson plans.
Finally, the program ends with the mastery of the SAT curriculum. According to official reports by PrepScholar, it will take an average of 40 hours to complete the entire program.
However, the duration may vary depending on the student in question. Sticking to the outline will allow students to score higher in the SAT examination while improving on their weak points simultaneously.
Unlike other competitors that offer empty promises, we have delivered exemplary services for many years. As a result, they have set the standard to beat other online prep tools.
Different Tutoring Options
By default, users of PrepScholar can choose from two different tutoring plans. The tutors that handle each program are qualified and can take their classes one-on-one and face-to-face.
If you are looking for an alternative to PrepScholar, you can check our comparison of this platform with Princeton Review in terms of SAT and ACT test prep.

A one-on-one approach will encourage active learning and follow-up during lessons. Each class is more than just explaining the lesson material to you.
It also involves dynamic interaction between teachers and students and breaking down strengths and weaknesses.
Whenever it's time to purchase a tutorial plan, you're free to choose between either Plan A or Plan B. Plan A will allow you to spend more time with your tutors and less time studying.
On the other hand, plan B gives you more study time and less time with tutors. Students are advised to pick their preferred tutorial plans based on the learner they have grown into.
Learn more about average SAT tutoring prices among different test prep companies in our latest article here.
Pros
PrepScholar has a friendly user interface.
This online prep tool has qualified and experienced tutors.
The content of this tool can be accessed at any period and for varying durations.
This online prep tool offers a 160+ point guarantee.
This tool has a pre-planned lesson arrangement.
Cons
PrepScholar doesn't have a mobile app that will allow students to connect from any mobile device or smartphone.
FAQs
Is PrepScholar SAT Prep Good?
PrepScholar SAT prep is designed to prepare you for your upcoming SAT examination.
Each student that signs up for this learning platform gains access to online lessons, interactive videos, skill lessons, practice tests, and so on. For one year, you will get all the help you need to get stellar scores during your examination.
How much is PrepScholar SAT Prep?
Booking the services of this online prep platform comes at different prices. Often, students have to choose their preferred course option from among the available alternatives.
The PrepScholar SAT prep cost ranges between $400 and $995. Make sure to check through the details of each package before taking a final decision.
Is PrepScholar SAT Worth It?
PrepScholar SAT is an online platform designed to prepare and improve students before their SAT examination. Students can benefit from the long online content available on the website.
When you consider everything that will be gotten in exchange for the fee you'll be paying, it's quite clear that the prep tool is worth it.