If you are looking to crush SAT scores and need a great prep course, we have all the details on the Magoosh courses. As a top SAT prep course with an affordable price, Magoosh covers all bases. With a 12-month program available, there are amazing features, and this program fits into any budget. There is also a three-month course available. We have already done a complete review on Magoosh that can be seen on our blog. Here, we focus solely on the SAT services that are offered.
The SATs are important exams, and proper preparation will be needed to obtain the best possible scores. This self-guided and affordable prep course provides everything needed to boost SAT scores, and all information is readily accessible on a PC or mobile device. Is Magoosh good for SAT prep? Check out our analysis right here to learn what this program features.
Review of SAT Courses Offered
With multiple lessons from Magoosh, all learning and studying will be performed online. No texts are required, and it is a perfect solution for on-the-go learning. Featuring an incredible app, Magoosh can be accessed on an Android or iOS device, where all services can be used at any time. The online experience has been built around core features, including individual practice questions, video lessons, and practice tests. A practice schedule can be created so that all progress can be tracked.
With the SAT prep course, more than 200 video lessons and over 1700 practice questions will be featured. With email tutoring assistance and a targeted practice schedule, this prep course will provide an effective self-learning experience. Since practice questions closely resemble real SAT questions, this program offers a great opportunity to prepare for the exam and make improvements in weak areas.
All lessons delivered with courses are separated into categories for fast access. Choose a topic that needs work and select from a list of supported lessons and videos. With the Magoosh SAT prep course, you will find the following areas covered:
Math – General Math Strategies, SAT Specific Strategies, Arithmetic and Fractions, Percents and Ratios, Algebra, Equations, Inequalities, Word Problems, Powers and Roots, Geometry, Coordinate Geometry, Statistics, Data Analysis, Advanced Math Trigonometry, Advanced Math Extra Topics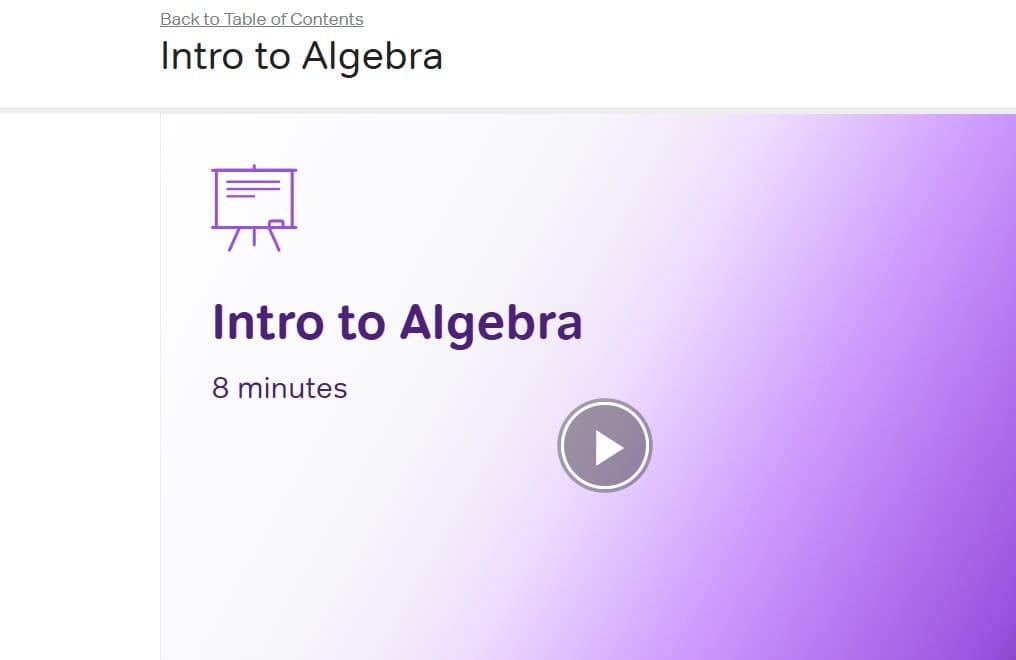 Reading – Strategies and Fundamentals, Specific Reading Strategies, Question Types
Writing – Writing Strategies, Sentence Structure, Usage, Punctuation, Development, Effective Language Use, Essay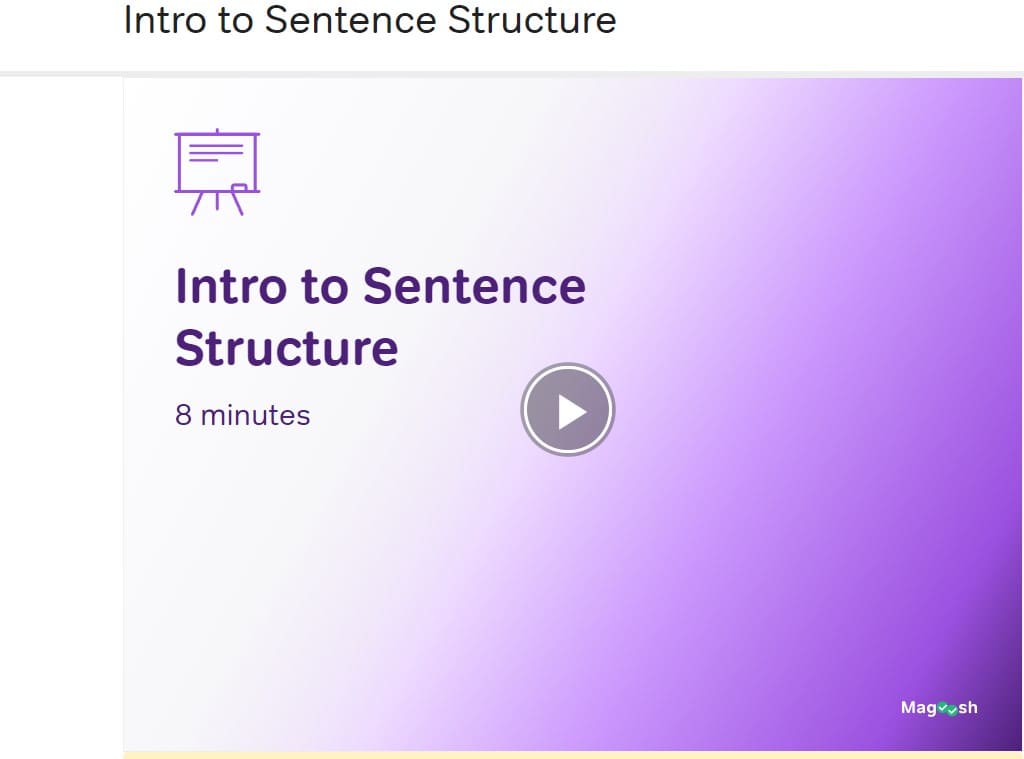 In addition to accessing all content and tests online, Magoosh provides a solid app for Android and iOS devices. Two mobile apps are available. One is an SAT Exam Prep and Practice app. This contains SAT content along with lecture videos and practice exams.
With this, the learning experience is easily accessible, and all content can be reviewed. The second app focuses on flashcards for Math and English. This is the best SAT option for on-the-go studying.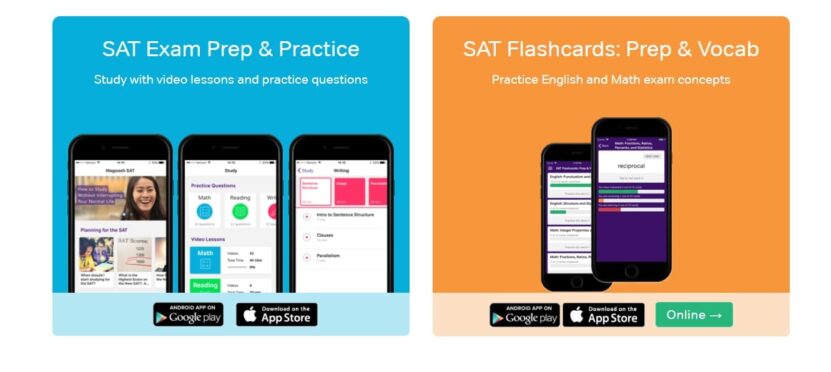 All expert content from Magoosh can be accessed using a supported Android app. While not all practice questions will be offered, a good amount is, and they cover all major topics. With 54 questions for the Trial version and over 400 questions for a Premium version, these apps provide a great way to be able to study and master key concepts on the SAT exam.
The iOS app has over 1500 questions supported and provides the ability to review all video and text explanations. Users can also download videos and watch them at a later date. The SAT flashcard app for iOS delivers 350 vocabulary words chosen by SAT expert tutors and various math cards.
Pricing Guide
The pricing structure at Magoosh is favorable and provides an affordable way to get assistance with SAT preparation. Based on Megoosh SAT reviews from consumers, most say that the value offered for the cost of courses is fair.
We have assessed all costs associated with using this service. Here, we provide a breakdown of the overall cost and features included with each package available.
With our Magoosh SAT review, we found this company offers great quality at a low price. Two study plans are featured, providing excellent services and a guarantee to boost SAT scores.
One of the great things about choosing this SAT prep program is that the coupon code "EDUREVIEWER10" can be applied to a purchase. A discounted price is available on both packages, offering savings of 10% off of all the packages.
Program
Self-Paced Premium
Guided Study
Cost
$100, $119, $129
$399
Duration
1 month, 3 months, 12 months
12 months
Features
·         1750+ questions

·         Video and text explanations

·         200 videos

·         3 practice tests

·         Flexible study schedules

All of Premium +16 hours of live lessons
Self-Paced Premium Package
This is the most popular option; new customers can benefit from a free 7-day trial. Program content can be accessed during this time, and practice tests or quizzes can be taken. If, after this 7-day trial, the customer feels Magoosh will not be beneficial, a money-back guarantee is offered, and funds will be returned with no questions.

The Premium package is available at three price points. A fee of $100 is charged for one month of access, $119 for three months, and $129 for 12 months. All options include the same features and content. This includes:
More than 1750 practice exam questions;
Text or video explanations for all questions;
A max of 3 practice tests;
More than 200 video lessons;
Personalized study schedules;
+100 SAT point guarantee;
Email assistance from tutors.
All three price points offer the same content and access to study materials. The only difference is the amount of time this content can be accessed. It is important to note that the +100 point guarantee is only effective for those that have taken the SATs in the past and are looking to improve scores.
Based on user experience, Magoosh SAT prep reviews are quite positive, and customers have seen an increase in scores after using this program.

Guided Study Program
The Magoosh Premium Guided Program provides live classes taught by leading instructors. Tuition of $399 will include a +100 point increase guarantee and live instructions for 16 hours. All course materials will be available for 12 months, during which practice tests can be taken, lessons can be reviewed, and videos can be accessed.
This program offers all of the same features as the Premium option with the addition of live classes. This is a great option if structured preparation is desired. Live classes offer an opportunity to ask questions in real-time and get help with any concept causing a struggle. All live classes are conducted online via a link that is sent through email. Instructors will create lesson plans for every class, which are held twice a week for two hours per session.
Magoosh reviews SAT from past customers show that live classes greatly benefit. If there is a problem with scheduling, there is an option to purchase an On-Demand option. This will still provide 16 hours of lessons, but classes can be watched anytime. Recordings of all live instructions and presentations will be available.
Main Features and Quality of SAT Courses
Studying for SATs will take time and dedication. Since many have busy schedules, Magoosh offers a fully customizable platform that will provide a flexible learning experience. As a self-paced program, there are no set schedules. Just choose what areas need improvement and study when time is available. The course does provide useful checklists and SMS reminders that can help keep users on track.
When a package has been purchased, a personal dashboard will be created. This is where all site sections can be accessed, and one can track progress. The innovative dashboard is a key feature of Magoosh; it instantly loads when the site is accessed.
Here, learning is tracked by providing Suggested Lessons based on areas that require additional practice. The dashboard will also display an outline of quiz results as well as the predicted SAT score for areas of science, math, English, and reading.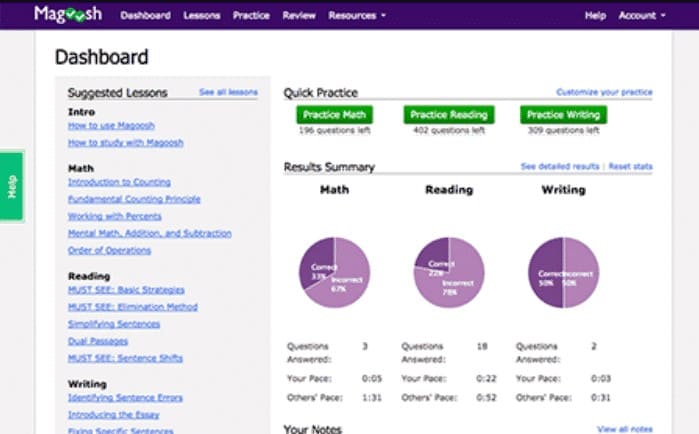 Customized Study Plans
Using a smart review system, the program can offer a customized practice schedule based on users' specific needs. Here, the difficulty level can be selected along with the number of review questions, types of questions, and the areas that need focus. A practice mode is featured where there are video and text explanations for all problems and questions.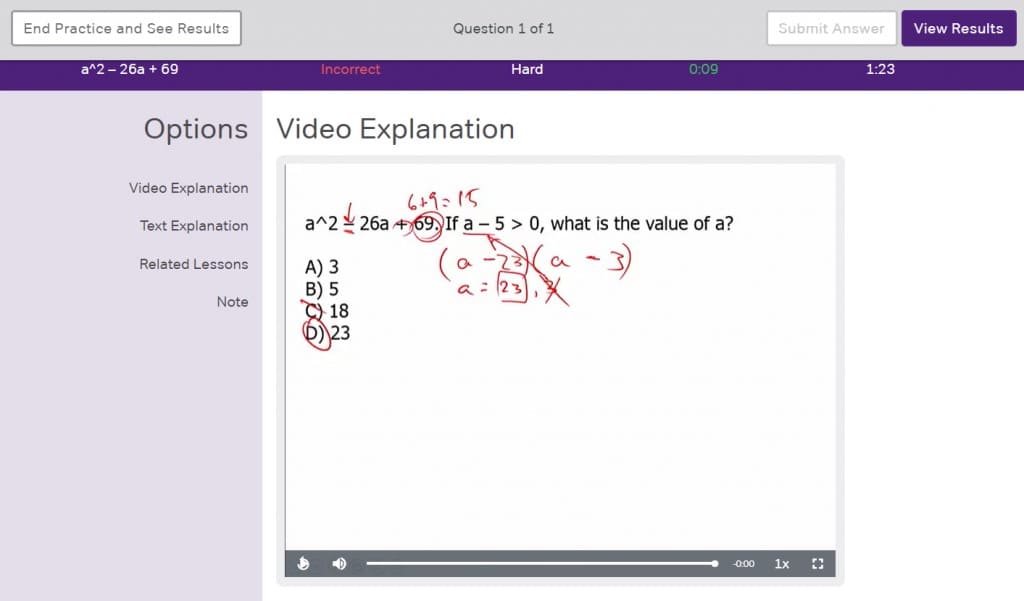 Using the quiz mode will eliminate the explanations and allow users to test their knowledge and see how they perform in certain areas. All information will be logged and updated on the dashboard, reflecting practice test scores, areas that need improvement, and other suggestions for success.
With the ability to study what is needed, time will not be wasted covering topics already known or mastered. Specific areas can be selected along with a difficulty level so that users can benefit from efficient learning and focus only on what is needed to improve test scores.
Magoosh Guarantees
To make sure that all customers are satisfied with course content and lessons, there is a 7-day guarantee in place. If circumstances change after purchasing one of the packages and the service is not needed, the cost will be returned with no questions asked. This provides a sense of security and ensures the company stands behind the courses offered.
One key feature of Magoosh SAT prep is the score increase guarantee. If a 100-point increase is not received after using the prep package, Magoosh will offer a money-back. There are specific requirements to receive this refund. It is only offered if the SAT has already been taken before using any services.
The score on the former test will be used to evaluate test performance upon retesting. The requirements for the guarantee are as follows:
The redesigned version of the SAT must have been taken before using Magoosh services;
Old test scores must be valid and received in less than 5 years;
A copy of the initial test score must be emailed to Magoosh;
A copy of the new test score must be sent via email.
If the Live Classes package has been purchased, the guarantee works differently. Live classes guarantee a score increase of 100 points, but if this is not achieved, a refund for the basic Prep software will be issued for $129, or enrollment in another live class is free.
Unique Features
One feature that sets Magoosh apart from other services is the offering of flashcards on the go. English and math concepts can be mastered with innovative flashcards. With access to more than 200 cards, various concepts are covered, which can be accessed through the supported app.
Education experts have chosen common and essential topics that will be included in the SAT exam. These flashcards are designed to help focus on a specific topic and can be accessed at any time on an Android or iOS device.
Another key feature that is only found with Magoosh is a score predictor. This helpful tool will be displayed on the dashboard and will provide a possible SAT score. To get an estimated score, answer at least 50 questions. By completing additional questions, the score will be more accurate. This can help determine which areas need more focus.
Private SAT Tutoring
When using the Magoosh program, no private tutors are offered. The service offers email support options to help with examination studying and prep. Email support is offered 24 hours daily and connects users with SAT experts. Any questions can be asked, and a response will be received within 4 hours.
The support experts can provide detailed replies to questions on the exam or any lessons provided. For most, this is a good way to get some answers to questions, but if private tutoring is needed on a 1 on 1 basis, Magoosh does not provide these services.

Pros
Great video explanations as well as an SAT YouTube channel;
Intuitive mobile app provided;
Affordable pricing;
7-day free trial to check the curriculum;
Improve scores by 100 points or get your money back, guaranteed;
Create personalized study plans.
Cons
Limit of 3 full practice tests;
No private tutoring sessions are offered;
Low score improvement guarantee;
Real-time support is not offered.
FAQs
Is the Magoosh SAT prep package a good choice?
Is Magoosh SAT prep good? This program offers great content at an affordable price and has a money-back guarantee. With an ability to only focus on areas that need improvement, packages from Magoosh are a great way to study online and enhance SAT scores. Benefit from high-quality videos, realistic practice exams, and expert support.
How do the SAT courses work?
Modern technology is used to provide a complete online learning experience. After subscribing, access the dashboard to choose an area of study and select lessons. All progress will be tracked to provide a detailed report of any areas that need improvement. Practice tests and quizzes reflect real SAT questions to help prepare for the exam.