Medical College Exam
The Medical College Admission Test (MCAT) is one of the most important tests that you will take as a medical student. However, med school is already expensive, so you're probably looking for an MCAT test prep course that won't break the bank.
Fortunately, there are test prep courses that you can take before med school to ensure that you're 100% ready when the time comes. But how can you find the best MCAT test prep courses?
There are several test prep courses that you can take today, but you have to be careful when making a decision.
You will be wasting valuable time if you make a choice that doesn't suit your preparation needs. This is why our experts have been reviewing the best companies offering this service.
In this article, we are going to be providing an honest Magoosh MCAT review. Is Magoosh good? Is it legit? Now, let's give you a clear idea of what to expect from Magoosh MCAT courses in depth review.
MCAT Courses Review
To start with, Magoosh focuses fully on offering its services to medical students around the world via its online courses. This offers flexibility as it allows students to access all the resources they need to ace their MCAT exam regardless of their location or time.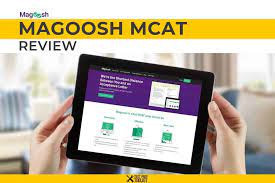 So if you are unable to attend physical classes for any reason, you should be looking at the service being offered by this company. RoshReview MCAT review helps you improve your score by using proven techniques.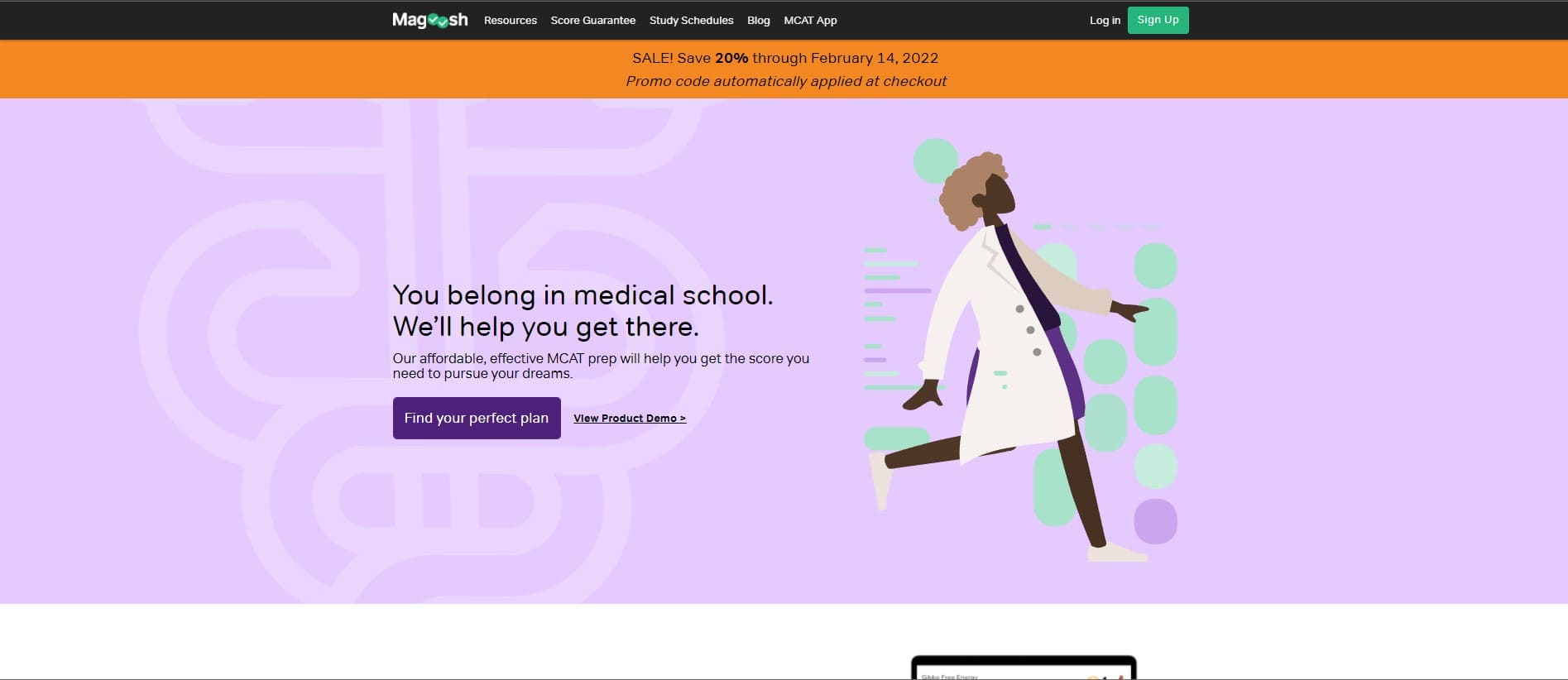 Additionally, Magoosh doesn't have strict practice guidelines, unlike other companies. The courses are structured in a way that allows you to study at your own pace and enjoy it.
However, this doesn't mean that you won't have support. You will have access to hundreds of videos, study materials, and practice questions. Varsity Tutors MCAT review has been viewed by hundreds of users.
Hence, medical students that are looking to prepare for MCAT on a budget and don't mind remote studying shouldn't let this opportunity pass by. Let's take a closer look at what you will get when you choose to take MCAT online courses at Magoosh.
Magoosh Curriculum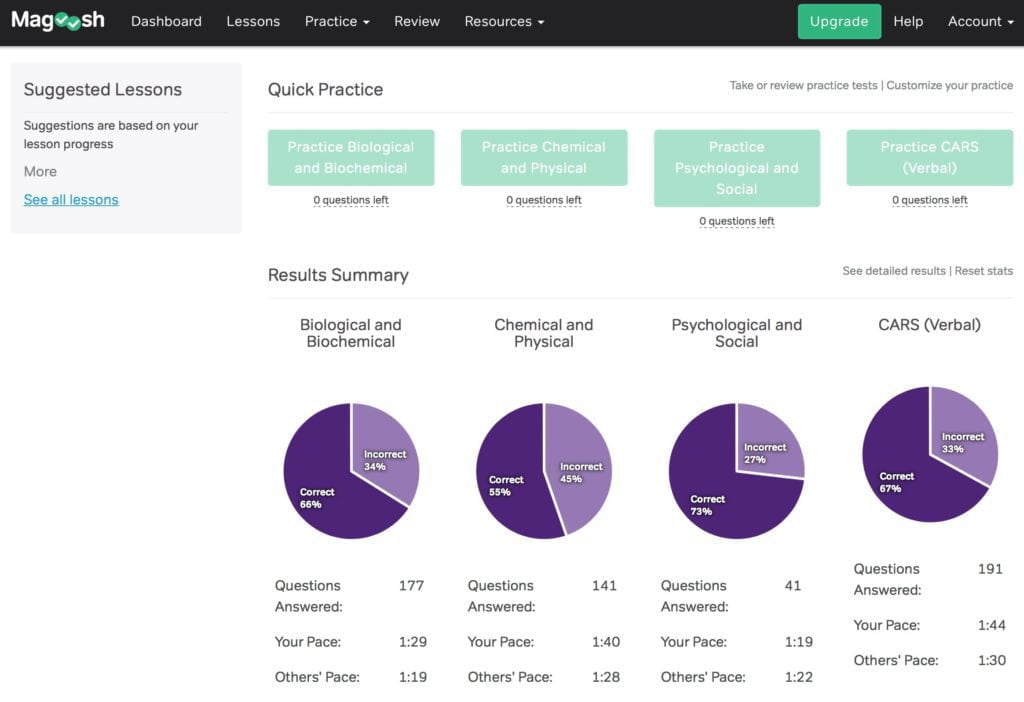 Several other test prep companies and services give medical students different packages to choose from. However, the Magoosh prep package does things differently, and the various positive reviews that we have read online show that it's effective.
When you sign up, you'll instantly gain access to the Magoosh dashboard. Typically, MCAT review courses have pretty static dashboards.
The company only offers one package, but students are allowed to choose between a one-month or 12-month subscription. They gain access to the following materials after making a subscription:
Comprehensive Practice Tests
Practice tests are vital for any student that's looking to take the MCAT exam. The full-length assessment and more practice tests are similar to the main exam, so they will get you a good idea of what to expect on the day of your actual exam.
What's more, Magoosh also makes shorter practice tests available to students that may get overwhelmed by bulky content. They get significant revision time too.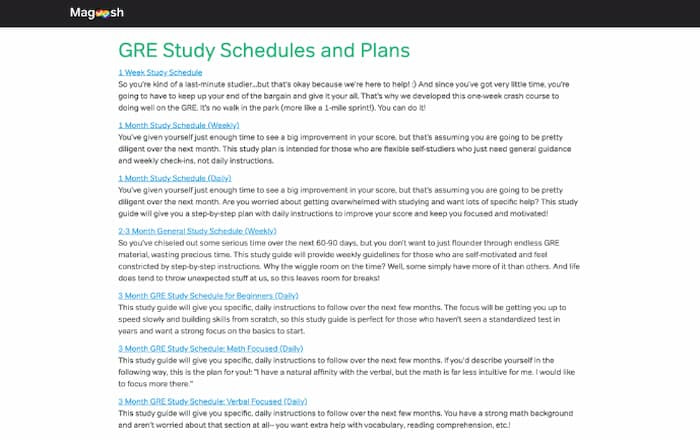 Well Detailed Video Lessons
On the platform, you will get access to over 380 content reviews through high-quality videos and tons of other MCAT materials. This is the part of the course where you will get the most value. The contents of the videos are simple, with detailed explanations, and clear to allow students to grasp them easily.
Additionally, the videos contain several shortcuts that will help you catch up on the test patterns currently used in the MCAT. They are made by the most experienced and qualified tutors that know exactly what you need to get a high score on your test.
Over 745 Practice Questions
Not everyone has the time to go through full-length practice tests. This may be due to a part-time job or many other reasons.
The people at Magoosh understand this, and as a result, they have made over 745 short, practice exam questions available to students with limited time.
Hence, the students can evade the added pressure and continue their daily schedules.
Email Support
We have all been there. While studying, there are moments when you will need the attention of a tutor. This will make your study time more effective. Don't be discouraged by the fact that Magoosh only operates online classes now.
The program is designed to give you all the assistance that you need. When you need help with your studies, all you have to do is to click on the "Help" button, and a certified tutor will be on hand to assist you.
Comprehensive Solutions
It is only right that you get answers to questions that you answer during your practice tests. Firstly, you will have a better understanding of why you got some answers wrong and also become more confident about some correct answers that you got right.
Additionally, the real MCAT test isn't straightforward. You will need to fully grasp practice question and concept application, and this is particularly true for passage questions.
Another good thing about this on-demand course is that you will get a detailed analysis of your answers to the practice questions and tests that you take.
Additional Resources
For the affordable price that you pay for the on-demand course, you will get even more value thanks to the additional resources.
These include a dedicated blog and app, lecture notes dedicated practice tests, and flashcards. You will also get a list of topics that you need to cover before you write the main test.
| | |
| --- | --- |
| Online Course Material | Availability |
| Comprehensive Practice Tests | 3 |
| Video Lessons | 380+ |
| Practice Questions | 745+ |
| Email Support | 24/7 |
| Comprehensive Solutions | Yes |
| Additionally Resources | Yes |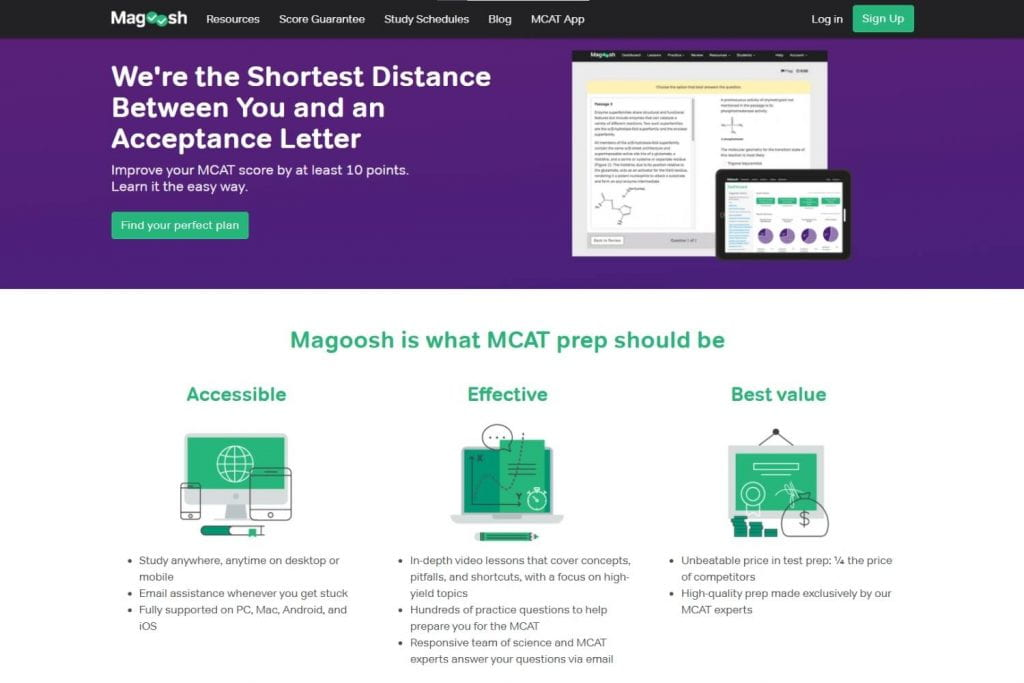 Content Videos
Content Videos
Though we have provided some information on Magoosh's video, we would like to touch on some areas that we haven't mentioned. Your subscription will get you access to the platform's vast online library.
To make things even better, the library was built with state-of-the-art technology so that it meets the needs of students studying remotely.
In several online reviews, students wrote about the ease of navigating through the library. The videos also contain all the necessary topics, and their quality makes studying even more enjoyable for students. This way, students are always delighted to come back for more.
Further, the videos in the library are arranged according to their subject. This shows that the company took a lot of time to organize the content of its library.
The importance of organization is that it allows students to easily find the resources that they need.
As a result, students get to spend less time searching and more time studying. Another good thing about this is convenience as you won't have to go through the stress of going through a disorganized library.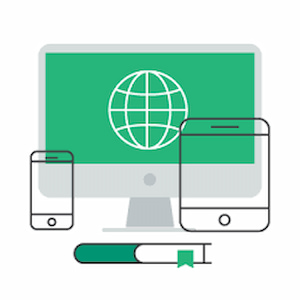 What's more, the videos on the platform contain several strategy lessons that will show you the right way to study for certain parts of the test. This will be more beneficial as one approach won't work for all sections.
As you should expect, the strategies are designed by highly qualified and experienced MCAT tutors. There are also enough example exercises to ensure that you have a good understanding of the lessons.
Additionally, all video lessons on the platform come with a transcript. The importance of transcripts is that they will give you a quick view of what each video lesson is all about.
Hence, you will be able to save yourself time by moving straight to the section that's relevant to you or even skipping the video entirely.
Finally, the quality of the videos remains the same whether you are studying on your smartphone or PC. This will allow you to study on the go without fuss. We were also impressed that each video is marked as "Watched" after it has been viewed.
This will make it easier for you to separate the videos that you have watched from the ones that you are yet to watch.
Practice Tests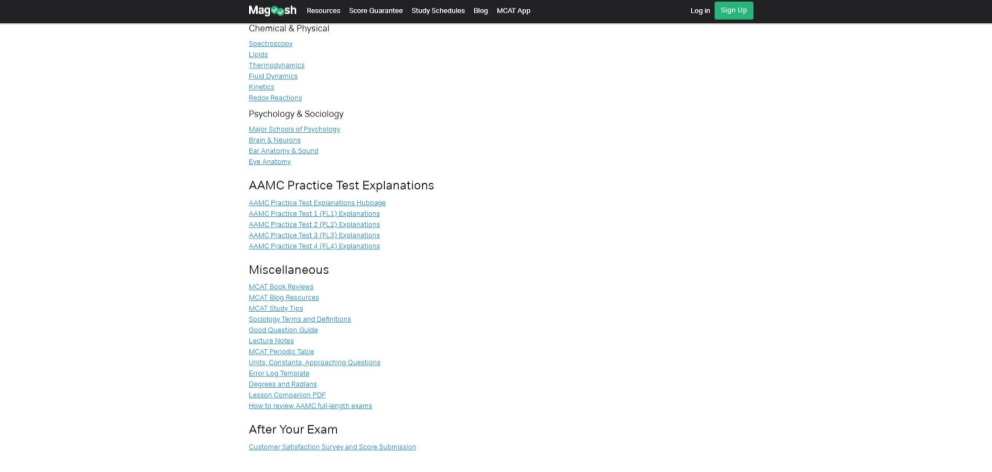 In some online reviews, some users have complained about the company's lack of full-length practice tests. However, we have covered that this is far from the truth after carrying out our research.
In truth, Magoosh's core curriculum only consists of aam. practice test withe questions and 3 full-length practice tests. But the company recently started offering short practice tests that are specifically designed to make test prep companies meet the requirements of the latest MCAT test model.
Magoosh hired professional MCAT tutors to create the full-length tests so that they are just as good as the main MCAT. They also feature helpful features like highlight and strikeout.
Additionally, your ability to manage your time well will have a significant effect on the result of your yet. This is why the practice tests feature timers to help you learn proper time management.
Each question in the practice test comes with a comprehensive description to ensure that you have a clear idea of what it's about.
You can also check out the questions attached to lessons by simply clicking on them. This will make it much easier for you to catch up.
Still, you have to prepare your mind because the first practice exams and questions don't come easy.
This isn't meant to scare you in any way, as many students have mentioned that the practice tests tend to be tougher than the real exam. So, conquering the practice tests would mean that you're fully prepared.
In the end, we believe that Magoosh should work on offering more than just 3 full-length tests.
App Review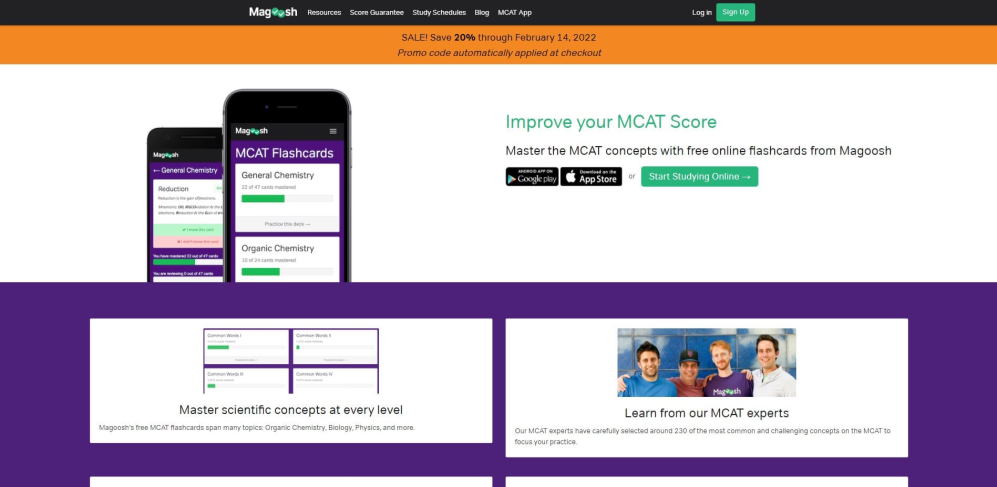 Gone are the days when you needed to sit in front of your desktop or PC just to study. The top online learning platforms now have apps that you can download on your mobile device so that you can study on the go.
With the Magoosh app, you will be able to access MCAT Flashcards, through which you can learn in a modern and more enjoyable way. The main contents of the Flashcards include simple explanations on various topics that are essential.
You will also find some helpful features in the app. One of these features includes the 'I knew this card" or "I didn't know this card" feature.
Using this feature, you will be able to mark the contents that you have read and those that you are yet to read.
You will also get to see the number of cards that you have read in every section. Additionally, the app will introduce you to over 230 words that you need to know as a prospective or medical school or student.
These words were carefully selected by the most experienced MCAT tutors. However, the app only contains 40 cards. We believe that it should have more.
Furthermore, you are bound to love the usability of the Magoosh app. It is compatible with Androids, iOS, and tablet devices and works smoothly on each of them.
The app makes MCAT preparation smoother and more convenient than ever.
However, you should note that the Flashcards aren't enough to prepare you for the main exam. The on-demand videos and other materials provided by the platform should be your major resources.
Pricing of the MCAT Courses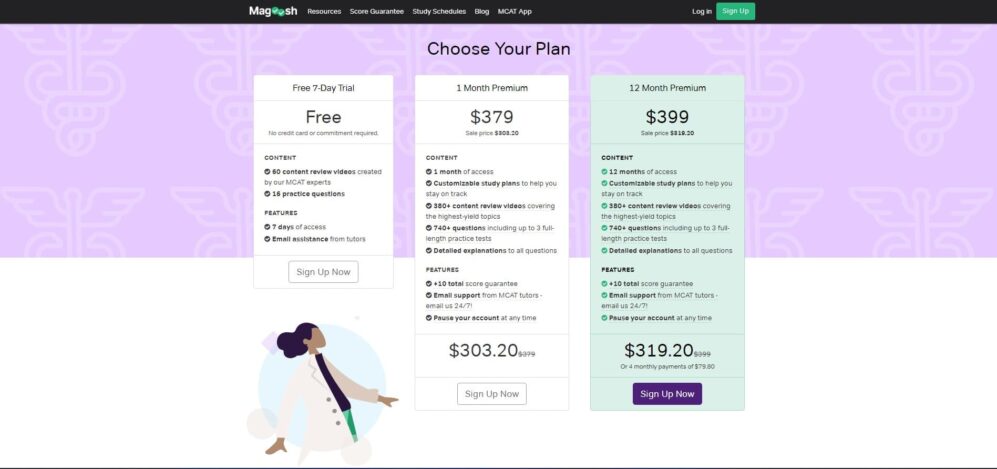 As we mentioned earlier, Magoosh offers its clients two types of subscriptions. They include one-month and 12-month packages.
The one-month premium is available at $379. It will give you access to customizable study plans, over 380 video lessons, 3 full-length practice exams and tests, and over 740 questions and answers.
You will also enjoy 24/7 support and get to pause your account whenever you desire.
As for the 12-month subscription, it costs $399. It has the same features as the one-month subscription. The only difference is the price as you will be paying more for the service.
So, which is the better option?
The answer to this question will depend on your unique situation. You should opt for the 12-month subscription if you are taking your MCAT several months from now. This will allow you to enjoy the great features for a long time.
On the other hand, the one-month subscription is more suitable for those who have limited test prep time.
Both subscriptions have significant discounts. If you are unsure of what you will get, you can request the free 7-day trial. This will give you access to 60 content review videos, 16 practice questions, and email support from tutors.
The trial is completely free. You won't have to submit a credit card or make any commitment.
You can also get 10% off any package with our unique Magoosh coupon code "EDUREVIEWER10".
The Quality of Magoosh MCAT Courses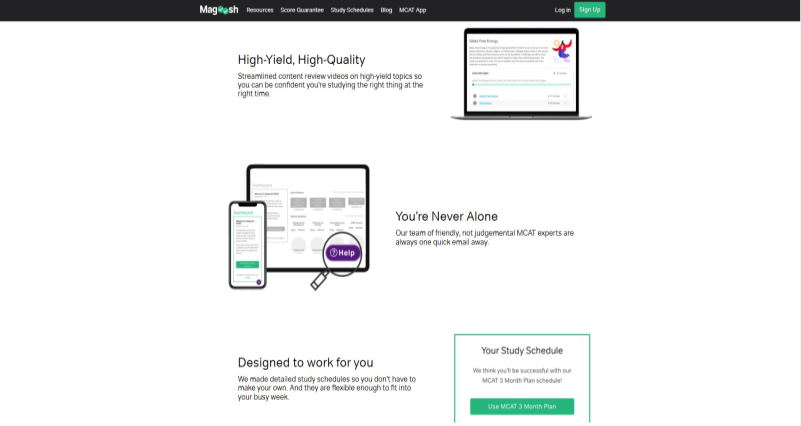 Due to the affordability of Magoosh MCAT courses, it is quite normal for any student to know the quality of its service.
Is Magoosh's service that good if it only charges a fraction of what other companies are charging?
It depends on how you prefer to learn. The platform has all the information that you need to prepare for MCAT. However, the delivery of the information isn't for everyone.
You can be assured that all of your bases have been covered here in depth review the curriculum plan. What's more, all MCAT sections have been categorized by topic so that students can access them easily.
Magoosh has also ensured that you will be able to review any lesson that you have completed comfortably.
According to Magoosh, the free course itself is based on high-yield topics. However, you shouldn't expect to see the entire content of your MCAT on the platform. What you should expect is to get access to most of the information that you will need to ace the test.
As you should know by now, most of the content is delivered in video format. The quality of the content of the videos shows that the tutors hired by the company are highly experienced and qualified.
Also, the videos should help you study effectively due to how clear and concise they are. Difficult concepts are made more understandable with the aid of well-detailed graphics and animations.
Actionable tips have been included to further increase your understanding of difficult concepts.
On the downside, the videos on the platform can be more engaging. There are no virtual tutors in the videos. Instead, what you get are simple whiteboard-style videos that are equipped with voiceovers.
All that matters, in the end, is your learning style. If you prefer learning with straightforward lessons, these videos suggested lessons are just what you need.
Score Guarantee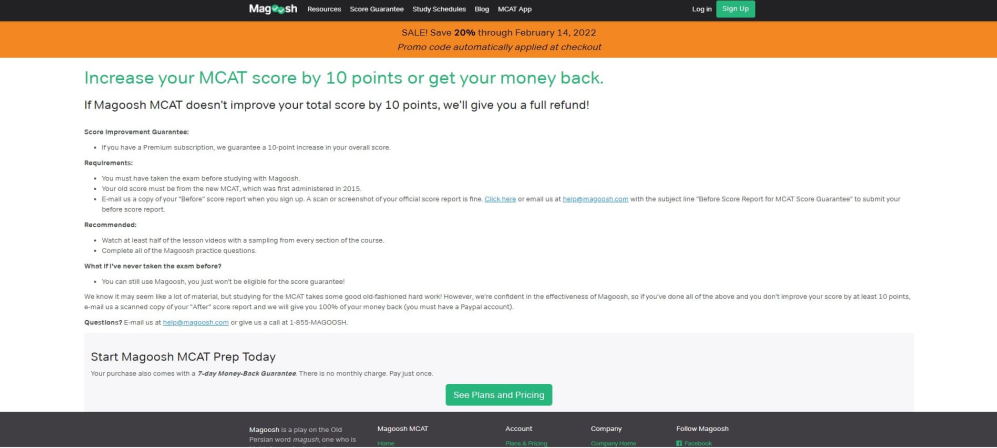 Despite offering an affordable service, Magoosh is confident about the quality of its service. As a result, it offers its subscribers a +10 total score guarantee. This is how it works.
The guarantee is a promise that you will be able to raise your previous score by at least 10 points. If that doesn't happen, you will get your money back.
We would like to note that you won't get this offer on most test prep platforms.
Also, the fact that the company has been offering this score improvement guarantee for many years without any issues shows that its customers have been satisfied with its service.
Here are the requirements for the money-back guarantee:
Students are required to have written the test before;
The test must have been taken in the aftermath of the revisions done in 2015;
Students have to email a copy of their previous score at the time of registration.
Students that are taking the exam for the first time do not qualify for the money-back guarantee. However, such students can still enjoy lots of benefits on the platform.
As we mentioned earlier in this Magoosh MCAT prep course and review, there is a free 7-day trial that anyone can take advantage of to get a feel of what magoosh offers the Magoosh MCAT prep course that is all about.
Magoosh vs. Kaplan
We have done a short comparison of Magoosh and another top MCAT test prep provider to ease your decision-making. At the end of our comparison, we discover that both companies take a different approach to their service delivery.
The main difference is that Magoosh offers an incredibly affordable prep course but with limited review features. Meanwhile, Kaplan has a wealth of review features, but it's much more expensive. Let's look at the rating of both companies in the table below:
Prep Course
Kaplan
Magoosh
Strategy
Online platform with live one-on-one sessions and tutoring
Strictly online based
Practice Tests
16 full-length tests
3 full-length tests
Cost
$1,799 (on-demand course)

$2,899 (in-person course)

$379 (1-month premium)

$379 (12-month premium)

Discounts
Yes
Yes (EDUREVIEWER10)
Money-Back Guarantee
Yes
Yes
Flashcards
Yes
Yes
Video Lessons
Yes
Yes
Free Trial
3 days
7 days
Support
Great
Great
Accessibility
Excellent
Excellent
We have a similar, but more detailed comparison between Kaplan and Magoosh in terms of GRE courses.
Pros
One of the cheapest prep courses.
Customizable practice questions.
Highly suitable for independent students.
High-quality and concise content review videos.
A great number of practice questions.
Score comparisons with other students.
Discovers learning gaps.
Timer for better time management.
Unique score predictor feature.
Android and iOS compatible.
A wealth of extra resources.
24/7 customer support.
Money-back guarantee.
7-day free trial.
Cons
No live features.
No one-on-one lessons.
No printed materials.
Questions aren't in AAMC format.
The number of practice questions could be higher.
Video lessons can be more engaging.
FAQs
Is Magoosh MCAT worth it?
Though the company doesn't offer one on one sessions or tutoring, you shouldn't be discouraged in any way because it is super affordable.
A lot has also been put in place to help you study effectively on your own. What's more, certified tutors are available round the clock to offer assistance via email.
Are Magoosh practice tests harder than MCAT?
While MCAT itself is hard, some students have made comments on how Magoosh practice tests are more difficult than the real exam. This is a good thing as it means that you will be 100% ready on D-Day.
No question will be too hard for you because you will be used to answering harder questions.