Are you gearing for college? It's about time to sit tight and buckle your shoes for an excellent ACT score. Your qualification for admission boils down to this criterion! Consequently, ACT prep courses like what Magoosh offers are helpful parts of the preparation process. These practice tests familiarize you with past and likely questions, keeping you charged ahead.
However, for what they're worth, some ACT prep programs offer way below their value. How many times have you scored just a 1–2% increment in your actual ACT+ score despite spending a couple of thousand?
You're not alone; I can count off over ten ACT prep programs I took before finding the ideal fit. Same as several other people. If you'd access sales records on different ACT test prep providers and websites, you'd likely find the same people buying different prep courses over extended periods.
I've had enough — and I want to think you're with me on this. In this Magoosh ACT exam prep review, you'll find verified information on the program, including analytical overviews of the courses, their exclusive features, what they cost, and their pros and cons.
So, do you want to know if Magoosh ACT prep genuinely offers what it promises? Keep reading!
Note I've already published an exhausting review on Magoosh, and this article focuses on its ACT prep service only.
Magoosh ACT Courses: What Can You Learn In Them?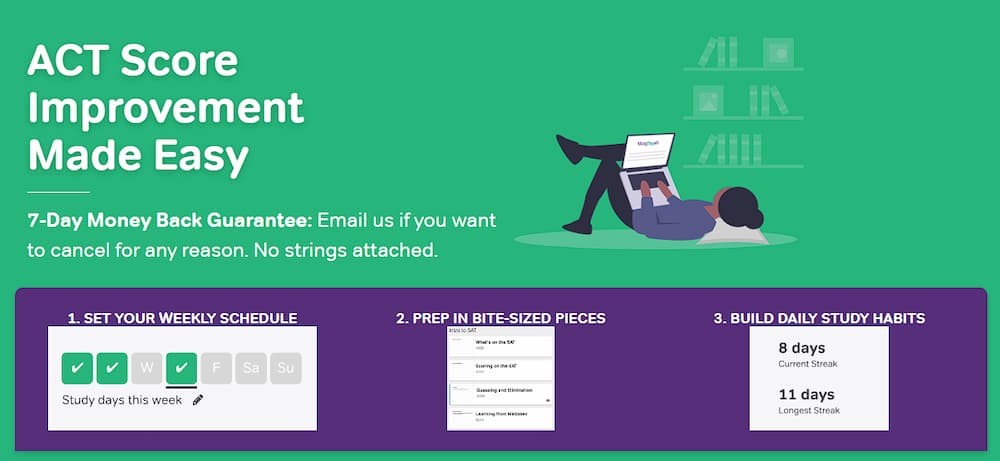 If Magoosh ACT prep reviews by past customers are anything to go by, surfing through the full Magoosh ACT prep review landing page sells the program to you at a glance.
But —hey— I meant it when I said I was fed up with sales copies meant to sell these courses for more than they're worth. I researched personally, testing all courses available, and here's what I found on each.
Considering Mometrix for your test prep needs? Our Mometrix test preparation review provides a thorough analysis of the platform's resources, learning methods extra cost, and effectiveness, providing a comprehensive understanding of what to expect.
Self-Paced Course
Are you a working professional already? Say, you already have a job but want to sit for ACT for reasons best known to you? Flexible study aids must be preferable, no? The same if you're a nursing mother or anything related.

Trust that Magoosh's self-paced ACT prep course is the ideal fit for you. It is actually one of the best ACT self-paced courses online. By "self-paced," it means you have full freedom to use the study material at any time you find okay. Take me, for example, I took the course despite having to meet the daily demands of my job, and the result is excellent.
If this is true, you're wondering how this course achieves it. For a start, the self-paced Magoosh ACT prep course guarantees the following features:
+4 point score improvement guarantee;
+7-Day money-back guarantee;
An online help from expert ACT tutors;
Data-driven score prediction;
Smart progress tracking.
Satisfied yet? I didn't expect you to be. This course offers over 1,300 practice questions, with each practice question having a video and/or text explanation for its answer. Yes, you read that right, but it gets even better. How?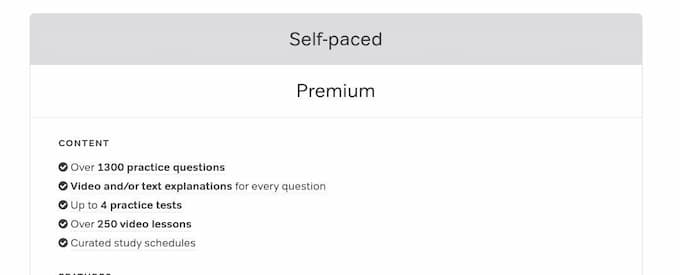 With this standard-issue course, you can get up to four practice tests, which you may take severally as your lesson progresses. Such a setup allows you to measure your readiness for the actual exam using the grades you get from each practice test as a yardstick.
In addition, you'll access over 250 video lessons to watch whenever you consider them suitable for learning. Remember, you curate your study schedules according to your timetable. Too good to be true?
I would say the same, but I've tested it. The client comments on the site are reliable, after all. As A. D. Aliwat said, "always hold information up to the cold white light," and that's exactly what I've done!
What next?
Guided Study: Premium + Live Classes
Magoosh offers another course for ACT candidates, and as the title suggests, here's where you attend if you prefer expert guidance along the line.

However, is this option worth it? Several prep programs sell supposedly premium courses at costlier prices without adding real value to them. Is Magoosh one of such sites?
There are glowing Magoosh reviews ACT on this course, but are they genuine? We'll run through all the features exclusive to applicants who opt for this option, leaving you to wonder how I performed considering such benefits.
These features include:
Engaging live classes led by an expert ACT instructor
16 hours of live instruction
Personalized homework after every class
Expert-designed courses to strengthen testing strategies in Reading, English, Math, and Science.
Limited class size
To start with the engaging live classes, you may be interested in the fact that the lead tutor, Erika, has 99% percentile scores on the ACT, SAT, GRE, and GMAT. Aside from these, she taught for years before coming aboard the Magoosh project and is also a YouTube expert. Talk about an ace in the hole.
Considering this, how much do you suppose I enjoyed the live classes? The truth? The experience was excellent! The tutor carried all learners with her and maintained a simple teaching style, such that it felt as though I was exploring a new world of ACT despite my longtime experience.
This program registers you for eight classes, spanning 16 hours across four Mondays and four Wednesdays. Over these sessions, you'll cover passage strategy, reading, arithmetic, and science. What's better?
There are relatively small class sizes, fostering a personalized learning environment for each learner. Students with the appropriate learning skills will find the setup extremely beneficial.
What if I said there's more? Magoosh assures you that as long as you've taken the test before and your score is less than five years old, your grade will grow by at least 4% — else, you'll receive a refund for the course or enrollment in another love session. The choice is yours to make.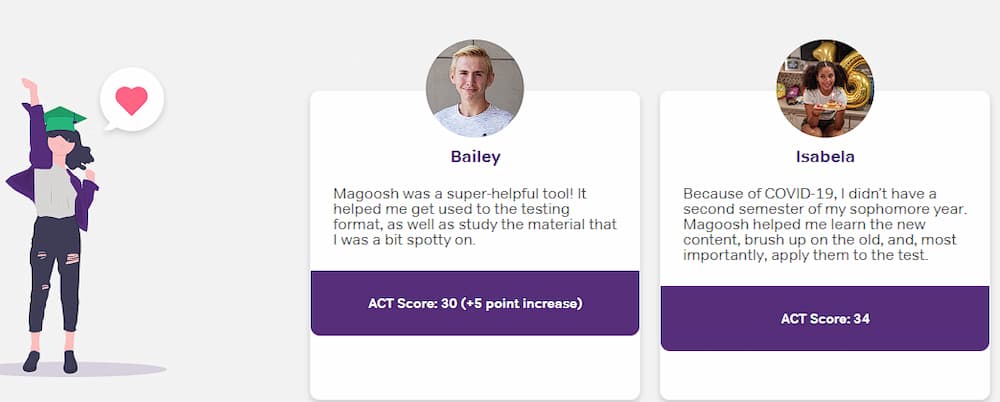 I should add that this option is ideal for applicants willing to go all the way in their preparations.
On-Demand Option
The "On Demand" plan is not an independent option, as it's under the "Guided Study" plan. However, it's relatively different. How does it work?
Like Guided Study, On-Demand grants you access to live classes, but not when they're going on. So, in a sense, they're describable as videos but not like the ordinary ones in Self-paced.
Videos in this option are recordings of the classes in the original guided sessions. Therefore, they take the form of video explanations from a guide, directing you as if you're in a classroom and learning with love teachers instead of generic, pre-recorded videos in the standard package.
I should say that these videos are as relevant as the live sessions. The only drawback is the absence of interaction in the former scenario. The features remain the same too — sixteen hours of learning, personalized homework, and comprehensive video lessons too. Plus, let's remember that the 4% increment guarantee includes this program, too.
As I surmise, this package is ideal for applicants with busy schedules but who'd still want extra support from proven professionals. The recorded class sessions are accessible at all times, and you can see to lessons and homework at your discretion.
Wondering Is the Princeton Review LSAT course worth it? Our detailed review of student reviews of the course's structure, materials, and student support can provide valuable insights to guide your decision.
Magoosh ACT Course Pricing: What Are You Paying For?
According to Nicholas Sparks, frugality has its own cost that sometimes lasts forever. Spending below what's required can have negative long-term effects. Consider it: would you rather spend accordingly at once or purchase low-quality ACT prep materials repeatedly at cheaper costs?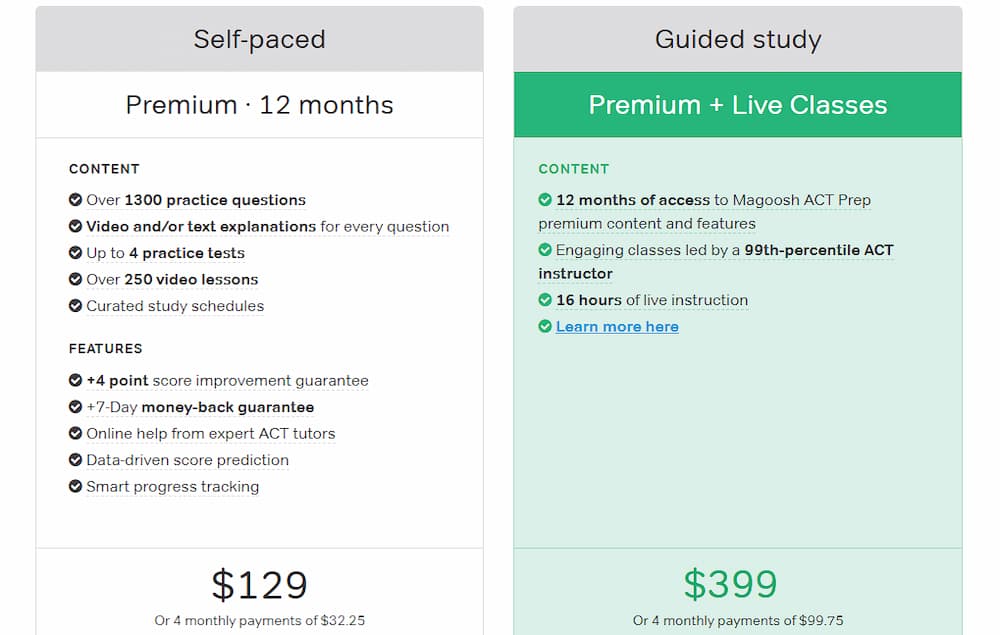 One excellent thing about the setup at Magoosh is that courses are not arranged in a bureaucracy showing which is better than which according to cost. Rather, all lessons are priced according to the help the learner needs. The cheapest plans offer only standard help enough to pass while the costliest offer excessive support. Every plan is of the utmost quality for the candidate that selects it.
Anyway, I believe you wouldn't have to bother about the pricing options for Magoosh ACT courses. I bought all available courses and think the costs are relatively fair compared to what other services demand. Here's what I found for each course.
Self-paced Course Cost
Costing only $129 (and currently at $103.20 with code MAGOOSH20ACT), the self-paced guide contains sufficient help for first- and old-time test-takers who are confident in their ability to succeed using only predesigned information. This may be the most affordable plan, but it doesn't affect quality.
In this program, you have access to more than 1,300 questions, over 250 videos and can take about 4 practice tests before it's time for your actual assessment. What's better?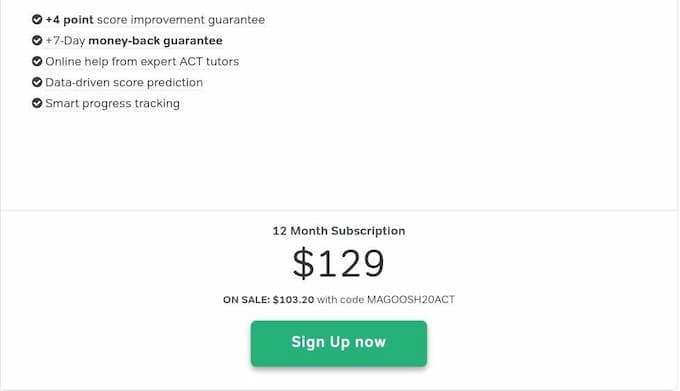 The module is user-intuitive, ideal for learners with busy schedules. It's easy to track lessons due to the simple layout and the guide on the standard videos. If there's any downside to this package, I may attribute it to the absence of live, interactive sessions, which can be excellent for applicants with no priors. But this is due to a conscious choice that you make.
The self-paced course is a bargain, no doubt, especially when you consider the amount you pay. For context, the nearest competitor in terms of cost asks for $199 while the next demands $397!
Guided Study Module Prices (Live Classes + On-Demand)
Magoosh demands the same low price point for the live class and on-demand options, and I understand why, especially when it's just $399 (and currently $349 using EDUREVIEWER10). That's a difference of over $500 from the closest competitor.
Moving on from this affordability, the content is excellent, too. the Magoosh app genuinely provides the support it offers to applicants willing to put in all their time.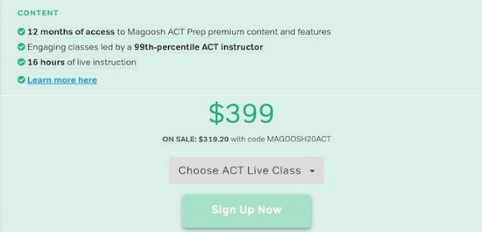 You're taking live classes from expert instructors with years of experience. Factor in the motivation to carry out assignments and tests since you'll have to submit them for review, and you have an environment that truly fosters learning.
Note that other students who take the On-Demand option don't have this privilege, although I suppose that having the videos to watch from time to time over 12 months makes up for it.
| | | | |
| --- | --- | --- | --- |
| Feature | Self-paced | Guided Study Live Classes | Guided Study On Demand |
| Price | $129 | $399 | $399 |
| Duration | 12 months | 12 months | 12 months |
| Learning Style | Generic videos | Live classes | Live session recordings |
| Point Guarantee | +4% | +4% | +4% |
| Ideal For | Busy & experienced candidates satisfied with basic support | Candidates willing to devote full time to study under expert tutors | Candidates who want the extra support but are relatively occupied |
Primary Features of Magoosh ACT Courses
Apart from the exclusive benefits attached to each course, Magoosh, as an ACT prep provider, has overall features which determine the quality of service it provides.
Again, you'll find good reviews about the overall service, which you may start believing considering that previous reviews have been verified. Nevertheless, I assess all unique features so you can decide if to adopt the Magoosh platform or consider other ACT prep services.
Let's go.

Guarantee
Magoosh sets an excellent example in terms of guarantees, as the site offers two different provisions, and that's not even the most impressive thing. What then?
What I laud the Magoosh recognizes most about both guarantees is the clarity of the messages. Unlike most sites, Magoosh ACT is clear about what triggers its guarantee, saving you the typical back-and-forth associated with claiming warranties.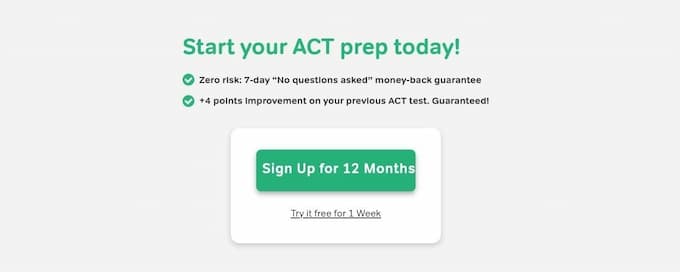 Therefore, I'll quote both warranty statements directly from the site:
Money-Back Guarantee: After your first class, if you're unsatisfied for any reason, let us know, and we'll give you a refund. No strings attached.
We guarantee you'll improve your score, or we'll give you a refund for Magoosh prep ($129) OR provide free enrollment in another live class. To qualify for the score guarantee, you must have taken the exam before, and your old score must be valid (i.e., less than five years old).
With these provisions, it's remarkable that there are hardly any requests for a money refund, although I understand that the quality of classes is very convincing.
However, I purchased the guided study course for clarity purposes and expressed my dissatisfaction immediately after the first class. The help center asked if there was any help they could provide, which I declined, and within a few hours, they reversed my payment.
Exclusivity
In most Magoosh ACT reviews, the unique factor differentiating the site from other ACT prep services is the affordability of the courses. I must state that I now agree with this view, too. The basic plan, Self-paced, costs only $129, which can even be less if you guys during a promotion. This package consists of 1,300+ practice questions, 200 videos, and 4 tests.
When you consider it, the deal is unbelievable but genuine anyway. Other sites start their basic packages from $200 while others even charge as much as $700!

Similarly, the premium guide is relatively affordable. For $399, you can enjoy live classes and everything else that the basic plan allows. If you've browsed other sites providing the same service, you'd know the average cost for premiums starts from $800!
Apart from the price, I need to mention that I think the presence of a mobile app to use distinguishes Magoosh from competitors. With this application, you can enjoy a faster experience with mobile apps for all services.
Tuition Quality
Two significant factors determine the quality of any prep course: the tutor's expertise and caliber of materials available. I find Magoosh and ACT prep course review satisfactory in both aspects.
Currently, Erika manages the Senior High School Curriculum at Magoosh. She recorded 99th percentile GMAT, SAT, GRE, and ACT scores. As such, all tutors at the site are expected to measure up to her qualifications. A single class session is often enough to impress learners, thanks to the typical simplicity, clearness, and fascinating tutoring styles of those in control.

Magoosh offers excellent study aids, too. Start with 1,300 test questions, the 250 videos, and the live classes before considering the flashcards, quiz modes, and customized practice features. All these assist you to enjoy outstanding learning sessions.
Ultimately, I believe that the effectiveness of these classes depends on the candidate's commitment to the cause.
Continuous effort, not strength or intelligence, is the key to unlocking our potential — Winston Churchill.
Qualities of Private ACT Tutoring: Does Magoosh Offer Any?
Private ACT tutoring is a plan that grants you access to one-on-one sessions with an expert in ACT preparations. In other words, you are the only student in the class, using the benefits of a small class to optimize what you learn.
With this option, you have access to the ultimate personalized learning experience. A private tutor encourages you to be more committed, too, since they have sufficient time to focus on you.
However, this option can be expensive, so few applicants exploit it.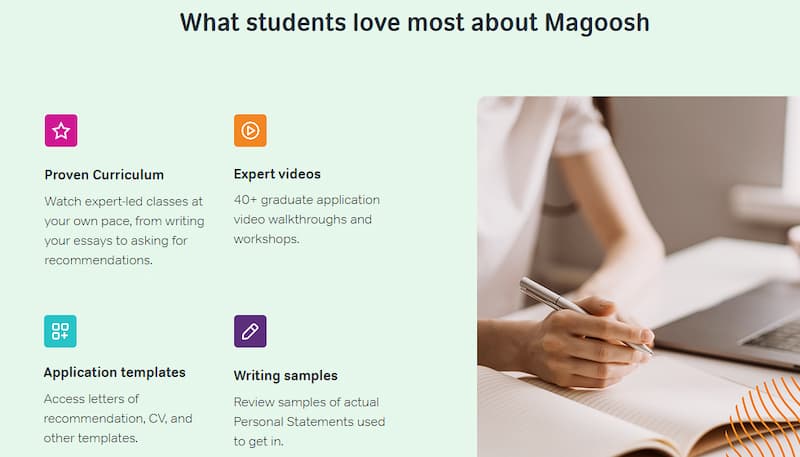 It's noteworthy that Magoosh ACT doesn't term any of its courses "private." The guided study module is the closest you can get to the best private tutoring at the site, as far as I know.
Nevertheless, Magoosh leaves an option for requests and inquiries, so you may contact them to work something out if interested.
Pros
Affordable learning options.
Numerous learning aids, including over a thousand questions and two hundred videos.
Comprehensive courses covering reading, English, math, and science.
Mobile, user-friendly application.
A 7-day free trial.
Practice tests to assess your readiness after learning.
Cons
No demand for accountability from self-paced candidates.
No essay grading.
FAQs
How Accurate Are Magoosh Practice Tests?
90%, at least. Practice tests are culled from past questions, and while fee modifications may occur, there's typically a striking resemblance.
Are Magoosh Practice Tests Harder?
Yes, Magoosh practice tests tend to be more challenging than test questions. Why? To prepare you fully. If you can solve harder questions, the actual test should be simpler.
How Many Practice Tests Does Magoosh Have?
Magoosh offers up to four practice tests when you purchase any of its courses.