A graduate school admission test has become increasingly competitive. However, it remains an indispensable step in the graduate school admission process. This is because it significantly impacts a student's chances of acceptance into their preferred school and program.
However, identifying the appropriate resources for admission test preparation can be challenging and time-consuming, requiring significant effort.
To assist in this endeavor, I offer a detailed review of GradPrep, a highly recommended and comprehensive test preparation service that caters to students preparing for tests such as the GRE, GMAT, and LSAT. This all-inclusive study package helps students achieve their desired scores and goals.
I understand that evaluating graduate test prep courses is a daunting task that requires careful consideration of several criteria. These include the quality of service, available features, website functionality, value for money, feedback and reviews, and guarantees offered by the platform.
This Grad Prep review will comprehensively cover these determinants to provide a thorough assessment of GradPrep.
Grad Prep Features
Grad Prep is an innovative and all-encompassing platform. It is dedicated to helping students prepare for their graduate school admission tests.
These include GRE, GMAT, and LSAT; let's discuss why in my experience, it's one of the greatest resources for students like you and me. It has great tools designed to set you up for success.
From a resource library to practice tests and performance metrics. Here are some Grad Prep features that helped me through my test preparations. You can read more reviews of GradPrep that will help you decide.
Adaptive Dashboard For Interactive Learning
Every student possesses unique qualities regarding their ability to handle workloads, learning speed, and preferred understanding methods.
What I admire about Grad Prep is its consideration of this individuality. The educational platform allows every student to personalize their learning experience.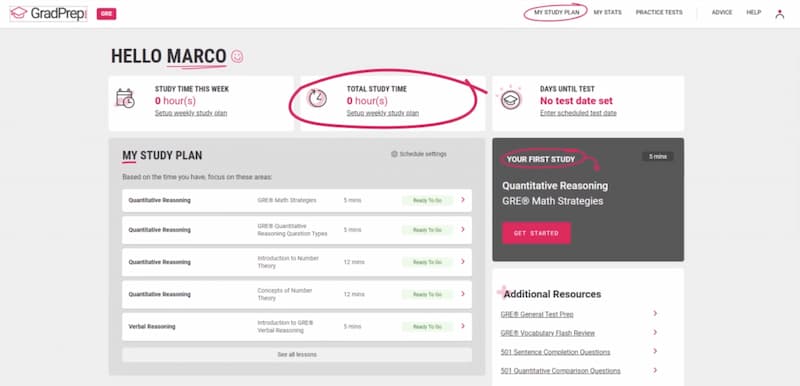 Grad Prep's interactive dashboard makes it easy for users to track their progress in courses and exams.
Moreover, the platform delivers personalized recommendations based on student performance. This enables you to identify areas that need improvement promptly.
Different learners modes, including learners mode, practice mode, and simulation mode, help you throughout your preparations.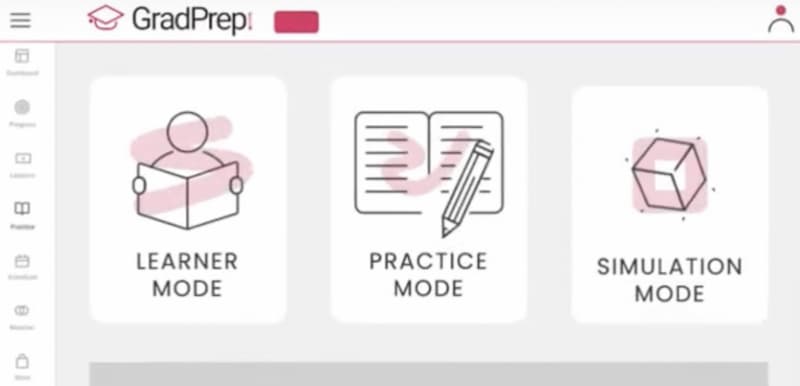 Comprehensive Learning Resources
Before committing to the payment plan, I read many GradPrep reviews for GRE. This is why I made the most of my admission test preparation time.
I utilized several educational tools provided by Grad Prep to prepare for my exam, including video lessons, online quizzes, flashcards, and detailed study plans.
These resources were instrumental in preparing me for the actual exam. Here is why:
Video Lessons – provide step-by-step explanations for the most difficult concepts. These are easy to follow with clear instructions.
Practice Tests – online practice tests simulate the actual exam experience.
Study Guides – these are comprehensive and cover all material for the subject areas.
But what truly sets Grad Prep apart is its exceptional AI-powered tutor feature. This feature tracks your progress and time and provides tailored study plans and learning paths based on your performance.
I found this particularly helpful while preparing for my GRE, as it enabled me to concentrate on quantitative reasoning.
Following the plans developed by Grad Prep gave me a greater sense of confidence in my abilities.
Data-Driven Analytics and Real-Time Feedback
Grad Prep analytics has changed the way I prepare for exams. It helped me identify my areas of strengths and improvements.
Throughout the preparations, the tools gave me real-time feedback on study techniques and personalized strategies to help me succeed. This feature is an invaluable resource if you want to maximize your performance.
But wait, there's more; it also has an advanced search system that allows users to quickly access the most relevant material based on the topic or keyword. What makes it unique is the interface; it makes navigation so much easier.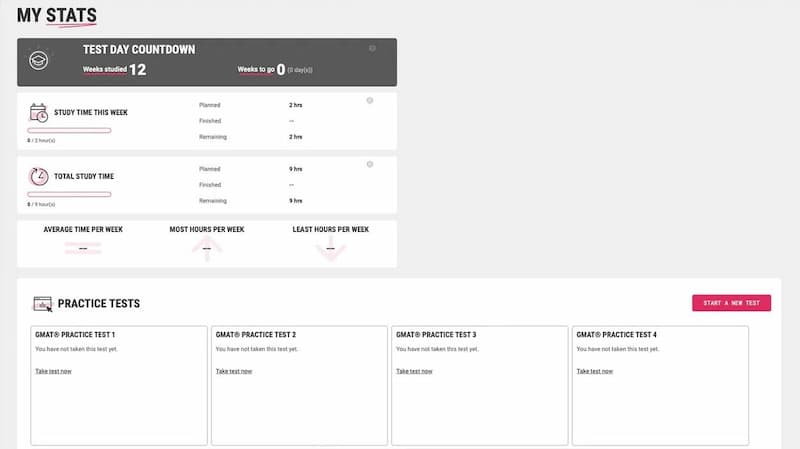 Exceptional Customer Support
Grad Prep is an exceptional resource for exam preparation, and their comprehensive customer support has been a big part of that.
With their email, phone, and chat support, the responsive team has been readily available to answer any questions or provide guidance, making my experience with the platform more enjoyable.
In addition, they've curated an extensive FAQ section that has helped me find quick solutions to common questions.
GradPrep Pricing
So Grad Prep has proven to be one of the best resources for preparation for admission tests such as the GRE, GMAT, LSAT, and even MCAT. But is it worth your money?
I like that they have several options you can choose from per your budget. They offer tests for GRE, GMAT, and MCAT to break it down.
Here is a comparison table that provides you with a detailed view of the GradPrep.com prices.
GRE Prices For Tests
| | | | | |
| --- | --- | --- | --- | --- |
| | Price | 3- Test Modes | Money Back Guarantee | Score Predictor |
| GRE – Mini Test | 0 | Yes | Yes | Yes |
| GRE- Test 1 – Test 7 | $14.95 each | Yes | Yes | Yes |
| GRE – Test Bundle | $99.95 | Yes | Yes | Yes |
GMAT Prices For Tests
| | | | | | |
| --- | --- | --- | --- | --- | --- |
| | Price | 3- Test Modes | Access | Money Back Guarantee | Score Predictor |
| GMAT – Mini Test | 0 | Yes | 6-month | Yes | Yes |
| GMAT- Test 1 – Test 4 | $9.95 each | Yes | 6-month | Yes | Yes |
| GMAT – Test Bundle | $39.95 | Yes | | Yes | Yes |
MCAT Test Prices
| | | | | |
| --- | --- | --- | --- | --- |
| | Price | 3- Test Modes | Money Back Guarantee | Score Predictor |
| MCAT- Mini Test | 0 | Yes | Yes | Yes |
| MCAT- Test 1 – Test 8 | $29.95 each | Yes | Yes | Yes |
| MCAT- Test Bundle | $199.99 | Yes | Yes | Yes |
LCAT Prices
| | | |
| --- | --- | --- |
| | Monthly Subscription | 6-Months Subscription |
| Price | $99 | $299 |
| Exclusive Tests | 4 | 4 |
| Practice Logic Games | 50 | 50 |
| Logic Reasoning Test | Yes | Yes |
| Practice Test Time | 70+Hours | 70+ Hours |
| Detailed Answer Explanations | Yes | Yes |
| Scoring & Analysis | Yes | Yes |
| Progress Tracker | Yes | Yes |
| Money Back Guarantee | Yes | Yes |
| High Score Guarantee | Yes | Yes |
*Grad Prep also offers a free 7-Day Trial for LCAT Preparation that you want to take advantage of.
Payment Options
GradPrep is on top of its game when it comes to payment options. Apart from the different credit cards (Visa, MasterCard, American Express, and Discover) it also accepts payment through Shop Pay, Google Pay, and my favourite, Apple Pay.
Promo Codes
Promo codes are my go-to method to get the best deals at the best price. For Grad Prep, you get several discount codes in your inbox when you sign-up. I got a promo code with 50% off on GRE Test bundles; you can use it, too, if you want to sign up soon.
Don't forget to sign-up to get more discounts and promo codes.
GradPrep Review - Quality Overview
Now that we have looked at the features in this GradPrep review let's talk about the quality of the resources and services.
All of the courses at GradPrep are designed by experts with years of experience in test preparation who have achieved high scores on the GRE and GMAT.
Not just this, but these courses and study materials are constantly updated and reviewed. This ensures that all the latest changes and tests are reflected in the trials and the strategy strategies.
Grad Prep helps motivated students reach their academic goals with personalized support from experienced instructors and mentors. Their experts provide crucial answers to any questions the student may have, giving them the insight needed to succeed.
Guarantees
The great factor is that GradPrep offers a money-back guarantee for all its test preparation bundles. You can get your money back if you complete their course and do not improve your GRE or GMAT score.
They also provide a free trial of their course, so you can try it out before committing to a full purchase.
What Makes Grad Prep Different from Other Platforms
Here are some features that make Grad Prep stand out from the rest of the platforms, and also the reason why I chose it for my admission test preparations:
Customizable Study Plans: You can adjust the courses and study plans per your needs and requirements.
Comprehensive Resources: All the resources are extremely thorough. They cover all the sections and question types on the GRE and GMAT. Not only this, but they also provide detailed explanations and strategies for each question.
Expert Advice: It is not a one-way learning experience; advice and personalized support from experts throughout the study plans and courses make me a fan of Grad Prep.
Here is an overview of GradPrep compared to other admission test preparation platforms.
Platform
Price
Instructors
Platform
Additional Features
Level
Grad Prep
$99/Monthly or Test Bundles Ranging from $9 to $200
Expert Instructors
User-Friendly Platform

Comprehensive Courses
Video Lessons
Practice Questions
Analytics
Personalized Guidance

Suitable for all levels
Princeton Review
Starts from $299
Expert instructors but they don't share advice outside of physical classroom.
User-Friendly Platform
Quality of their content and coaching depends on individual tutors expertise.
Mostly targets towards high-level learners looking for individual LSAT tutoring.
PrepScholar
Starts from $399
Complete tutoring for premium package.
User-Friendly Platform

Comprehensive courses and resources.
Advice from high scorers.
Interactive Courses and Quizzes.

Suitable for all levels.
Value for Money
At GradPrep, I found excellent value for my money. The price I paid gave me access to a wealth of resources, including practice tests, tutorials, study guides, and personal mentors, all designed with one purpose in mind: to help me prepare for my test and achieve the best score possible.
I could tailor my learning experience to fit my individual needs and access other helpful materials like tips on scheduling and exam-taking strategies.
Additionally, I had unlimited support from instructors who had successfully taken the same test, which gave me the confidence to succeed.
Student Feedback & Reputation
Based on my experience at Grad Prep, the staff is extremely friendly. Their customer service is excellent, and they make sure they answer any question you have in a very clear and easy-to-understand way. This shows that they are professional and trained to help you prepare to the best of your ability.
Also, check our list of the best MCAT tutoring services.
The team at GradPrep has over ten years of experience, so they have a strong knowledge base and real expertise that helps them answer almost any question or concern you may have while pursuing your journey towards graduate admission.
It's not just me who says this; I take a lot at what Grad Prep students say. Here are some GradPrep reviews that helped me choose Grad Prep as my learning platform:
Here are some GradPrep GMAT reviews:



Here are some GradPrep reviews for GRE


Now that I have provided you with a comprehensive review of Grad Prep let's summarise the pros and cons of using the platform I have assessed.
Pros
It is an affordable option as compared to other platforms.
Offers personalized study plans that help you focus on your weaknesses while recognizing and polishing your strengths.
Provides courses that are both self-paced and online.
Offers preparation tests for various college admission tests, including the GRE. GMAT, MCAT, and LSAT.
Cons
The self paces courses might not be as personalized as 1:0:1 live tutoring.
It may not be as well known or established as other admission test preparation platforms.
The Recap
After conducting an in-depth evaluation of GradPrep, I can recommend this platform to students preparing for their graduate school admission test.
FAQ
Is GradPrep good?
It's one of the best platforms for preparing for graduate school admission tests.
How much does Grad Prep cost?
It depends on what you are looking for; It has options for tests and subscriptions varying from $9 to $199.
What is the best GRE Prep?
From various GradPrep reviews for GRE, GradPrep is the best platform.
Should I take a GRE Prep course?
It provides you with the required structure and access to expert resources.
When should you take the GRE?
The best time is when you have completed sufficient preparation and taken several practice tests. You should take the test at least two or three months before your college application deadline.