With the rise in the number of services and options available for the customers at their fingertips, it can be not very clear. Customers have several options on their hands, and choosing the best service can provide a dilemma. This is why our service assessment can come in handy.
At EduReviewer, we take the assessment of every available service seriously. We make sure to conduct an in-depth review of the facilities that a customer can get to make their decisions logically. Our team considers several important factors in choosing the best service, such as pricing, guarantees, the security of payments, and data protection.
Along with testing the quality of work that clients can expect from their chosen service provider, we also assess the value for money that one can get. Providing guarantees is another important aspect that is extremely important for clients, which we also consider. It is also essential that the facility you choose safeguards your identity and does not disclose your personal information to other parties.
ePrep.com Overview
The job industry is extremely competent and is looking for the best candidates to fill out their vacancies. As such, students must increase their potential and knowledge by enrolling in colleges. A college education is seen as a must if you wish to land a job with high paying prospects and security. However, it can be challenging for students to pass out of college with flying colours, especially if they've enrolled in a subject that requires high focus, dedication, and time.

A good idea for college students is to seek a service that can help them train for their exams. This is where ePrep comes in. Today, we'll be presenting you with an ePrep review, a service that helps students improve their test scores and let you decide if it's a good match for you. Is it one of the best SAT prep courses online? Let's find out in our review.
What is ePrep.com?
ePrep is a user-friendly service that provides personalized and engaging video courses for scholars to prepare themselves better for their college boards. A review of ePrep shows that scholars can enjoy the benefits of virtual classes led by industry experts by availing themselves of its facilities. They can also take full-length exams and gain instant feedback to prepare themselves better for their real tests.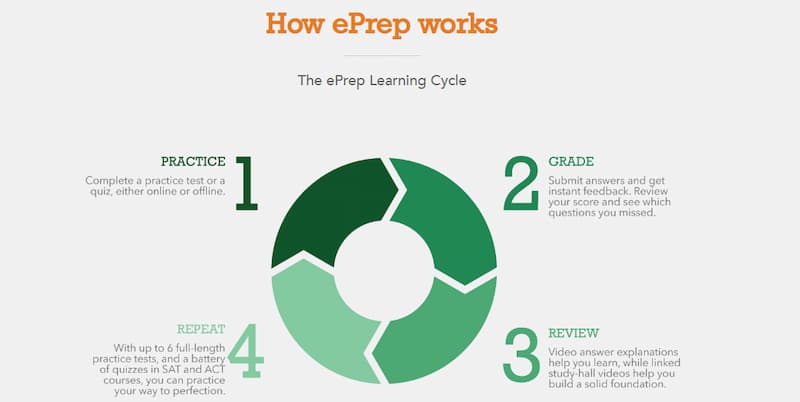 How does ePrep work?
There are several ways in which scholars can benefit from the resource. Scholars can choose to complete their prep tests and exams, both online and offline. ePrep reviews show that the questions are designed to test the students and perfect for those who like working online with their computer or tablet. The offline functionality ensures that students can stimulate their real exams. When students complete their tests, they can receive instant feedback from the evaluators and see which ones they missed. Upon watching the exam-room videos, scholars can apply the knowledge to a new test.
Does ePrep guarantee a better score? Does ePrep help at all?
Several ePrep ACT SAT reviews show that practising with the ePrep method is more effective than reading, audiovisual, demonstration, and discussion techniques. Upon watching the videos, the scholars can retain up to 85% of the knowledge that remains in their memory for over 72 hours.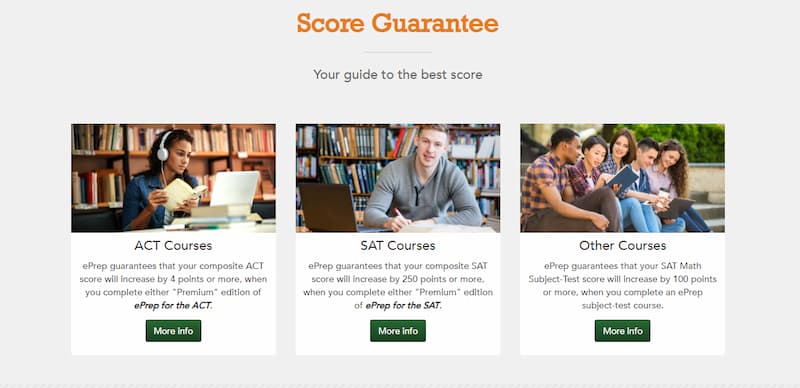 Are ePrep test prep courses as effective as they say?
The four fundamental methodologies that ePrep focuses on are practice, grade, review, and repeat. There are, unfortunately, no shortcuts or quick fixes to scoring a high SAT or ACT score. Don't know the pros and cons of ACT vs SAT? Check our ACT vs SAT comparison. With ePrep test prep classes, scholars can practice relentlessly and achieve significant and measurable success on high-stakes tests.
Is ePrep safe? Is ePrep a scam?
ePrep customer reviews assure clients that the service is not a scam and is definitely safe to use. By practising on your test with the resource, clients need not worry that it will be considered cheating since the test is only a means to help scholars prepare for their real-life exams.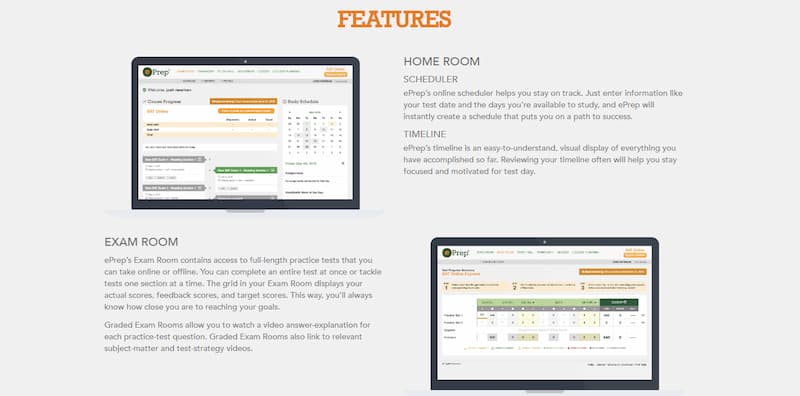 Story of ePrep
The ePrep was started in 2007 to help students have a guide to gain maximum scores in their tests. Over the years, ePrep.com review has grown organically from thousands to hundreds of thousands of users per year. The growth has been possible because of its effectiveness in preparing students better for their academic exams.
Services at ePrep.com
Here is an overview of the services that one can avail of through ePrep:
ePrep for the SAT courses includes engaging videos prepared by test prep experts who can provide test strategies and recommendations based on the subject matter. In the ePrep SAT review, the 'Test Date' course offers a plan that students can follow. 'Annual Pass' course is meant for students who want to get an early start and those looking to take the SAT more than once.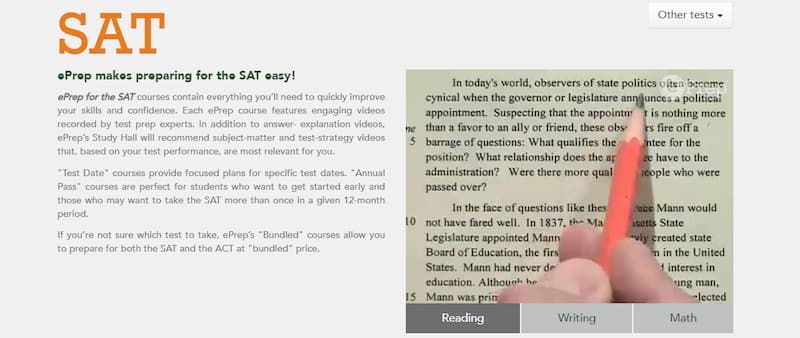 Reviews on ePrep ACT courses also include highly engaging videos covering everything that a scholar may need to perform incredibly well at their exams. Choosing between the 'Test Date' course and the 'Annual Pass' course is also available. But there are better options for the best ACT online prep, check them and find yourself a top option.
Students appear for the PSAT to become eligible for a National Merit Scholarship or help focus on their SAT preparation. The ePrep for the PSAT includes two full-length practise tests, videos, a study hall, and 12 months of access for the scholars.

The SSAT exams are meant for students interested in attending private schools or preparing better for the SAT and ACT. One can find full-length practice tests, expert video answers, and 12 months of access to the exams in the ePrep for SSAT courses.
Pricing of the Courses
SAT -The price for the SAT course ePrep review test date courses starts at $129. The annual premium pass is priced at $599.
ACT – The price for ePrep ACT reviews expresses test date courses start at $129. The annual premium pass is priced at $599.
PSAT – To enrol for PSAT prep tests, the price starts at $129.
SSAT – For the middle-level SSAT for the 5th to the 7th grade and the upper-level SSAT for grades 8th to the 11th, the price is $249 to register.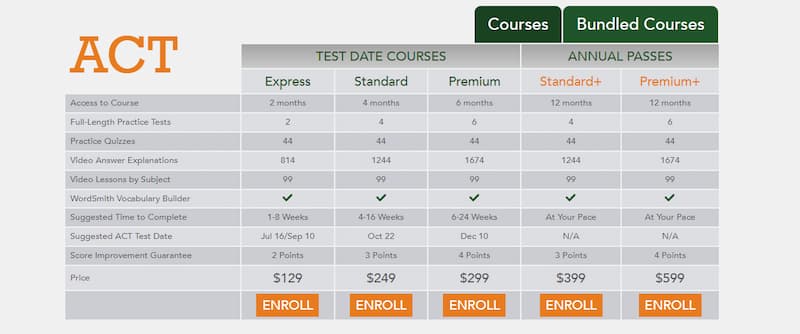 Quality of ePrep Courses
At ePrep, all the tutors are experts in their courses, and each test paper is made to stimulate the real-life exams that a student is preparing for. Scholars can expect their test scores to increase substantially by availing themselves of this top-quality resource.
Customer Service
The clients can get in touch with ePrep through their social media pages on popular platforms such as Facebook, Twitter, and YouTube. They can also get in touch with customer support through email, phone, or post.
Are you considering Mometrix for your test prep? Check out our Mometrix test prep review to learn more about its effectiveness.
Website Usability
The website www.eprep.com is straightforward to use and manoeuvre. Even clients with limited knowledge of working with a computer can easily avail themselves of the platform. Is ePrep.com one of the top best SAT prep courses online and ranks among the highly coveted Magoosh SAT prep reviews and PrepScholar SAT prep review? Check the pros and cons below to compare these companies.

Pros
Helps prepare students for their SAT, ACT, PSAT, and SSAT exams.
Students can expect their test scores to rise by availing of the service.
Well-formulated test questions to help students prepare.
Top-rated tutors who provide instant feedback and scores to the test exams.
Highly engaging video content to help students retain most of the information.
Both online and offline functionality on tests.
Cons
Students have to pay extra for long-term access.
There are no shortcuts to scoring better except relentless practice.
No study plan.
No essay feedback.
Customer support could take time to get back to you.
No discount available.