The Blueprint MCAT is an exceedingly difficult test that demands extensive preparation and careful attention to detail. If you lack confidence in your ability to achieve an MCAT score increase, we suggest seeking assistance from experienced professionals.
Blueprint touts exceptional MCAT preparation services that can aid you in overcoming the most daunting obstacles associated with this exam.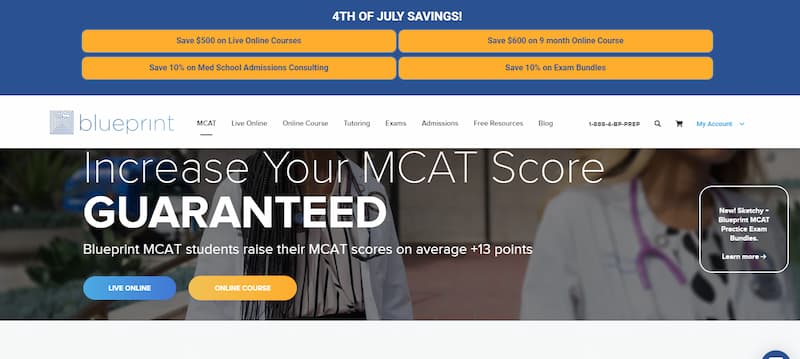 Deciding on the right MCAT prep provider can be challenging. Are Blueprint courses worth your time and money?
In this review, we'll delve into what makes them unique: from pricing to the pros and cons of their program – so you have all the information necessary for making an educated decision about which path is best for you as you prepare for the most important test day!
MCAT Review Definition: Understanding the Test
The test is designed to assess the test-takers knowledge and skills in areas such as biology, chemistry, physics, and critical thinking and is a critical component of the medical school application process. In this course review, we will explore the meaning of the MCAT, its purpose, and the various sections of the test.
The MCAT is typically taken by most students in their junior or senior year of college. The test is offered several times a year, and students can register for the full-length exams online. The cost of the test is $320, and the actual exam approximately seven and a half hours to complete.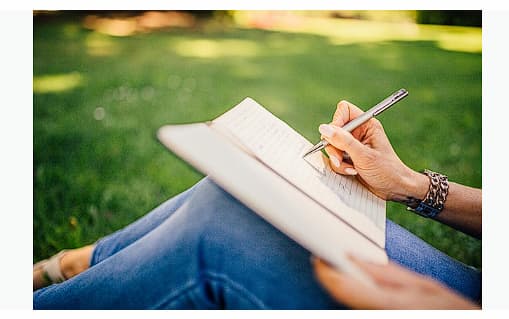 The purpose of the MCAT is to assess the test-taker's readiness for medical school. Med school uses the MCAT score as a measure of a student's academic ability and potential for success. The test assesses the student's knowledge and critical thinking skills in a variety of subjects.
We also have complete guide on Roshreview that have everything you need to know about the MCAT test and how to pass it: from test-taking strategies, affordable study materials, and last-minute tips that can help you get the score you want. Read RoshReview reviews on our blog.
Blueprint MCAT Review Test Sections
The Biochemical and Biological custom practice sets will test the student's knowledge of biology and biochemistry, including concepts such as cell structure, genetics, and metabolism.
The Physical and Chemical section tests the student's knowledge of both subjects, including concepts such as thermodynamics and electrochemistry.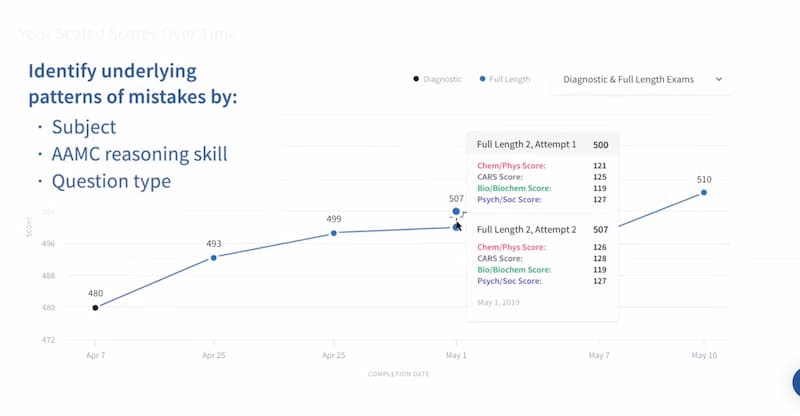 The Biological, Social, and Psychological section tests the student's knowledge of psychology and sociology, including concepts such as social behavior and cultural differences.
Finally, the Critical Analysis and Reasoning Skills section tests the student's ability to read and analyze complex passages and make logical conclusions.
Take the test with Kaplan vs Princeton Review for MCAT? We compare the two popular MCAT prep courses and break down their differences.
Blueprint MCAT Prep Courses Review
Blueprint has announced the MCAT Immersive Course!
The course will be live from Dec. 19, 2023 – Jan. 12, 2024
Compared to other programs (namely, Kaplan & TPR; check our comparison of Princeton and Kaplan in terms of MCAT prep), Blueprint's course is designed to be:

NEW: Pricing Tiers – Choose the plan that works best for your needs and budget
Shorter and more efficient (typical bootcamps are 5-6 weeks)
Personalized with the best instructors, tutors, and online platform (details below)
Powered by our best-in-class exams, analytics, and AI-powered Qbank

How is the MCAT Live class different from the Immersive?

1:1 attention catered to addressing singular student improvement areas, questions, concerns, etc; condensed format ideal for learners who want to quickly immerse themselves in material and do not have more than 4 weeks to learn the material (by comparison, Live Online takes 2x as long to complete) – this could be the ONLY option for those in crunch mode

This ideal for those who are on a time crunch and need to hone in quickly on material and do not mind learning/can succeed learning at a fast, intense pace.
A key feature of the MCAT prep course offered by Blueprint is its interactivity. The Blueprint curriculum offers gamified practice exams, informative videos, and a host of engaging tasks that are sure to keep the MCAT students motivated.
Furthermore, all the live online MCAT course content is conveniently accessible on the platform's website, which is fully compatible with a range of mobile devices.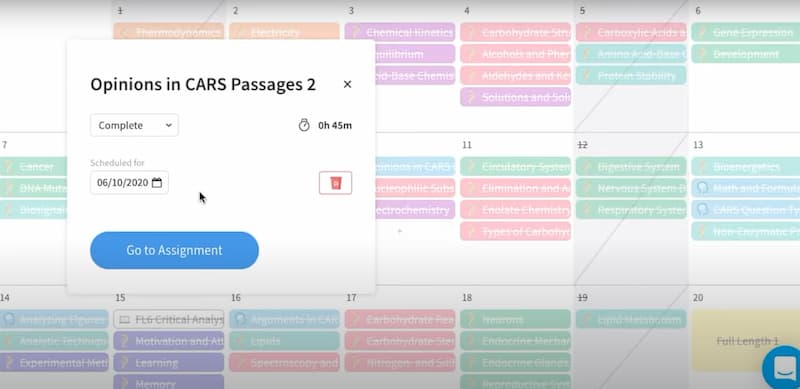 Structure of the Personalized MCAT Prep Course
The course structure of Blueprint Prep MCAT is one of the key strengths of the program. The learning modules are designed to help students effectively prepare for the MCAT by providing them with clear, organized, and comprehensive AAMC online prep resources.
The MCAT prep course is replete with valuable supplemental resources. Notably, it features 160 learning modules that contain pertinent content, strategy insights, and quizzes. These components are well-organized to ensure effective preparation for the MCAT.
Additionally, the MCAT course includes 30 learning modules that are exclusively designed to teach reasoning skills and strategies necessary for passing the MCAT with flying colors. This diversity of content and video lectures enables you to comprehend the fundamentals of the MCAT from multiple angles.
As a result, you can prepare yourself not only theoretically but also cultivate the necessary thought patterns to excel on the practice exams.
Features of the Blueprint MCAT Self-Paced Course
The Blueprint MCAT prep course is designed to be self-paced, allowing students to progress through the material at their speed.
However, the course also provides students with study materials and guides to help them stay on track with their tutoring sessions.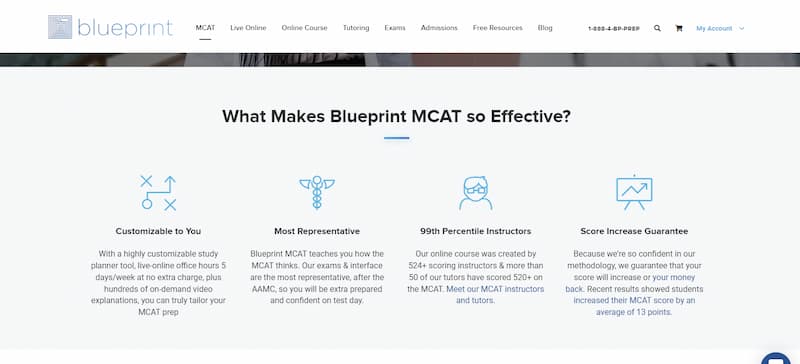 The course materials are easily accessible through an online portal, and the course provides various study tools, including video lessons, flashcards, and review sheets, to help students reinforce their learning.
One of the key features of the course structure is the emphasis on active learning. The course includes a variety of interactive learning activities, including virtual whiteboards, interactive quizzes, advanced analytics, and online discussion forums.
These activities help students to engage with the material actively, promoting more in-depth learning and a better understanding of the AAMC full-length tests.
Another essential aspect of the study plan is the emphasis on feedback and support. The live online course provides progress-tracking tools, allowing students to monitor their progress and identify areas where they need to improve.
The expert MCAT instructors also provide personalized feedback to students, helping them to understand where they need to focus their efforts.
There have been a number of updates released in August 2023:
MCAT Personalized Practice – Tirst AI-powered feature for MCAT, Personalized Practice offers students a smarter way to practice with test-like questions using data-driven recommendations on which section and topics to include in their Qbank set.
You can now easily create your own custom flashcards, or edit Blueprint's 1,600 free flashcards so you can prep the way you like to and study more effectively.
Blueprint's LLJ – makes your prep process more guided, and allows you to track trends of strengths, weaknesses, and prioritize sections and topics to focus on, making prep much more focused and accelerated.
Finally, the Blueprint MCAT structure includes full-length practice tests that simulate the MCAT experience. These self-paced tests are comprehensive and provide an accurate reflection of what students can expect on the actual MCAT.
Additional Functions of the MCAT Self-Paced Course
Usually, your classes comprise viewing video lectures or engaging with some other interactive content. This is followed by a brief quiz or assessment that enables you to reinforce your skills and evaluate your comprehension.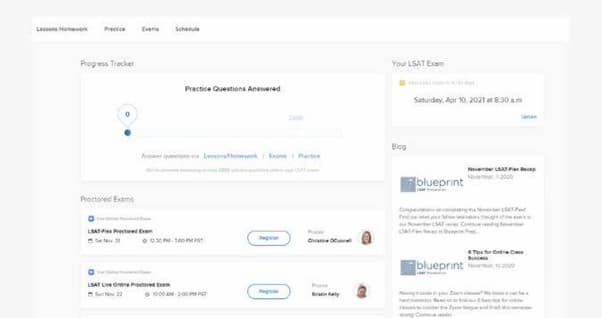 Generally, these tests are enjoyable and engaging, as they offer novel experiences each time you complete a specific learning module.
Additionally, it is worth acknowledging the exceptional quality of the videos and interactive materials. They are visually captivating and informative. While educational content may vary in quality, most answer explanations are truly fulfilling.
When it comes to quizzes, they feature a variety of common question types. For instance, you may encounter multiple-choice questions, drag-and-drop matching tasks, ordering assignments, and fill-in-the-blank tasks.
These live class sessions are thoughtfully arranged to ensure that you don't become disinterested due to an abundance of identical assignments in succession.
Furthermore, each quiz is accompanied by an explanation of the problem to enable you to explore the topic in greater depth. However, this part of the course has some minor shortcomings.
According to an expert author of one next-step MCAT review, "The study plan and explanations are not detailed enough."
In many instances, Blueprint's explanations consist of nothing more than a single sentence clarifying the correct answer.
While it may be unreasonable to expect detailed explanations for incorrect answers, these course providers should certainly focus on explaining the correct answers to the practice tests and their key elements.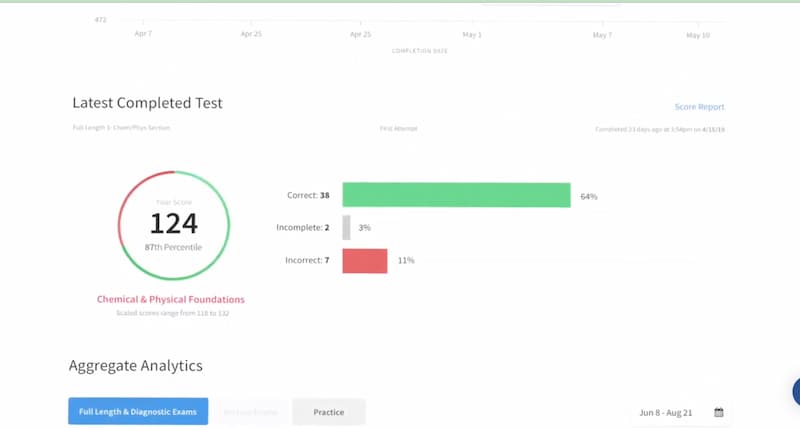 Design of the Blueprint MCAT Prep Course
When it comes to the Blueprint MCAT course, users can expect a convenient, user-friendly platform that makes navigation easy and efficient.
The layout is designed in such a way that study materials are quickly accessible, allowing students to find what they need without spending too much time searching.
The comprehensive range of Blueprint MCAT prep course resources also ensures students get access to the most up-to-date information for success on the MCAT.
When it comes to the Blueprint MCAT course, I must admit that these guys anticipated such a problem and tried to do their best to avoid it.
The company takes pride in its visually appealing content, particularly the illustrations and animations, as highlighted in its various test prep promotional materials. The visuals found on the website surpass those of most MCAT preparation courses.
Blueprint's team of MCAT experts employs vibrant illustrations and diagrams to explain critical concepts, including complex biological systems and chemical processes. This visual approach is ideal for learners who have a strong preference for visual memory.
To access most of your Blueprint packages, utilize your study plan on Blueprint. This feature allows you to access the most valuable resources in one place, which is much more convenient than having to scroll through numerous pages on other learning websites.
For instance, Blueprint offers a resources tab, which exemplifies one of the core principles of the platform. The creators aim to provide learners with easy access to required materials through various links and tabs, ensuring that learners are never more than a few clicks away from their required content.
While the quality of lessons is decent, many educational courses lack the flexibility to customize their curricula, which is a significant drawback.
The Blueprint platform offers a highly customizable study planner with unlimited access, allowing learners to tailor their learning experience to their preferences.
Blueprint offers tutoring services to support their MCAT prep course. The company provides private tutoring packages for AAMC practice tests that cater to learners' specific needs. While some reviews suggest that the course can be costly, the value it provides justifies the price.
Considering the potential negative impact of failing the MCAT on one's academic career, investing in a professional self-paced course with a tutor is a wise decision.
VarsityTutors provides in-depth MCAT tutoring and resources, including video lessons to help you ace the Medical College Admissions Test. Read our VarsityTutors MCAT review for more information!
How Do Blueprint Online Course Tutors Operate?
They take a highly customized approach to ensure that you understand the most important MCAT topics from multiple angles.
No part of the MCAT curriculum is overlooked. The tutors offer a high score guarantee and employ various tutoring techniques to ensure that you grasp everything essential about the MCAT official test.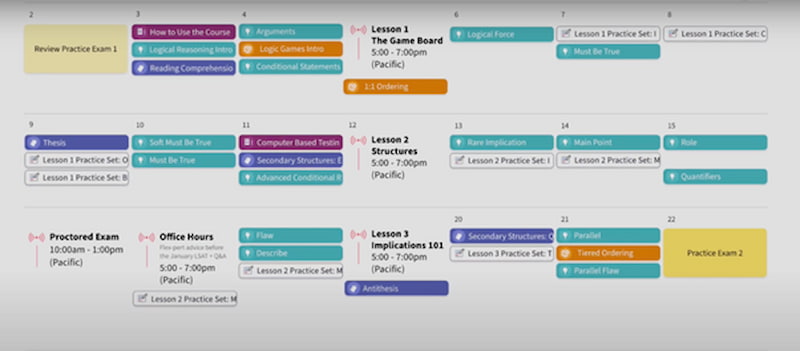 Reviews of Next Step tutoring highlight their Blueprint teachers' excellent study plans.
While I cannot claim to be an expert on all aspects of the MCAT, I believe that my tutor was proficient enough to help me comprehend even the most complex topics of the full-length practice exams. After just a few hours with my tutor, I felt a significant sense of relief.
What Other Services Do the MCAT Review Courses Offer?
In addition to the course materials, Blueprint Prep MCAT Review offers several other resources to help students succeed. These include:
Study schedules: Blueprint MCAT review provides students with customizable study schedules that are tailored to their needs and goals. These schedules help students stay on track and make the most of their study time.
Live online office hours to fit into one's busy schedule: Students can attend live online office hours where they can ask questions and get help from instructors.
Personalized support: Students can receive personalized support from the Blueprint team. This includes one-on-one tutoring, high-quality materials, and guidance from admissions experts.
Score increase guarantee: Blueprint guarantees a score increase. If a student's score does not improve after completing the course, they are eligible for a full refund.

What We Like About It?
One of the things we like most about Blueprint Prep is that they offer a 7-day free trial of test prep materials with no strings attached — allowing potential customers to test drive the AAMC tests before they commit to purchasing a live online course. This makes it easy for prospective customers to get a feel for the live classes before investing in their education.
Another thing we like is that some packages include short "crash courses" that can be completed in just 4 weeks or fewer! These courses and video lessons are perfect for busy students who don't have time for a full semester-long course review but still need help preparing for their full-length practice exams quickly and effectively.
Downsides
There aren't many downsides when it comes to Blueprint Prep MCAT Review; however, some may find the prices slightly high compared to other Blueprint MCAT programs available on the market today.
Additionally, there are no refunds available once payment has been made — so make sure you're 100% sure before signing up for their self-paced course!
Blueprint MCAT Cost
Blueprint MCAT offers two types of courses: Online Courses and Live Online Classes. The Online Course is a self-paced option that can be completed during specified office hours.
Access to the Online Course for 6 months will cost you $1,800.
9 months with the Online Cost will cost you $2,200.
The price for 12 months with the Online Course is $2,500.
The Live Online Class is similar to the Blueprint MCAT prep MCAT Self-Paced Course, but includes 40+ hours of live classes with top instructors provided by Blueprint. The cost for this option is typically around $2,500, but discounts may be available.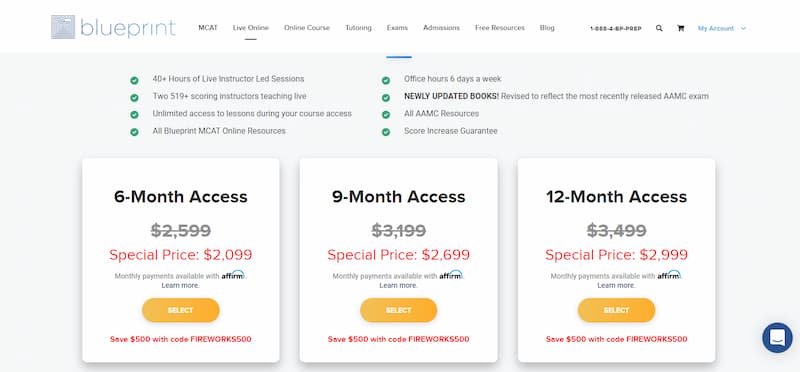 In addition, Blueprint provides tutoring services with prices ranging from $150 to $200 per hour. While these prices are not cheap, they ensure quality and score increase guarantee. Customers may also search for discounts to make tutoring services more affordable.
Blueprint Plans Comparison
As I mentioned, Blueprint offers three different online MCAT course plans: the 6-month, 9-month, and 12-month plans. What sets Blueprint apart from its competitors is its thoughtful consideration of students' individual needs and real MCAT test dates.
Instead of offering more content with higher-priced plans, Blueprint offers a term-based structure that allows students to choose the plan that fits their office hours. For example, the 6-month plan costs $1,800, the 9-month plan costs $2,200, and the 12-month plan costs $2,500.
Quality of the Blueprint Prep MCAT Course
After completing the Blueprint MCAT course, I can confidently say that I was satisfied with the quality of services provided. The various Next Step Prep MCAT reviews that I read were accurate in stating that Blueprint really knows its business and constantly strives to improve the practice questions.
This improvement is evident in the way they efficiently and quickly customize the course to meet the individual needs and office hours of each student.
I have personally witnessed the positive impact that the Blueprint course has had on my understanding of the various disciplines for medical schools covered on the MCAT.
The professional tutors were exceptional in helping me grasp even the most challenging material. According to estimates, the course, on average, leads to a score increase of around +13 points.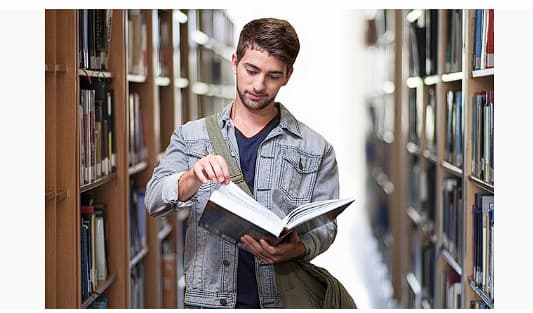 One thing that sets Blueprint apart from other companies is the money-back guarantee. They are a credible company that stands behind its product. If the prep course does not improve your score, you are entitled to a refund.
However, the company is not obliged to return your money if you have not met the basic requirements, such as completing all the lessons and taking a diagnostic test to prove your proficiency.
What is noteworthy about their guarantee is that they follow through on their policies and lead advanced analytics.
If you are not satisfied with your results, you have the option of repeating the course. Several Next Step Test Prep reviews even praise Blueprint for its fairness and willingness to satisfy their clients.
Overall, I highly recommend the Blueprint course to anyone looking to improve their MCAT scores.
Student Success
The success of Blueprint MCAT students who have taken is a testament to the quality of the course.
Many students have reported significant improvements in their scores after completing the course, and they credit the course's comprehensive study program, personalized feedback and support, and effective practice materials for their success.
One of the key factors contributing to student success is the quality of the instruction. The instructors at Blueprint Prep MCAT are experienced and knowledgeable, with expertise in their respective fields.
They also provide personalized feedback to students, helping them to identify their areas of strengths and weaknesses and develop a targeted study plan.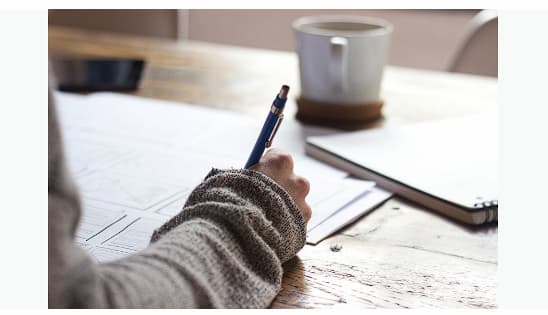 Another important factor contributing to student success is the quality of the practice materials and video lessons. The practice questions and tests provided by the Blueprint MCAT course are designed to reflect the style and difficulty level of the practice questions.
Finally, the personalized feedback and support provided by the course within office hours are critical to student success. The course provides progress-tracking tools, allowing students to monitor their progress and identify areas where they need to improve.
Conclusion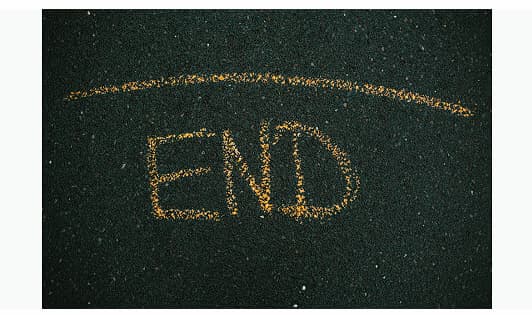 In a nutshell, if you're looking to ace the test and care about how many hours you will spend on training, Blueprint Prep MCAT provides an excellent and time-saving opportunity.
With a flexible format consisting of various resources, video review options, and study tools, this course can certainly help maximize your chance for success on exam day. Don't miss out – if you need that extra edge in preparation, give it a try!
Pros
Blueprint's website interface is user-friendly and easy to navigate.
The company is consistent and reliable in honoring its money-back guarantees, which gives students peace of mind.
Blueprint's tutors are highly skilled and take a customizable approach to their clients, ensuring that each student receives individualized attention.
The materials and video lessons provided by Blueprint are highly interactive and supported with attractive visuals, which makes the learning process engaging and enjoyable.
The quality of the material taught by Blueprint is excellent, as reflected in positive reviews from Next Step test prep users.
Cons
Some of the quizzes provided by Blueprint may seem a bit repetitive, which can make the learning process less engaging.
The prices for Blueprint's courses may be too high for some students, even though they are justified by the high-quality instruction provided.
The explanations provided for the results of some tests may not be detailed enough compared to Princeton Review, which can make it difficult for students to understand where they need to improve.