Are you applying for your MBA? Yes, we know how daunting this can be, not to mention how hard it is to get that admission right. This is one of the biggest reasons MBA consulting services have gained considerable popularity among potential applicants over the years and why everyone seems to be clamoring for the best MBA consultants.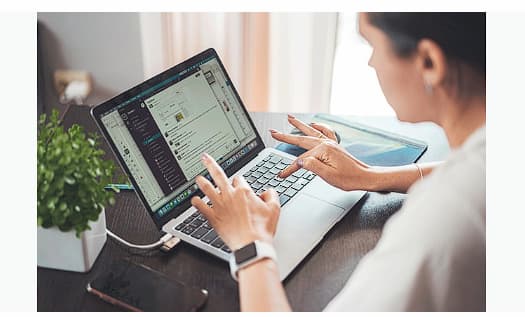 However, getting the help of the best MBA application consultants has also been a topic of constant controversy and debate.
What is an MBA Admission Consultant?
What impression would you wish to make on the MBA admissions officers, then? Do you believe your appearance will possess sufficient chances of helping you win the contest and make the list of the chosen candidates?
The top MBA admissions counselors are experts at fulfilling that specific niche. Your chances of being accepted will increase since they will assist you in making the strongest, most convincing case possible for yourself to the admissions committee. Want to get accepted into your dream graduate program? Let our expert grad school consulting services guide you through the admissions process.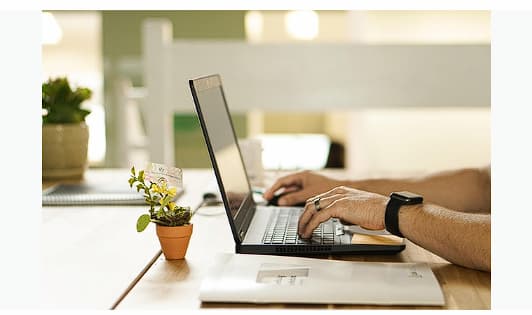 An MBA admissions consultant is a professional who provides guidance and support to aspiring MBA students throughout the entire application process. They help students select the right elite MBA programs, craft compelling essays, prepare for interviews, and secure recommendation letters. MBA admissions consultants offer a wealth of knowledge and experience, having worked with numerous candidates who have been successful in gaining admission to top-tier MBA programs.
Many MBA admissions consultants have a background in business or education, and some are former admissions officers who have worked for top business schools. MBA admissions consultants work closely with students to understand their strengths and weaknesses, develop a personalized application strategy, and provide feedback on application materials.
Whet her you're seeking advice for your MBA application or need insightful interview coaching, BeMo offers solutions. Our review discusses its methodologies, results, and client feedback.
Should You Hire an MBA Admission Consultant?
Yes, you should ideally be able to get all the help you need to get into that dream MBA program. It could be that some of the attempts you have made already have not successfully gotten you through, or perhaps, this is the first time you are trying this out, and you are not confident about your application.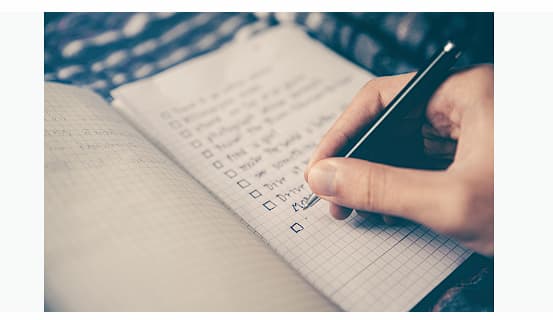 In either case, the best MBA application consultants can help you get the results you expect or, at the very least, give you a much better fighting chance.
However, if you have scored lower in your GMAT as opposed to what the median is that is expected, even the top MBA consulting firms may not be able to help you. In short, don't expect miracles to happen; instead, take your GMAT courses to improve your score.
So, to help you out, EduReviewer put together a comprehensive review that is unbiased, impartial, and informative, covering a wide range of criteria that we choose to evaluate and rank the top MBA admission consultants.
The criteria that we use for the evaluation of the top MBA consultants include the quality of services provided, the prices, and the duration of target MBA programs for consulting, alongside factors such as personalization, the number of practice tests, the accessibility of the best MBA admission consultants and the point increase guarantees.
Price
Now, when it comes to the MBA admissions consulting prices, we consider the services that have been offered and have compared them against similar service providers of the same caliber.
This way, we hope to provide you with an idea of what you are spending and honest input on whether the MBA admissions consulting is worth it.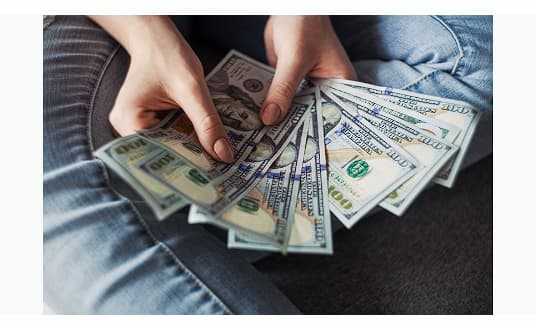 MBA admission consultant prices can vary depending on the level of service and expertise required. Typically, each MBA admissions consulting firm charges a flat fee for a package of services that includes an initial consultation, a review of application materials, and ongoing support throughout the MBA admissions process.
The price of services can range from a few hundred dollars to several thousand dollars. Some consultants charge by the hour, while others offer fixed-price comprehensive packages.
It is essential to note that the cost of an MBA consulting firm should be viewed as an investment in your future. A successful application can result in a higher salary and greater career opportunities, making the cost of a personal MBA coach a worthwhile expense.
However, it is crucial to do your research and compare prices and services offered by different MBA admission consultants before making a decision.
Quality
When it comes to the overall quality of the services provided, we take a good look at the admissions consultants' reviews and see what the services they offer include and what kind of success rate they have.
The whole point of you choosing MBA admission consulting services is to ensure that you get in; therefore, we understand that quality does matter. There is no room for half-baked results.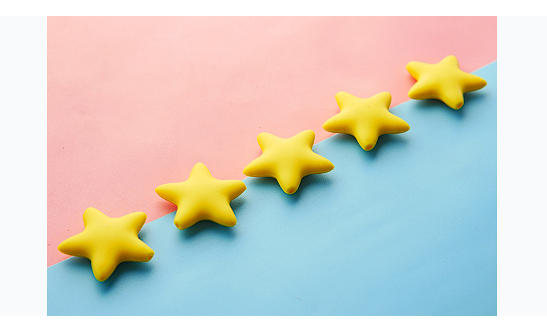 Mobile App and Website Usability
We live in a time of technology, and therefore, we understand that you may need access to the information you are looking for across more than just one device, such as your desktop or laptop.
We assess the mobile app and website usability of all the best MBA admissions consulting firms we offer rankings for.
If they have a good user experience, things like the loading time of the pages and the site, the ease of navigation, how interactive the pages are, what kind of information is offered, how much information is offered, whether the information offered is relevant and true as well as the overall look of the pages and how they come across on different devices are all assessed.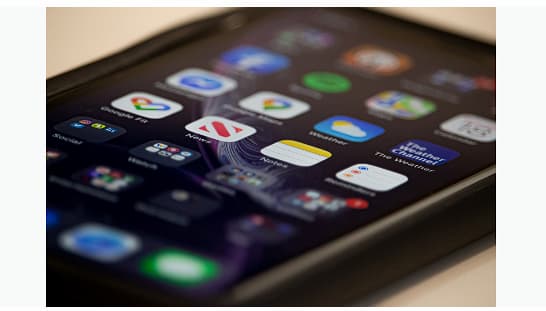 Customer Service/Support
There is no good service in anything if no customer service or support is provided. We go through the pages of the consultants and the best MBA schools for consulting to see if they have live chat options.
Suppose they do not have the live chat option. In that case, we also look at what kind of customer care they offer, what other customers have had to say about any positive and negative experiences they have encountered, and what the speed and accuracy of services were like.
Guarantees
When looking at the best MBA program for consulting, you are investing in something that hugely impacts your life and future, and we know that it is a rather prudent choice.
This is why we also know the best MBA admissions consulting will offer you guarantees about the results you can expect without exaggerating them. It would help if you were realistic about what you can look at, especially with the GMAT scores you have secured.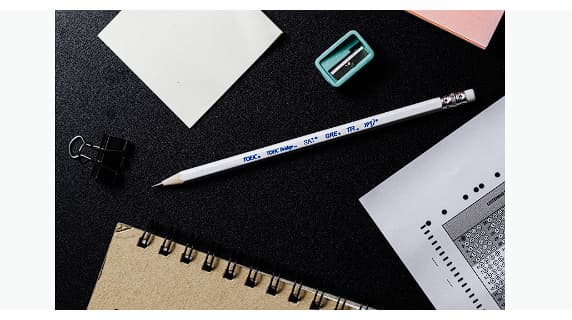 Pursuing an education at one of the world's most expensive schools is a decision that shouldn't be taken lightly. We delve into the unique features these institutions offer that justify their cost.
Types of MBA Admissions Consultants
An MBA admission consultant can either be an individual or a boutique organization managed by several experts. It could also be a much larger firm.
They will, in general, offer you direction for your MBA programs and your application advising. This can usually be inclusive of the focus of the essay, the resume changes that are needed, and the preparation for the interview.
Some top MBA admissions consultants will also provide you with test prep and pre- and post-application services. They will assist you in bringing across the best version of your admissions package and customize that to suit whatever the school is looking for in their candidates.
Usually, the best MBA admissions consulting services will consist of graduates, former admission officers, and the like in top-caliber MBA programs. They will often be put through a thorough screening before they are recruited.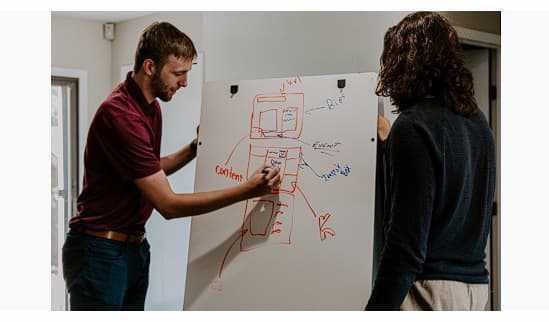 MBA admissions consultants are professionals who help MBA students navigate the complicated application process and increase their chances of being admitted to top business schools. They provide guidance and support throughout the application process, from selecting the right schools to crafting compelling essays, preparing for interviews, and securing recommendation letters.
There are different types of MBA admissions consultants, each with its unique strengths and specialties.
General Admissions Consultants
These consultants provide comprehensive support throughout the entire application process. They help students select the right schools, review and edit essays, and prepare for interviews. They may also provide guidance on application strategy, including recommendations on the timing of applications and how to present them effectively.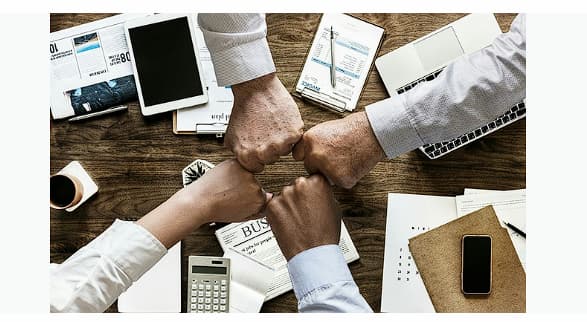 Specialist Admissions Consultants
These consultants specialize in certain areas of creating MBA applications, such as essay editing, interview coaching, or resume development. They may be particularly helpful to students who need assistance in specific areas of their application or those who have already completed some of the steps in the admission process but require additional support.
Former Admissions Director and Staff
These consultants are former MBA admissions officers who have worked for the world's elite business schools like Harvard Business School, Stanford Graduate School, Columbia Business School, and London Business School.
They may also have connections within the business school community, which can be useful in securing recommendation letters or networking with alumni.
Test Prep Companies
Many test prep companies offer MBA admissions consulting as part of their services. These consultants often have experience with standardized tests such as the GMAT or GRE and can help students improve their scores.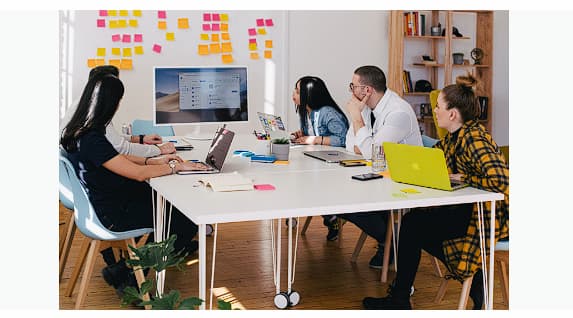 When choosing an MBA admissions consultant, it's important to consider the experience, track record of success, and area of expertise. Some advisors offer a free initial consultation, which can be a helpful way to get a sense of whether the person is a good fit for your needs.
What Should You Know When Selecting a Service Online?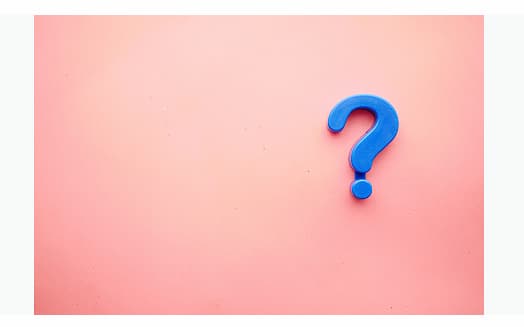 If you're in the market for an MBA admissions consultant, it's essential to consider the following points:
Reputation: Before hiring a service online, make sure to check its reputation. You can do this by reading online reviews, checking their website, and asking for references from past clients. Choose a firm that has a demonstrated history of accomplishment and glowing testimonials from prior clients.
Expertise: It's important to choose a service that has the necessary expertise in your area. For example, if you are seeking an MBA admissions consultant, you should search for a service with experienced advisors who have successfully helped others gain admission to top MBA programs.
Services Offered: Check the services offered by the online firm to ensure that they align with your needs. For instance, the best MBA admissions consultants offer comprehensive application services, while others offer only essay editing or interview preparation.
Pricing: Seek a service that offers fair and transparent pricing. Compare the prices offered by different services and ensure that you are getting good value for your money.
Communication: Make sure that the website offers clear and timely communication. This is especially important if you have a deadline to meet. Choose a service that responds promptly to your queries and keeps you updated on the progress of your project.
Confidentiality: Check that the online service has measures in place to protect your confidentiality. This is particularly important when it comes to personal information such as academic transcripts and essays. Search for a company that has a clear privacy policy and takes data security seriously.
Guarantees: Finally, choose a service that offers guarantees. For instance, the best MBA admissions consultants offer a money-back guarantee if you don't get into any of your desired programs.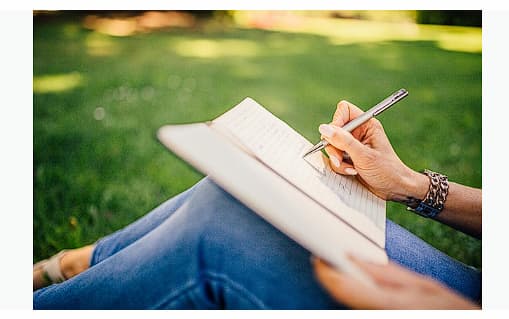 You should, however, also know that they will not apply for you and that you have to put a lot of work into the application process. You will fill out the application, write your essays, look for recommendations, and face the interview. There will only be guidance provided to help you have better potential.
MBA Admissions Consulting Rankings: Top Consultants
Below are some of the best MBA admission consultants' reviews we have come across, which we believe you might look at.
Admissionado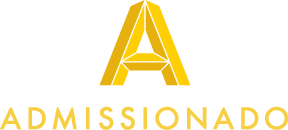 Free consultation;
The best MBA admission consultants;
Amazing and the most polite customer support we have ever encountered.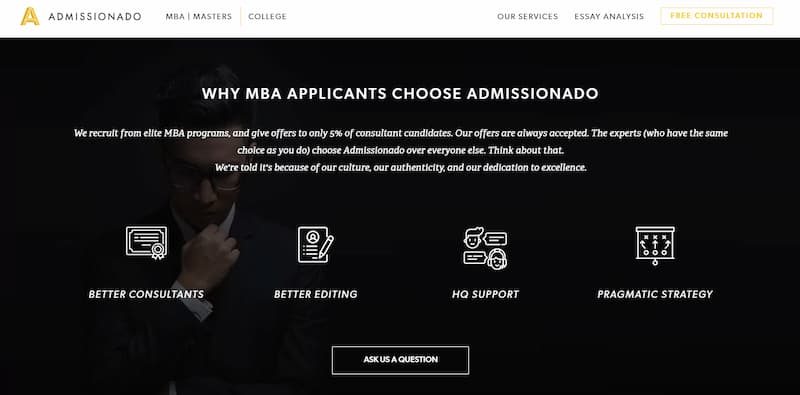 Admissionado is an admissions consulting firm that offers assistance to students who are seeking access to top-tier colleges and universities around the world. Since the company's founding in 2007, countless learners have used its assistance to enroll in some of the most elite colleges and business graduate programs worldwide.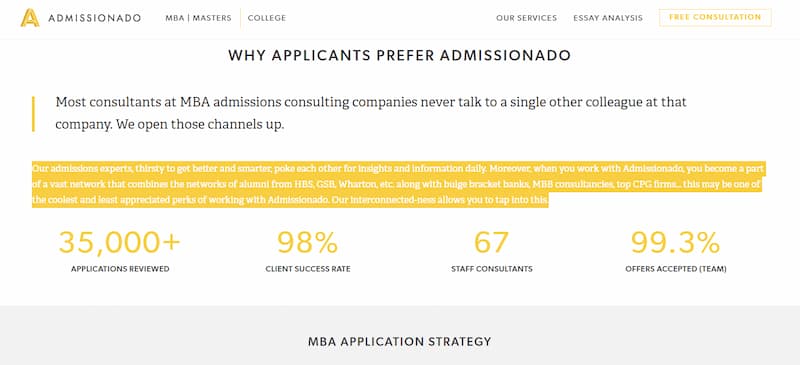 Admissionado has a unique way of creating an MBA application where they pair a candidate with an expert consultant and a storyteller. According to
Admissionado reviews
, they help candidates tell their stories professionally and be powerful, which is great.
They also offer free consultations. The Deluxe package has a lot of support, and they also have low-budget packages.

This service is known for its team of experienced consultants, who are former admissions officers from some of the most selective schools in the world. These consultants have years of experience in reviewing applications, and they know exactly what admissions committees are looking for in a successful candidate.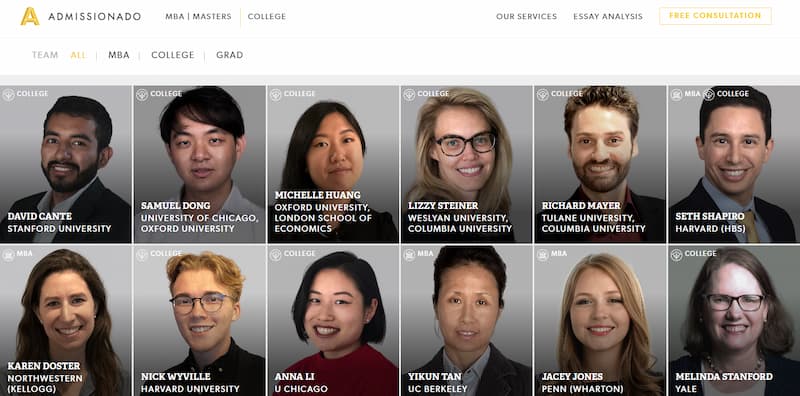 What we like about Admissionado is its personalized approach to admissions consulting. The company assigns each client a dedicated consultant who works with them throughout the entire process, ensuring that they receive tailored guidance and support.
One unique feature of Admissionado is its commitment to social responsibility. The company donates a portion of its profits to support education initiatives around the world, and it has also launched a scholarship program to support students from underprivileged backgrounds.
However, they do not seem to have a live chat option on their website, but you can easily contact them through the site details.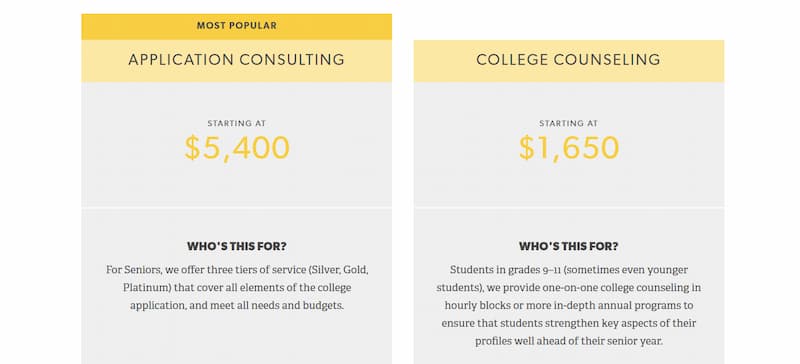 Furthermore, services can be quite expensive, with prices ranging from $900 to $10,000. While the company's consultants are highly experienced and well-regarded, the high prices may be a barrier for some students.
Reputation
The company has a strong reputation online, with positive reviews and testimonials from satisfied clients. The firm's consultants are highly regarded for their expertise and professionalism, and clients appreciate the personalized attention they receive throughout the admissions process.
Stacy Blackman

Easygoing and friendly attitude;
Team of real experts in MBA.
Slight delays with responds from support.
Stacy Blackman is an admissions consulting company that specializes in helping MBA applicants gain admission to top business schools.
The company was founded in 2001 by Stacy Blackman, a former Kellogg School of Management admissions officer. Since then, the company has grown to include a team of expert consultants who have helped thousands of applicants get accepted to their dream schools.

One of the most notable features of Stacy Blackman Consulting is the company's extensive network of consultants who are all former admissions officers at top business schools. This gives the company a unique insight into the admissions process of target business schools and allows them to provide valuable guidance to applicants.
The company also offers a range of services, including comprehensive consulting packages, essay editing, interview coaching, and resume review.
Our Stacy Blackman Consulting review found that they have meticulous attention to detail and are among the best MBA consulting services.
Reputation
Stacy Blackman has built a genuine reputation over almost two decades and uses time-tested techniques and best practices. They also come with great expertise for almost every top-tier school in any industry. The All-In package is one of the best inclusive packages, with around-the-clock access to your consultant.
Stacy Blackman Consulting has a strong reputation in the industry, with many satisfied customers leaving positive reviews online.
The company has an average rating of 4.9 out of 5 on Trustpilot, and customers often praise the company's personalized approach and the expertise of its consultants.
One of the standout features of Stacy Blackman is the company's team of advisors. The consultants are all highly experienced and knowledgeable about the admissions process, and they have a track record of helping applicants get accepted to top business schools.
The company also offers a team-based approach, which means that each client has access to multiple consultants who can provide feedback and support throughout the application process.
One downside of Stacy Blackman is the cost of its consulting packages, which may be prohibitive for some applicants.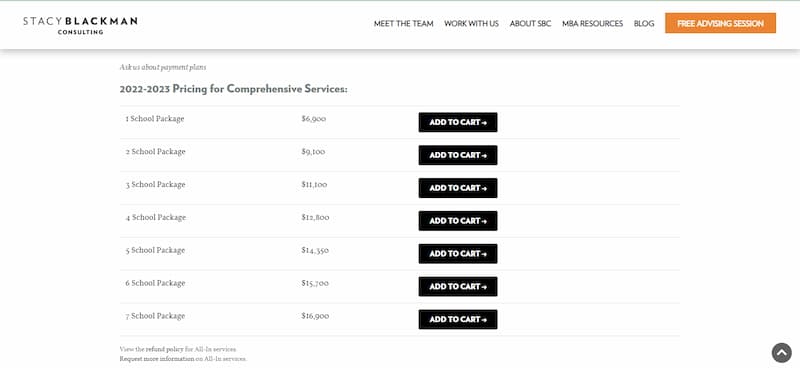 A Few More Great Options
Veritas Prep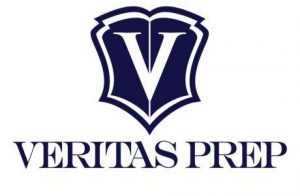 Veritas Prep is a test prep and admissions consulting company that specializes in helping students prepare for the GMAT, GRE, SAT, ACT, and other standardized tests. The company was founded in 2002 by Yale graduates Markus Moberg and Chad Troutwine and has since grown into a well-known and respected name in the industry.
Veritas Prep offers you a free consultation service and multiple services. These cater to different budget levels, which is great, and they also offer packages for up to 8 different schools.

One unique aspect of Veritas Prep is its use of real GMAT questions in its curriculum. The company has access to retired GMAT questions, which it incorporates into its course materials and practice tests. This provides students with a more realistic test-taking experience and better prepares them for the actual exam.
They may be a little on the expensive side, but you know that you are getting what you are paying for.
One of the standout features of Veritas Prep is its team of expert instructors. All Veritas Prep experts have reached the top in the tests they teach and undergo rigorous training to ensure they can effectively convey strategies and concepts to students.
Additionally, Veritas Prep offers a comprehensive curriculum that covers all aspects of the test, from content to strategy.
Reputation
Veritas Prep has a strong online reputation, with many positive reviews praising its instructors and curriculum. It has an average rating of 4.7 out of 5 stars on Trustpilot, based on over 1,000 reviews. Students particularly appreciate the personalized attention they receive and the effectiveness of the curriculum.
Accepted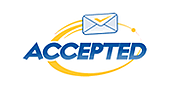 Accepted probably has the most diverse offering of products, and they are mostly a la carte. They do not just have one inclusive package, which is a plus.
Accepted is an online admissions consulting service that helps students get accepted into their desired colleges and universities. It offers a variety of services, including essay editing, application guidance, interview prep, coaching, and more.
With over 25 years of experience, Accepted has helped thousands of students successfully navigate the college application process.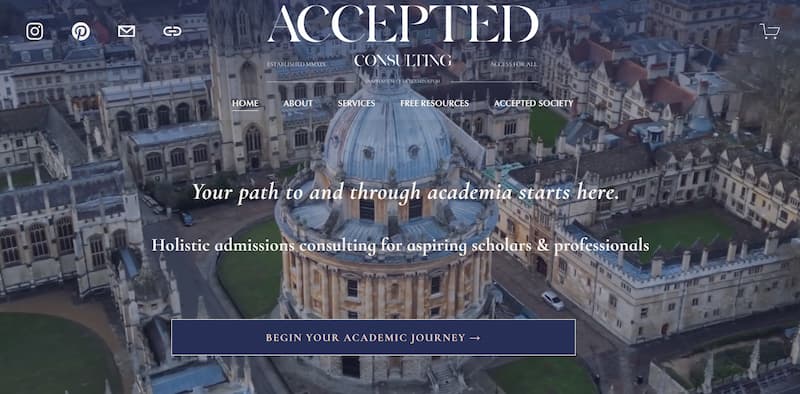 They have a lot of top-tier admissions in their court and a great experience. You will have a dedicated consultant but the support of the entire team.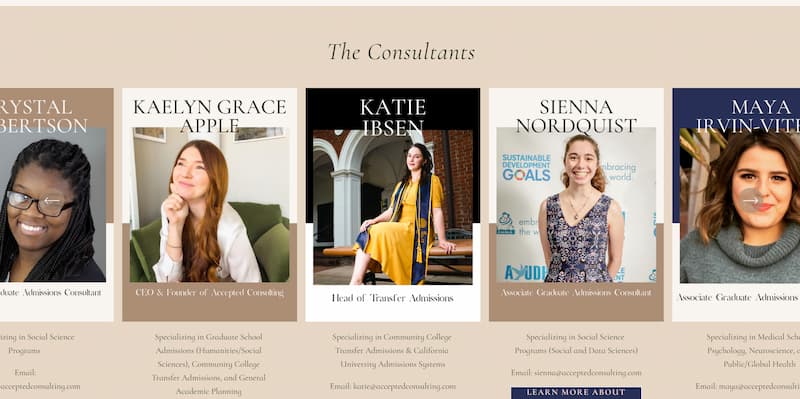 However, they do say that prices are subject to change without notice on their website.
Something unique about Accepted is its Money-Back Guarantee. If a client isn't satisfied with the service they receive, Accepted will refund their money, no questions asked. This speaks to the company's confidence in its ability to help students succeed.
What is also good about Accepted is the wealth of resources available on its website, including free webinars, blog posts, and guides on every aspect of the application process. These resources can be especially helpful for students who may not have the budget to hire a consultant but still want to improve their chances of getting accepted.
One downside of Accepted is that it may not be accessible to all students due to its relatively high prices.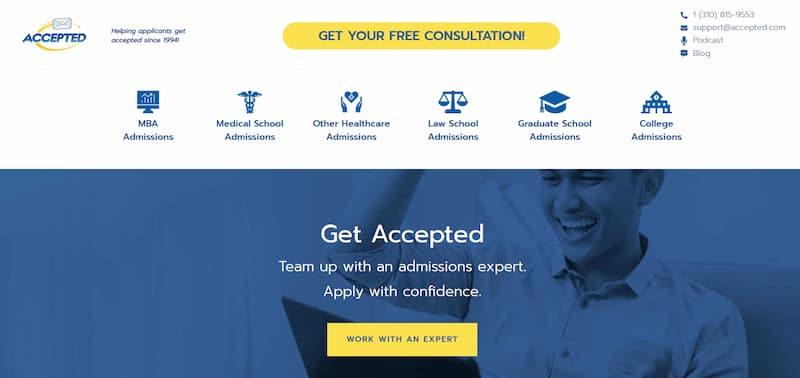 Reputation
Accepted is highly rated by its clients, with an average rating of 4.9 out of 5 stars on Trustpilot. Customers rave about the personalized attention they receive from Accepted's team of MBA admissions consulting experts. Many also appreciate the flexible pricing options that allow them to choose the level of service that best fits their needs and budget.
Best MBA Admission Consultants: FAQ
How Can You Decide If an MBA Admission Consultant Is Effective?
Go through their online reviews, the success rates (not the self-given ones), the pricing, the kind of expertise they have, and their approach.
How Can You Find the Best MBA Admission Consultant?
Do your research online. Look for reviews from professionals that consider a wide range of criteria to evaluate them.
Go through the top rankings for MBA admission consultants and see what services are available.
Who Needs to Hire an MBA Entry Specialist?
This course is ideal for anybody looking for an MBA or applying for a graduate school program.
Anyone serious about pursuing an MBA program and wanting to maximize their chances of being accepted to a top business school should consider using the services of an MBA admission consultant. This includes individuals who are just starting the application process, as well as those who have applied before and were not successful in their previous attempts.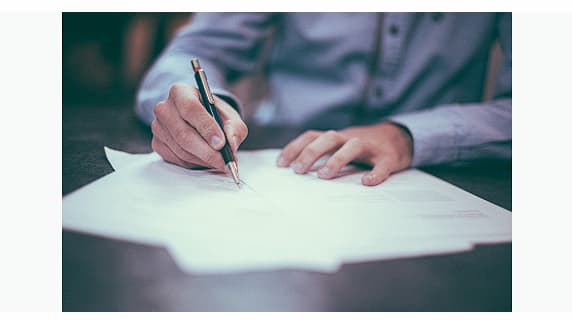 An MBA admission consultant can provide invaluable guidance and support throughout the application process. They can help you assess your strengths and weaknesses, develop a personalized strategy for your application, and provide feedback on your essays, resume, and other application materials. They can also help you prepare for interviews and navigate the complex admissions process.
In particular, individuals with non-traditional backgrounds, such as those with low GPAs or those who come from a non-business background, may find the services of an MBA admission consultant especially beneficial.
Additionally, international applicants who are not familiar with the U.S. higher education system or who need help with English language proficiency may benefit from the expertise of an MBA admission consultant.
How to Choose the Best MBA Admission Consultant To Get Into Harvard Business School?
First, think of your requirements and see what your budget is like. Then get into the online research phase and list the top-ranked services available. Shortlist the one you can go with based on your requirements and restrictions.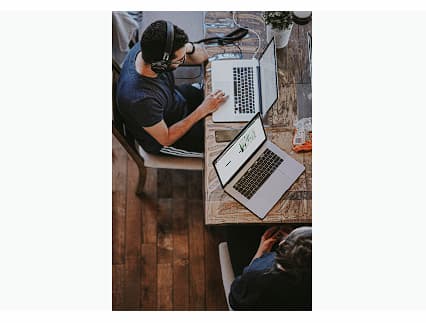 What Is the Best MBA Admission Consultant to Take?
Many services are available, and you can easily find the top ten MBA consulting services ranked. Their expertise, approach, rank, guarantees, reviews, prices, quality, and reputation all count. As for us, the best MBA consulting company is Admissionado.
MBA Admission Consultant Services: About Time?
If you are considering applying for an MBA, we suggest you use these guidance services from the beginning to ensure that your process is successful. Check our list if you don't know which GMAT prep course is best.
Opting for an MBA program is a considerable investment in terms of time, money, and effort. Therefore, it is crucial to make the most of the process and improve your chances of being admitted to your preferred business school.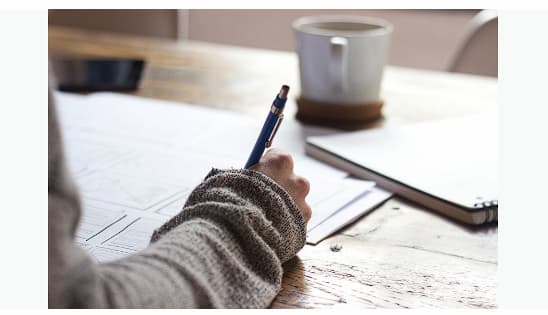 While an MBA admission consultant can provide essential guidance and help you navigate the complex application process, it is crucial to determine the ideal time to seek their services. Here are some factors to consider:
Early planning stage: It's best to start the MBA application process as early as possible. An MBA admission consultant can help you strategize your approach, assess your strengths and weaknesses, and identify areas where you need improvement. Starting early allows you to address any deficiencies and build a strong profile before the application deadline.
When you're struggling with the application process: The MBA application process can be overwhelming, especially for those who are new to it. An expert can help you navigate the process, provide feedback on your application, and ensure that you meet the requirements of the business school. They can also help you prepare for interviews and essays and offer tips on how to stand out from other applicants.
When you need expert advice: An admission consultant has expertise in the business school admissions process and can provide valuable insights into what admissions committees are looking for in applicants. They can offer advice on which business schools to apply to, what kind of profile the school is looking for, and how to present your profile in the best possible way.
When you're targeting top business schools: Top business schools have a highly competitive application process, and the selection criteria can be stringent. An MBA admission counselor can help you identify the strengths of your profile and present them in a compelling way to stand out from other applicants. They can also provide insights into the unique characteristics of each elite business school and help you tailor your application accordingly.
When you have a complex background: If you have a complex background, such as a non-traditional career path or low GPA, an MBA admission consultant can help you overcome these obstacles. They can provide guidance on how to present your background in the best possible way and help you address any concerns that admissions committees may have.
How Can You Tell Which Business Has The Top Experts for MBA Admissions?
Selecting the best MBA admission consultant can be a daunting task for prospective MBA applicants. With so many companies offering their services, it can be challenging to know which company to trust with your MBA application process.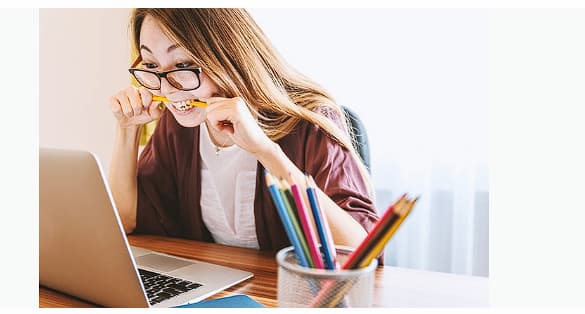 Among the numerous sectors they serve, the majority of top service providers will hire fresh graduates and ex-admissions officers from elite universities. In this manner, an applicant gets the chance to compete for the school's opening realistically and will be aware of the expectations.
Doing some research on the experience offered by the provider you are considering is therefore a sensible move.
Here are some tips to help you identify the best MBA admission consultant for your needs:
Seek a company with a proven track record: Do your research and search for a company that has a history of success in helping MBA applicants get accepted to top business schools. Read reviews, testimonials, and case studies to determine the success rate of a company.
Check the consultant's credentials: Ensure that the MBA admission consultant you choose has the necessary qualifications and experience to help you succeed. Check if they have an MBA degree from a top business school, have experience in admissions, and understand the requirements of different business schools.
Determine the level of personalization: Some MBA admission consultants offer personalized services, while others offer cookie-cutter solutions. Determine the level of personalization that you require and select a consultant who offers the services you need.
Analyze the consultant's approach: Look for a consultant who will work with you throughout the process, offering guidance and feedback. A good consultant should be able to provide a comprehensive assessment of your strengths and weaknesses and provide a tailored approach to help you overcome any obstacles.
Consider the consultant's network: A consultant with a broad network of contacts in the business school community can provide valuable insights and connections. A well-connected management consultant also can help you find internships, jobs, and other opportunities that will benefit your career.
Assess the communication abilities of the consultant: Good interaction during cooperation with an MBA admission consultant plays an important role. Look for a consultant who is responsive, clear, and effective in their communication.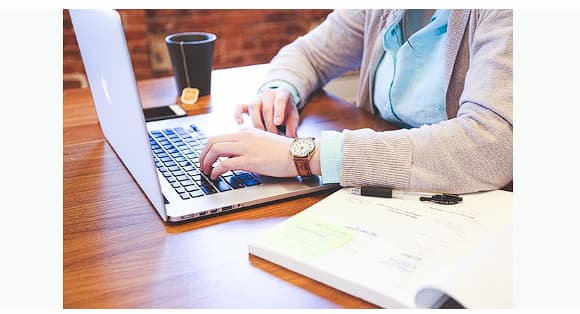 In conclusion, choosing the right MBA admission consultant can make a significant difference in your application process. By following these tips, you can identify the best MBA admission consultant for your needs and increase your chances of getting accepted to your dream business school.
Would You Pay for the Best MBA Admissions Consultants?
You are asking for guidance – a professional service – that will play a considerable role in the success of your securing a position at a school of your choice. Of course, you must be willing to pay for the expertise that comes your way.
The people helping you are qualified experts who work hard to ensure that you maximize your potential. You get what you pay for.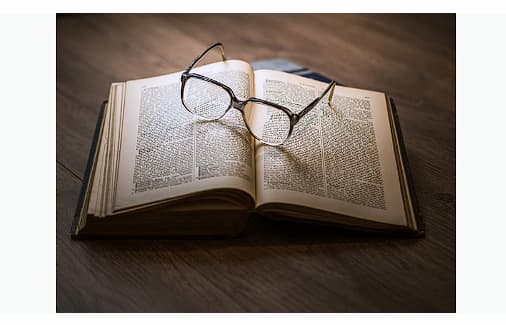 Conclusion
Hence, we can state that MBA consulting services are significant and valuable. They will provide you the finest opportunity to both express yourself persuasively and have the highest probability of being admitted.
Choose the direction you require right away to get the greatest outcomes and have a clear path through each phase. So, which MBA counseling business is the right choice? Admissionado!