In today's ever-evolving business landscape, having a solid business plan isn't just a nice-to-have – it's a necessity. But crafting a compelling one isn't easy, and that's where websites like Growthink come in.
Whether you're starting a new venture or scaling an existing one, the right consulting service can make all the difference. That's why I'm sharing my personal experience with Growthink's services, a company that boasts a range of business planning services.
In this Growthink.com review, I'll be evaluating their offerings based on several criteria that are essential for selecting the best enterprise software or service. These criteria include:
Quality of the product
Features it offers
Pricing
Usability of the website interface
Value for money
Online feedback
Guarantees provided by the company, such as a money-back guarantee and privacy assurance
I've spent countless hours exploring Growthink's tools and services, and I'm excited to share my personal insights with you. Don't just take my word for it.
I'll be sharing screenshots of my interactions with the product and pulling in comments and Growthink reviews to give you a comprehensive overview of what to expect from them. Let's dive in!
Growthink Explained
Growthink is a reputable business planning and strategy consultancy that was established in 1999. The fundamental purpose of this firm is to empower entrepreneurs to successfully start, grow, and exit their ventures.
It accomplishes this via its wide array of services, such as:
Business plan development
Investment banking
Market research
Strategic planning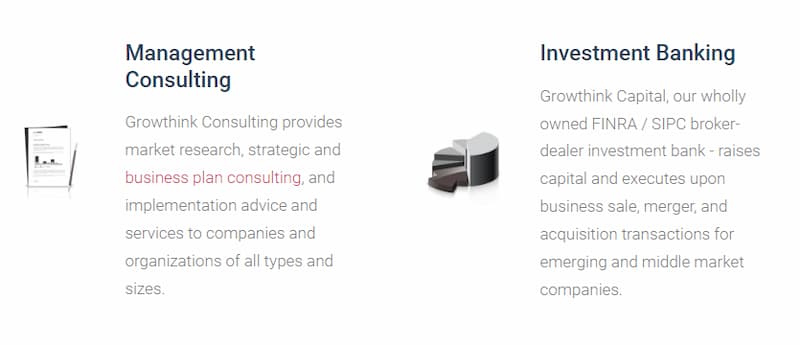 Growthink's Main Features
Over the years, Growthink has been able to make a significant impact in the business world. They've helped over 10,000 clients, including startups and large multinational corporations across various industries.
They've also developed a proprietary methodology that drastically simplifies the enterprise planning process. Its software, Growthink's Ultimate Business Plan Template, is a popular tool that has been used by over 250,000 entrepreneurs and owners.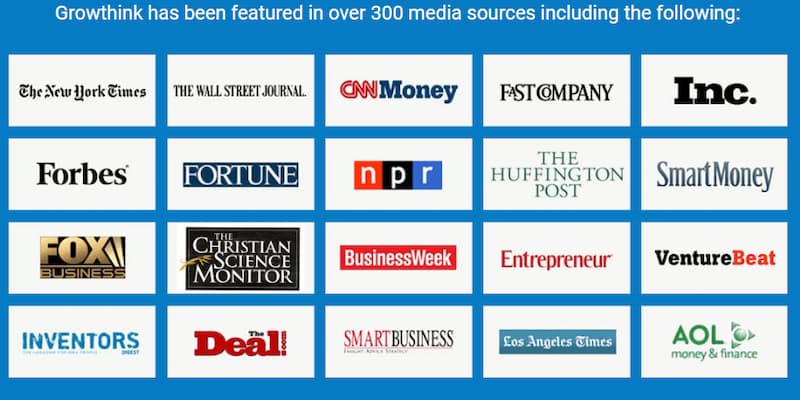 The firm has also introduced writer software that guides users in creating a professional, investor-ready business plan. This has been a game changer in the industry, as it allows entrepreneurs, regardless of their expertise, to create something compelling with a structure that's easy to follow.
Growthink's Reputation
Key to Growthink's success is its team of experienced professionals who bring a wealth of knowledge from various industries. They work closely with clients, providing personalized solutions that align with their goals.
Furthermore, Growthink maintains a robust online presence. They have many articles and training videos that educate entrepreneurs about essential aspects of growing their business.
In terms of industry recognition, they've been featured in several reputable media outlets, further cementing their position as industry leaders.

Ultimately, Growthink plays a significant role in the business planning and strategy industry. Their commitment to driving success, combined with their products and services, makes them a notable player in the industry.
Growthink Features that Stand Out
Growthink has been an exceptional partner on my journey through business development as an entrepreneur. This platform has been instrumental in my strategizing process, and I am eager to share my experience.
Who Will Find This Platform Helpful?
The beauty of this platform lies in its versatility. It's one that anyone at any stage of their career can use. From start-ups to established firms looking to scale or exit, but also to non-profit organizations, franchises, and even large corporations.

Main Features of Growthink's Tools and Services
Growthink's Ultimate Business Plan Template stands out as a key feature. It's designed to simplify the complex task of crafting a comprehensive strategy. The guide walks you through the process of creating investor-ready business plans. Additionally, the template saves time, so you can focus on other aspects of your company.
Another standout feature is Growthink's consulting service. This feature lets you work with experienced writers and strategists who help optimize your goals and strategies.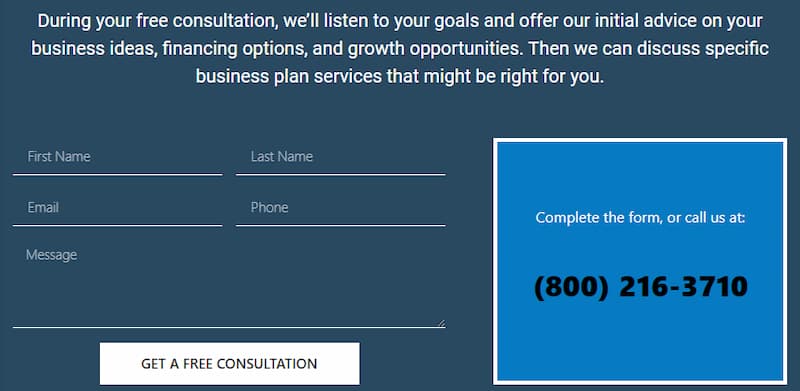 Lastly, their market research services deserve a mention. With this feature, you have access to high-quality market research data, which is really helpful in making strategic business decisions.
How Does It Work?
Using Growthink is very straightforward.
First, you select the services you need, be it the business plan template, consulting service, or market research.
You then connect with their team, who assist in tailoring a program that suits your specific needs.
The subsequent steps involve iterative refinement of your business blueprint or strategy based on your input and expert advice from the Growthink team.
This Growthink review merely scratches the surface of what they have to offer. To fully appreciate the platform, you have to use it. In the following sections, I'll go deeper into my personal experience with them.
I'll shed light on how each of these features has directly influenced my business' trajectory, painting a clearer picture of why Growthink could be the strategic partner you've been searching for.
Growthink Quality
Growthink's Ultimate Business Plan Template is a game-changer. It's comprehensive yet easy to understand and implement. It guides you through each step and does a wonderful job of explaining complex concepts in a digestible way.
The template is well organized, and it's clear that it was designed by professionals who understand the intricacies of business planning.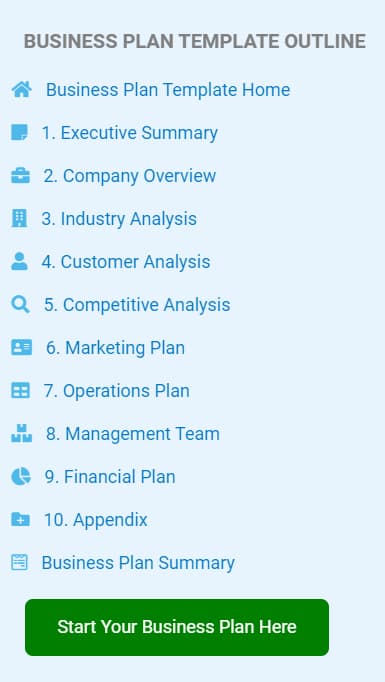 The Team
Growthink is a team of experienced professionals who are passionate about helping entrepreneurs succeed. Both Jay Turo and Dave Lavinsky, the platform's founders and leaders, have extensive experience in business planning and strategy.
You're not just buying a product, you're getting the backing of a team of experts who are invested in your success.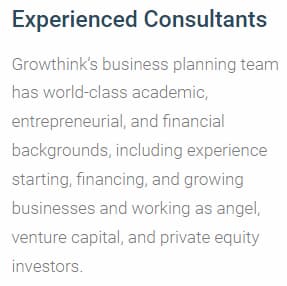 Guarantees
Growthink offers a 365-day, 100% money-back guarantee. This shows their confidence in their product. So essentially, if you're not happy with their business plan template or services, they'll refund your money with no questions asked. It's a risk-free investment, which is quite reassuring.
Comparison with LivePlan and Bizplan
In comparison to Growthink alternatives like LivePlan and Bizplan, Growthink stands out in several ways, but LivePlan is still a better choice. Take a look at this comparison table to help illustrate these differences:
| | | | |
| --- | --- | --- | --- |
| Features | Growthink | LivePlan | Bizplan |
| Pricing | A one-off payment of $97 or based on consultation | $15 – $30 per month | $249 per year |
| Quality | High-quality, comprehensive business plan based on your needs | Good quality with step-by-step instructions | Good quality but can be a bit complicated for beginners |
| Customization | High level of customization and flexibility | Limited customization | Limited customization |
| Guarantees | 365-day, 100% money-back guarantee | 35-days money-back guarantee | No explicit guarantee |
| Additional Services | Consulting services, Market Research | Performance tracking, Financial tools | Task management, Team collaboration |
Growthink's Ultimate Business Plan Template is a one-time purchase, unlike LivePlan and Bizplan which have monthly or yearly fees. This makes the Growthink cost an affordable choice in the long run.
This is mainly because the quality of your business model is determined by the level of customization you need. So basically, you can go as expansive or as modest as your budget allows.
Growthink Pricing
Having personally used the Growthink business plan, I found it to be of an exceptional standard. The document is highly detailed, well-structured, and it covers every aspect an investor might want to see.
It's clear that the team is highly experienced and knowledgeable in the field of business development.
As for Growthink.com prices, their Ultimate Business Plan Template is priced at $97.
This one-time cost gives you immediate and lifelong access to the template, which can be downloaded and customized according to your needs.
I found this to be reasonably priced, considering the value offered, especially when compared to other platforms that charge recurring fees.
In terms of payment options, Growthink accepts:
Visa
MasterCard
American Express
Discover
PayPal
Growthink: Value for Money
After using the platform, I can assert that the business plans they provide are indeed worth the Growthink prices. For a one-time payment of $97, you receive a comprehensive and detailed business template that covers all the critical aspects a potential investor or lender might be interested in.
Your purchase gives you access to a well-structured package that includes:
An executive summary that incorporates a marketing, operations, and financial plan plus company, industry, customer, and competition analysis
Funding possibilities
Industry standard tips, tactics, and strategies
10 unique templates
Lifetime access
One year access to customer support
Bonus access to "Insider Secrets to Raising Capital" (worth $299) and "Productivity Secrets" (worth $197)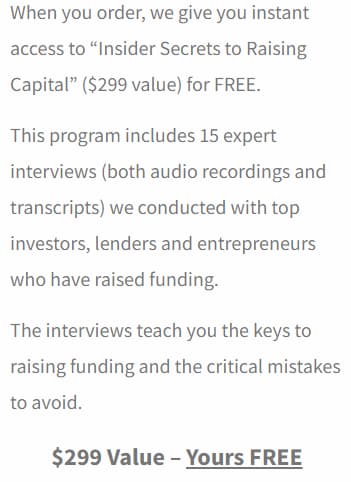 Each section is meticulously crafted, with a clear focus on the details that matter. This depth of information can save you countless hours of research and structuring, making the price absolutely worth it.
But the value of the business plan doesn't stop at its content. The fact that it's created by a team of experts with years of experience in helping people succeed adds a layer of credibility to your business, which can be invaluable when approaching investors or applying for funding.
The 365-day, 100% money-back guarantee increases the value of the business strategy even further. It's like a risk-free safety net.
Essentially, the value of the Growthink.com business plan goes beyond the monetary price. It's an investment in a tool that can help launch or grow your business, backed by expertise and a customer-friendly guarantee.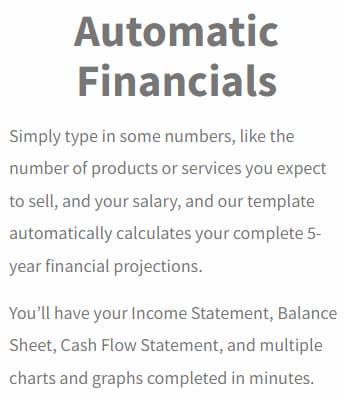 Feedback and Reputation of Growthink
Based on my research and the Growthink reviews I've found online, they're overwhelmingly positive. Customers praise their passion and commitment, which demonstrates a results-focused, compassionate, and helpful support staff.
From the experience shared in G2, it seems that Growthink's template has been instrumental in helping entrepreneurs develop thorough and strategic business plans.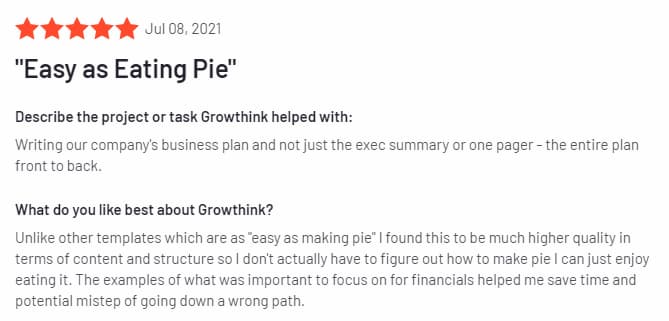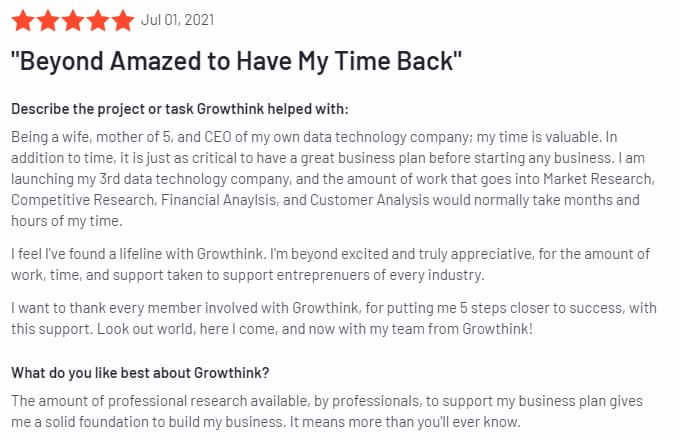 Based on com reviews from ResellerRatings (4.88 stars), I can say that the Growthink.com business plan offers tremendous value for its price, and many entrepreneurs have found it to be a helpful tool in their business preparation process.


I haven't found any negative reviews of Growthink during my research, which further strengthens the credibility of Growthink.com.
There were some complaints on the Better Business Bureau where some people had issues with delayed access to the template. But, each complaint is responded to by a Growthink representative.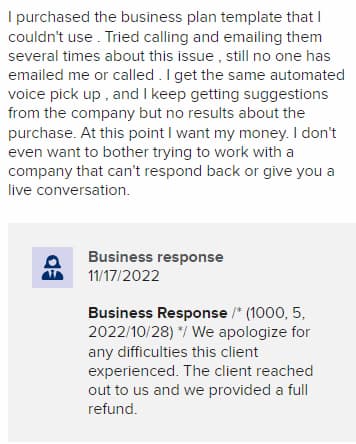 Pros
It covers all the critical elements of a business plan.
The plan is designed by experienced professionals.
It saves a substantial amount of time in designing a business model.
They offer a 365-day money-back guarantee.
It has received many positive reviews.
Their customer service seems to be efficient and responsive.
Cons
The Growthink.com cost might be higher compared to other business plan services.
Being template-based, it may lack uniqueness.
The business model may lack a personal touch due to the template-based approach.
Entrepreneurs might become dependent on Growthink for setting up their businesses.
There is no free trial to test the service before purchasing.
The Recap: Is Growthink Good?
In conclusion, my experience with the Growthink business plan has been overwhelmingly positive. The quality of the service is above reproach. The comprehensive template is backed by expert knowledge, offering a guiding hand that can make the intimidating process of business development significantly less daunting.
Echoing my sentiments is the feedback from countless other entrepreneurs who have found success with Growthink. Their testimonials are a testament to the platform's quality and effectiveness. I wholeheartedly recommend the Growthink program to any budding or experienced entrepreneur looking for a reliable and robust business planning tool.
FAQ
Who is the CEO of Growthink?
Jay Turo has been the CEO since its inception. With experience in venture capital and private equity, his leadership has helped Growthink become a leading strategic advisory and investment firm.
 Is Growthink good for business plans?
Yes, Growthink is good for business plans. It offers extensive coverage, expert-backed design, time efficiency, and a money-back guarantee.
Which is better, Growthink or LivePlan?
For a personalized business plan, especially for investment, Growthink is best because of their hands-on assistance and customization. LivePlan is straightforward, with a step-by-step layout, with intuitive features.